Mediterranean Salmon Avocado Salad dressed in a delicious Feta Peppercorn inspired Greek vinaigrette. This heart healthy, crave-worthy salad is packed with succulent salmon fillets, creamy avocado, olives, cucumbers, tomatoes, and tangy Feta cheese. Less than 20 minutes to plate!
The hot and lazy days of summer always get me wanting light, zesty, and quick If quick, healthy dinners are your jam, then this Salmon Avocado Salad packs a super food punch.
Salmon gets a major pep up thanks a vinaigrette I've been perfecting for a few years. It's amazing marinade as well for chicken, pork, and fish. So, I am using it as dual roles in this recipe, to keep it simple and impactful.
Salad is often considered a summertime food, but I could enjoy this salad any time of year. Light but filling, it's super satisfying!
Ingredients and Notes
What I love most about this salad is how simple and easy the ingredients are. Here's what's in it:
Salmon: You can't beat wild Alaskan salmon for the best flavor!
Romaine Lettuce. I love the crispness that soaks up the dressing without becoming soggy.
Avocado. As the name suggests, to add some creaminess.
Grape Tomatoes. You can use diced vine-ripened tomatoes or cherry tomatoes as well.
Kalamata Olives. My favorite olive for that salty, briny flavor.
Cucumber: A small cucumber adds that crisp and refreshing flavor.
Red Onion: Can't beat red onion in salads for that sweet, but punchy taste.
Feta Cheese. We put a little in the salad dressing and more in the salad itself!
Lemon Wedges. Totally optional but it's nice to squeeze over the salmon.
As they say, the secret is in the sauce. I use this dressing for both a Mediterranean salmon marinade as well as a light, zesty dressing for the salad.
Oil: This one is very important! I don't like as much oil in my dressings as most recipes call for. A very light, neutral oil should be used to make your own salad dressing. Look for light tasting olive oil.
Herbs: this recipe is designed around using dried herbs since that's what most of us have in the kitchen. However, if you want to use fresh use 1 Tablespoon each of fresh thyme and oregano.
Vinegars. I like light vinegars that add some freshness and tanginess, so I mix both red wine and apple cider vinegars.
Salt and black pepper: fresh ground pepper has much more of a zesty kick that you will need for this recipe.
How To Choose Salmon
Most buy salmon for the taste and health benefits, but there is a fair amount of difference between various types of wild and farm raised. Salmon come from many places in the world including the Atlantic and Pacific.
Skin on or Not: For a salad, I generally purchase without skin, but you can always pull it off after baking and before plating.
Health: Wild-caught simply means that they're caught in their natural environment. Which makes them have a healthier fatty acid profile due to their varied diet. Farm-raised salmon is higher in fat. It is also often a lighter or more pink color.
Taste: Typically, Wild Sockeye and Coho have more fish taste. Atlantic salmon has more fat and lighter color. It's this fat that allows it to fall apart more easily as you sink your fork into it and offers a milder fish flavor.
Ethics. Lastly, there are the ethical considerations of farmed vs wild populations. I do not claim to be an expert in the salmon industry, but I would be remiss to not mention it. It is a somewhat complicated situation, particularly if you eat fish and salmon often. One type of salmon isn't better in all ways than another. However, the Monterrey Bay Aquarium has free download guides here for finding the best wild caught and farmed options for sustainability if you are interested.
Leftovers
You can keep leftover salmon in the fridge for up to 3 days, in a sealed container. They do tend to dry out when reheated, so I like to flake them cold and mix them into a salad the next day for my lunch.
More Recipes To Try
FAQs
What kind of salad dressing is good with salmon salad?
Vinaigrettes are great with salmon such as balsamic vinaigrette along with Greek or Italian Style. Lemon Basil is a less used, but delicious accompaniment to salmon salad.
Do you need to flip salmon when broiling?
There is no need to flip when broiling.
How do you know when salmon is done?
The easiest way to see if your salmon is finished cooking is to gently press down on the top of the fillet with a fork or your finger. Salmon should be moist but not too bouncy. If the flesh of the salmon separates easily along lines that run across the fillet —then it is done.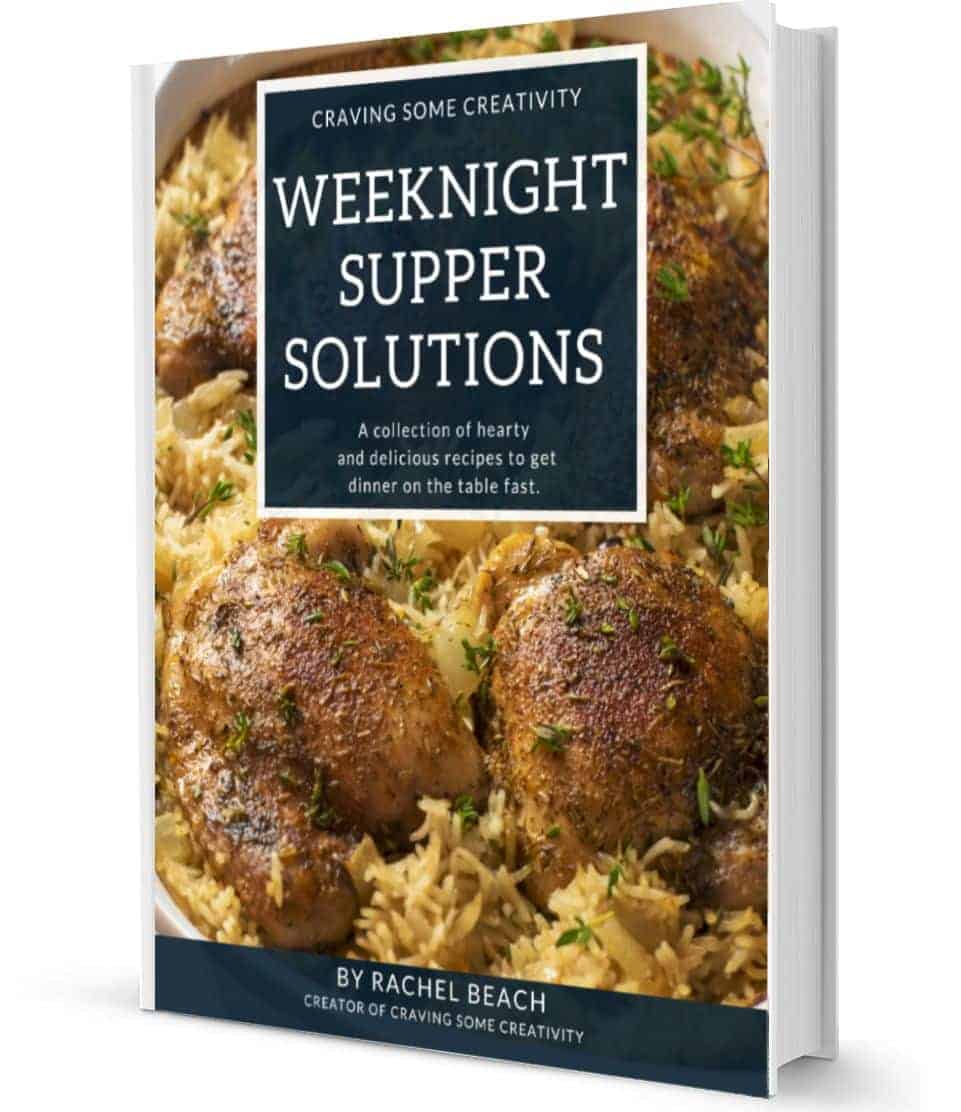 Not Sure
What's For Dinner?
Signup for recipe updates and get a free cookbook of Easy Weeknight Supper Solutions!
More Recipes from Our Kitchen
PS. If you make this recipe, leave a COMMENT AND A STAR RATING in the comments section at the bottom and be sure to take a photo and tag it #cravingcreative on Instagram! I appreciate you for taking the time to read about me and my family recipes. 
Mediterranean Salmon Avocado Salad
This Mediterranean Salmon Avocado Salad with a Feta Peppercorn inspired Greek vinaigrette is also packed with succulent salmon fillets, creamy avocado, olives, cucumbers, tomatoes, and tangy Feta cheese.
Print
Pin
Rate
Ingredients
Marinade/Dressing
½

cup

Olive Oil

Use a light tasting oil

¼

cup

Red Wine Vinegar

¼

cup

Apple Cider Vinegar

2

clove

Garlic

Minced

2

teaspoon

Dry Mustard

2

teaspoon

Dried Thyme

2

teaspoon

Dried Oregano

2

tablespoon

Feta Cheese

Minced

4

teaspoon

Granulated Sugar

½

teaspoon

Kosher Salt

½

teaspoon

Freshly Ground Pepper
Salad
1

pound

Skinless Salmon Fillets

500g

4

cups

Romaine

chopped, washed and dried,

1

cup

Cucumber

sliced and quartered

12

Grape Tomatoes

sliced in half lengthwise

½

Red Onion

sliced

1

Avocado

sliced

½

cup

Feta Cheese Crumbles

⅓

cup

Kalamata olives, pitted

or black olives

Lemon wedges

optional, to serve
Instructions
Whisk together all of the marinade/dressing ingredients in a large bowl. Divide the marinade in half. Use one half for marinating the salmon and store the other half until ready to use as a dressing. If you refrigerate the dressing, the oil may solidify. Allow it to come to room temp before using and shake well.

Coat the salmon with the marinade. Preheat the oven's broiler and set the oven rack about 6 inches from the heat source. Line a metal or glass dish with aluminum foil.

Cooking times vary a lot depending on the thickness of your salmon. Check thin fillets around 12 minutes and thicker (over 1 inch) around 15 minutes. While salmon is cooking, prepare all of the salad ingredients and mix in a large salad bowl.

Slice salmon and arrange over salad. Drizzle with the reserved dressing. Serve with lemon wedges.
Nutrition
Serving:
3
cups
|
Calories:
699
kcal
|
Carbohydrates:
16.6
g
|
Protein:
51.9
g
|
Fat:
52
g
|
Saturated Fat:
11.5
g
|
Cholesterol:
121
mg
|
Sodium:
612
mg
|
Potassium:
1511
mg
|
Fiber:
8.5
g
|
Sugar:
2.8
g
|
Calcium:
258
mg
|
Iron:
5
mg