Delicious Cobb Salad with fresh ingredients and homemade vinaigrette for a simple easy-to-prep dinner solution .
Looking for any easy dinner solution in the midst of the current chaos? With the recent Corona virus scare local grocery shelves have been picked clean. It's been difficult to muster up my typical level of culinary enthusiasm.
I mean, what ya gonna make with deviled ham, liver, cashews, and blue cheese?
But spring is in the air and the produce section beckons me with bright colors and promises of fresh juicy bites. Plus, at least in my area, the one section that seems well stocked has been the produce aisle.
What's the best thing about a salad? The toppings of course! This classic cobb salad recipe doesn't disappoint. It's like a greatest hits list, transforming simple romaine into a palette pleasing medley of flavors including blue cheese crumbles, egg halves, avocado, and bacon (of course!).
Traditional Cobb Salad Ingredients
Juicy cherry tomatoes and creamy avocado bring the perfect balance of color and texture to this salad. Other ingredients in a cobb salad include bacon bits, hard-boiled eggs, chicken, and blue cheese.
To tantalize the taste buds one step further, I incorporate Roquefort blue cheese crumbles. There are other kinds of blue cheese, but this is our preferred for it's creaminess and just the right tang. Personally, I love the sharp little bite this traditional element adds.
Some foodies insist a Cobb salad is not a Cobb salad without blue cheese. But if blue cheese is just not your thing, feel free to substitute! The recipe can easily be tweaked by substituting goat cheese, feta or cambozola.
Homemade Cobb Salad Dressing
A simple homemade balsamic vinaigrette is the only dressing necessary and the recipe is below. It allows the salad ingredients to shine. This vinaigrette recipe is light, tasty and easily concocted with common kitchen staples. Simply place in a presence cruet and go. Because let's face it, I don't think any of us have found grocery shopping particularly enjoyable lately! Depending on my mood, sometimes I also use a white balsamic vinegar instead of the dark, but either will work well.
If you would like some other options, you can really use any favorite salad dressing. Ranch, blue cheese, or Italian are great substitutes.
This is such a beautiful salad, I like to serve it family style with the dressing on the side. Choose a pretty platter and arrange the ingredients out in individual rows across the bed of chopped Romaine. My 11-year old son enjoys helping with this task. This is a perfect recipe for budding chefs to assist with!
Frequently asked questions:
What can I serve with cobb salad?
The beauty of this salad is that it is a perfectly filling dinner salad! If you like, serve with a fresh loaf of warm crusty bread and you've got a satisfying meal you can feel good about feeding your family.
Can I prep the salad ahead of time?
For this traditional recipe, we usually use pre-grilled chicken that we cook in large batches and freeze some for later. I don't know about you, but I eagerly wait for warm weather each year to break out the grill. I am a happy girl when my boy is burning off some energy outside and the hubs gets to cook al fresco. Grilling makes meal prep simple and food taste like summer. What's not to love? These dishwasher safe grill prep & serve trays help make clean up a breeze.

One of my favorite things about this recipe is the simplicity. Many of the components can be prepped ahead of time, making assembly a breeze. The bacon and the grilled chicken can be cooked ahead of time. Super pressed for time? Skip the grilled chicken and purchase a Rotisserie chicken from the deli. The only thing I would not suggested prepping ahead of time is the avocado, to prevent oxidation. For more shortcut solutions for fast meal prep click here.

Can this cobb salad be eaten as leftovers?
Yes! This can be eaten as leftovers for a few days if kept in a sealed container in the refrigerator with the dressing separate. I recommend keeping the avocado separate to prevent oxidation. Also, if you plan to make it for prepped meals, make sure the chicken is cooled before adding.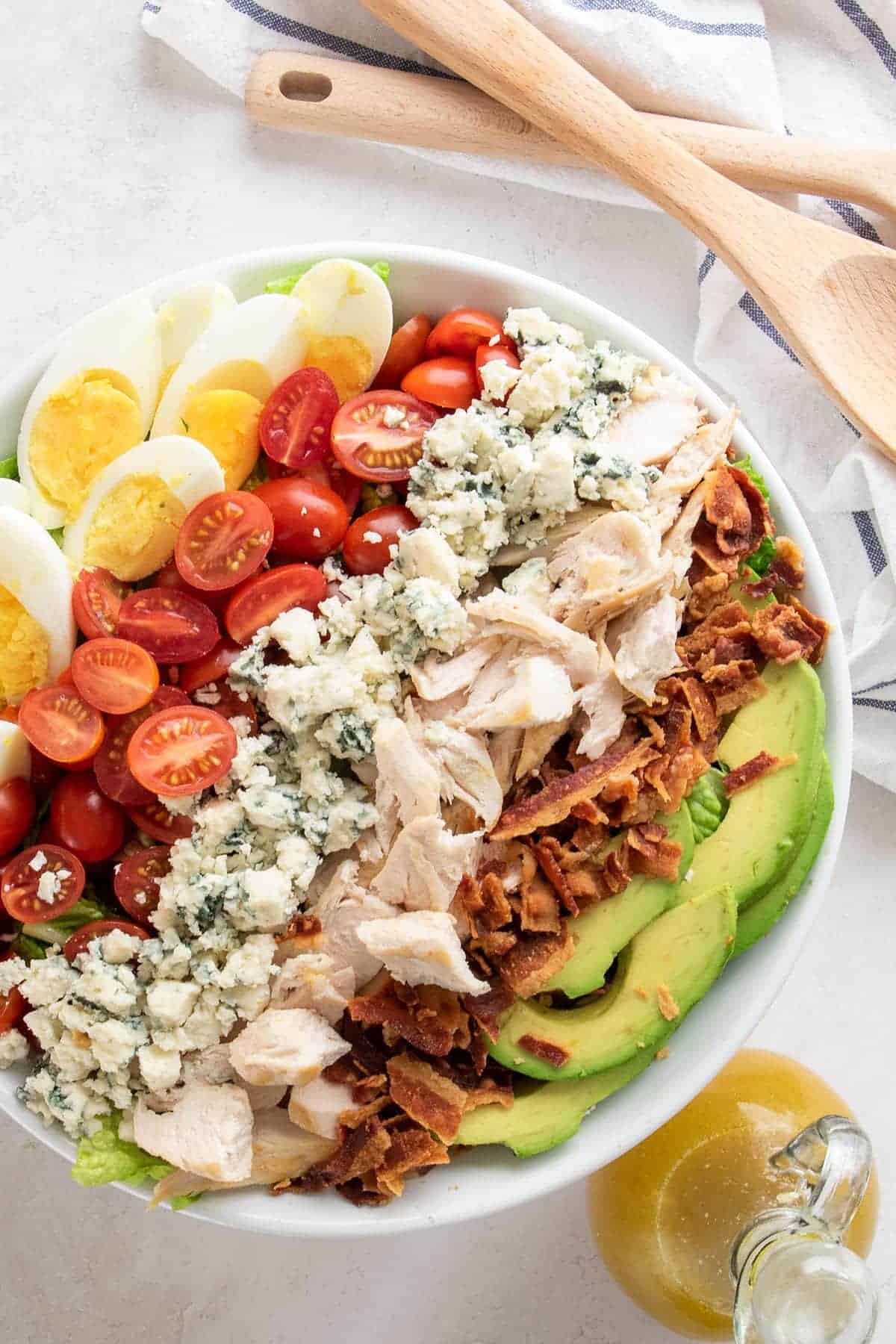 This salad also works great for meal prepping. Store toppings separately from lettuce and dressing to maintain freshness. Assemble at time of consumption.
Have you broken your grill out this season yet? I hope this has inspired you to do so. Stay safe & well my friends.
Cobb Salad
Traditional Cobb Salad with fresh ingredients and layered with satisfying proteins for a simple easy-to-prep dinner solution. Includes recipe for homemade honey balsamic vinaigrette.
Print
Pin
Rate
Servings:
4
dinner salads
Ingredients
Salad
10

ounces

chopped romaine

1 ½

cup

grape tomatoes

sliced in half

8

ounces

cooked chicken

fried or grilled, sliced

1

cup

blue cheese crumbles

½

avocado

chopped or sliced

6

oz

cooked bacon slices

about 6 slices

4

hardboiled eggs

peeled and quartered
Balsamic Dressing
½

cup

light tasting olive oil

4

Tbsp

balsamic vinegar

2

tsp

honey

1

tsp

dijon mustard

1

garlic clove

minced
Instructions
Combine all the balsamic dressing ingredients in a bottle or mason jar. Close the lid and shake vigorously. If you do not have a bottle with lid, whisk in a bowl. Store at room temperature until needed. Re-shake if the ingredients have separated.

[Pre-prep] Sauté chopped bacon in a skillet until browned and crisp (5 min), then transfer to a paper-towel-lined plate to cool. Peel and quarter hard-boiled eggs. Grill the chicken to preferred doneness. Allow to rest and cool. Chop the chicken into bite-sized pieces.

Chop, rinse and spin romaine lettuce and arrange on a platter or in a large salad bowl. Arrange remaining salad ingredients (avocado, chicken, eggs, tomatoes, blue cheese, and bacon) in rows over lettuce.

Drizzle dressing just before serving or serve on the side and allow guests to add their own.
Notes
General Tips
You can use a variety of dressings, from blue cheese or French to vinaigrettes. Just be sure to wait to add the dressing just before serving.
Season with salt or pepper. Freshly cracked pepper on a salad makes the flavors pop!
Keep all of the ingredients bite sized. You can finely chop the bacon, but everything else should be about the same size for the perfect bite.
Serve: The beauty of this salad is that is a filling stand-alone dish. I might add a crusty loaf of bread if desired. You can also pair with warm, light soups.
Store: The salad dressing will be good in a sealed container for up to 3 weeks. Refrigerate after opening and shake well before serving. Extra salad can be store together for up to 4 days in a tightly covered container, with the dressing separate.
Make Ahead Tips: If you want to get a head start on your prep for this recipe, make some extra chicken the night before and cook your bacon and hard boiled eggs ahead of time. That way you can grab everything you need from the fridge and whip up this salad!
Nutrition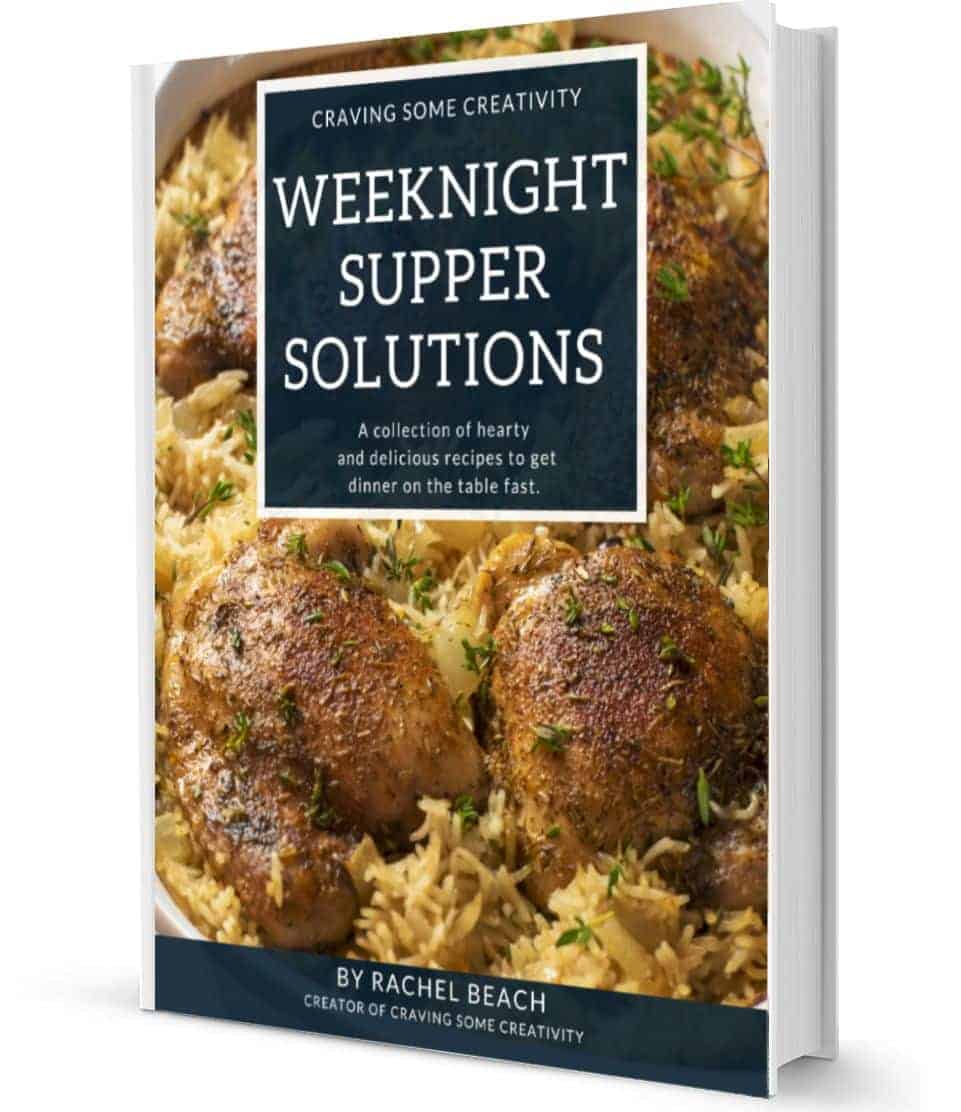 Not Sure
What's For Dinner?
Signup for recipe updates and get a free cookbook of Easy Weeknight Supper Solutions!
More Recipes You May Enjoy
More Healthy Recipes