This easy Healthy Ranch Dip with Greek Yogurt gives zesty flavor to your favorite bites without the guilt! Creamy and tangy, this recipe works as a thick dressing or dip with a secret ingredient and stirs together in minutes.
If you love the creamy, zesty flavor of ranch, this healthy ranch dip recipe is your new go-to. Shelve the store-bought brands for quick homemade dressing recipes.
While Ranch Dressing may win points for versatility and popularity, it's not ordinarily heralded for being healthy. Alas, Greek yogurt steps in as an ideal vehicle for the classic mix of garlic, onion, and dill spices.
Make a batch to motivate the kids (or hubby) to eat more veggies. Let's face it, dip makes everything more enticing! Healthy Ranch Dressing gives a fresh tang to your favorite bites. Or you can also smear on your sandwich or burger, toss into ranch pasta salad, or add a dollop to chicken nachos for a refreshing twist!
What You Will Need
So, first we are making a homemade ranch seasoning by replacing the mayo and sour cream original with lighter plain Greek yogurt. The only uncommon ingredient in this dry mix is the powdered buttermilk. What is powdered buttermilk and why do we use it?
If you have not discovered Powdered Buttermilk, it is a game changer! Buttermilk powder is what it sounds like: buttermilk that has been dehydrated until it becomes a fine powder. It's similar in texture to milk powder. It lasts a very, very long time and does not need refrigerated. You can use it for everything you use buttermilk for and even more! Simply mix a tablespoon of buttermilk powder into a cup of water and use as normal.
How to Make Ranch Greek Yogurt Dip
It's very simple to stir everything together and keep it in the refrigerator until you need it. You can serve it right away, but it is best to give it a couple of hours to let the flavors fully develop.
Can't I just use a ranch seasoning packet? Yes, you could use a packet of ranch dip instead of homemade ranch dip with Greek yogurt. However, I would encourage to try this recipe if you have the ingredients because there are no preservatives or chemical ingredients and it has more cool dill flavor!
For a party, I usually sprinkle a bit of dried dill to signal what it is to the buffet peruser. You could also use chives, parsley, or other dried herbs.
Serving Ideas
Of course, you can't mention Ranch without bringing up hearty dinner salads like Chicken Cobb Salad. But there are so many versatile ways to use this quick and healthy Greek yogurt ranch dip:
Use it in Buffalo Chicken Dip for a lightened-up fan favorite!
As an excellent dip for chips and crackers.
Dip for healthy snacks like carrots, celery sticks, cucumbers, or red pepper.
Put full flavor into your Ranch Pasta Salad.
Coat some chicken breasts before baking or grilling.
Get even more deliciousness in zesty Cranberry Chicken Salad.
And while I prefer honey mustard, some people like to dunk their chicken tenders and French fries in ranch.
Frequently Asked Questions
Is traditional yogurt an acceptable substitute for Greek yogurt?
Plain traditional yogurt can be substituted for Greek yogurt in a pinch. Although the consistency may be thinner, the zesty flavor won't be diluted.
How long can I store Ranch Dip after I make it?
Leftover Ranch dip with Greek yogurt can be stored for up to a week in an airtight container in the fridge. Shake or stir before serving.
What's the difference between Ranch Dip and Ranch Dressing?
Traditionally Ranch dressing is thinner for pouring/tossing and contains mayonnaise. Ranch dip typically doesn't contain mayonnaise and is thicker for dipping purposes. Both are delicious and super simple to make.
Can I use packets of ranch dip/dressing mix instead of a spices?
Packets of Ranch dip mix can always be used in a pinch. Simply mix a few teaspoons into Greek yogurt. This homemade blend is a healthier option that contains less sodium and packs a flavorful punch.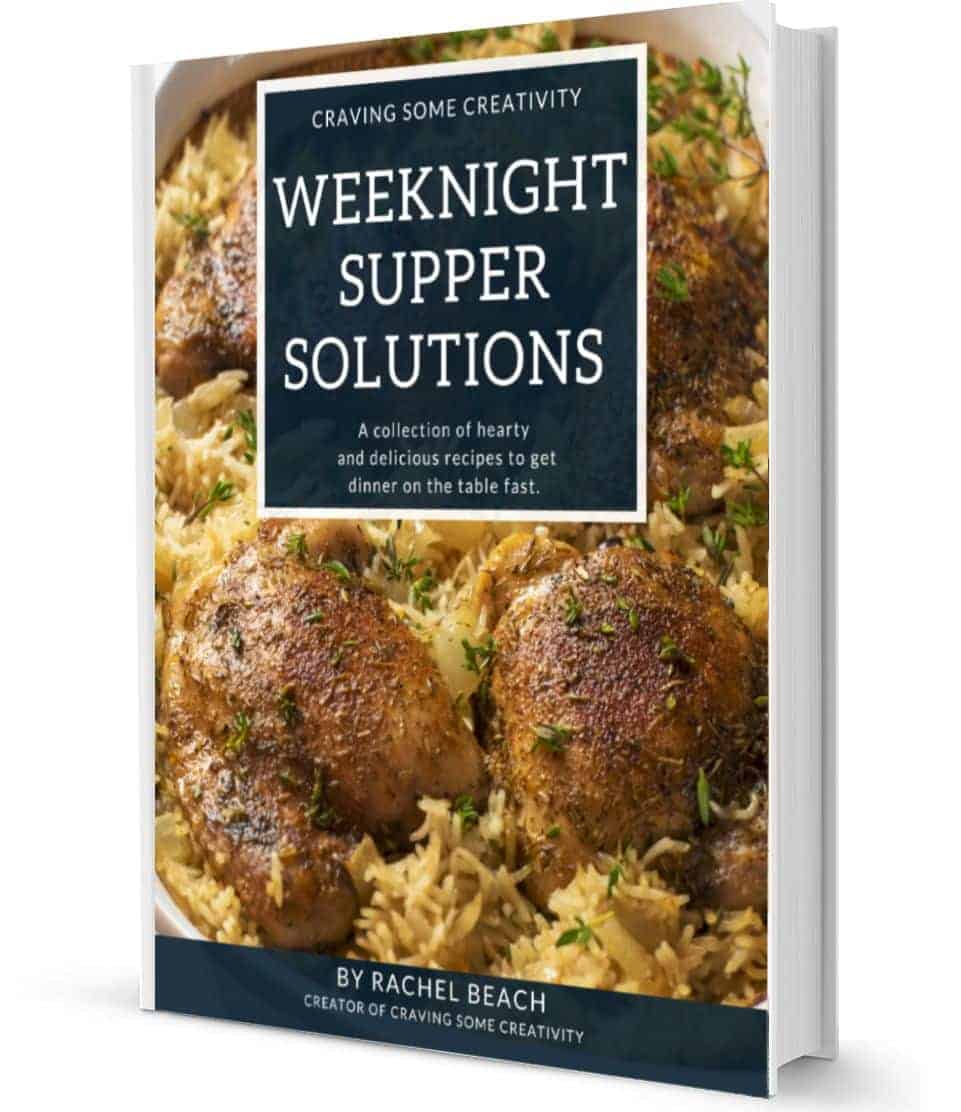 Not Sure
What's For Dinner?
Signup for recipe updates and get a free cookbook of Easy Weeknight Supper Solutions!
More Dressing and Dip Recipes
PS. If you make this recipe, leave a COMMENT AND A STAR RATING in the comments section at the bottom and be sure to take a photo and tag it #cravingcreative on Instagram! I appreciate you for taking the time to read about me and my family recipes. 
Greek Yogurt Ranch Dip
This easy and healthy ranch dip with greek yogurt gives zesty flavor to your favorite bites without the guilt! Creamy and tangy, this recipe works as a thick dressing or dip.
Print
Pin
Rate
Ingredients
1

cup

Plain Greek Yogurt

2

tablespoon

Buttermilk Powder

½

teaspoon

Garlic Powder

½

teaspoon

Onion Powder

1

teaspoon

Lemon Juice

¾

teaspoon

Dill

dried

½

teaspoon

Chives

dried or fresh

½

teaspoon

Worcestershire sauce

¼

teaspoon

Salt
Instructions
In a small bowl, whisk together all ingredients. Allow to thicken and setup, about 10 minutes. Garnish with more fresh chives or dill if desired.

If possible, let sit in the refrigerator for at least a couple hours to allow the flavors to develop. Stir again just before serving.

 If you want to use it as a salad dressing, add additional lemon juice or water, one tablespoon at a time and stir, until achieving the desired consistency.
Nutrition
Serving:
2
tablespoons
|
Calories:
22
kcal
|
Carbohydrates:
7
g
|
Protein:
10
g
|
Fat:
0.1
g
|
Monounsaturated Fat:
0.02
g
|
Trans Fat:
0.001
g
|
Cholesterol:
1
mg
|
Sodium:
16
mg
|
Potassium:
31
mg
|
Fiber:
0.02
g
|
Sugar:
1
g
|
Vitamin A:
3
IU
|
Vitamin C:
0.2
mg
|
Calcium:
21
mg
|
Iron:
0.03
mg