This is a sponsored post written by me on behalf of Raise. All opinions are 100% mine.
Are you feeling the Christmas spirit yet? I can't believe how close it is! The gifts are bought and all the decorations are hung. And here I am trying to get things wrapped up for the 2017 Christmas Home Tour. If you haven't seen our previous home tours, the winter wonderland theme is killin' it this year.
This is usually the week I plan on driving around to marvel at the holiday lights around the neighborhood, and then warming back up when we return with a cup of hot cocoa. I love that our neighborhood goes all out in their displays. I have a few "moments" happening here and there, but I try to keep it simple and add a little each year.
For our contemporary colonial home, it's all about the classic decor. Lots of wreaths, greenery, white lights and red accents. Decorating for the holidays is a bit of a splurge so I set aside a small budget every year and stick to it. This year I added the wreaths to the windows with 5lb command hooks.  I hope this is the year to stock up on outdoor decorations during the after Christmas sales, because I have had my eye on some lighted reindeer and maybe a swag for around the door.
Now, here is a fun idea I have for next year. You see that giant arched window above the door? There is a ledge just below it and I want to make this window the outdoor holiday focal point. I intend to put up a very large roll of paper like teachers use for school boards and then add a large wall decal like this one from Wayfair. It will look similar to my merry and bright sign, but maybe with a different quote. To make sure it shines bright for all to see, I am going to illuminate it with white lights around the edges of the window that bounce off the paper window backing. Lastly, I intend to create a flat forest out of plywood and make a snow-covered winter wonderland that can sit on the window ledge.
It's going to be a showstopper!
I've talked a lot about my budget and especially for Christmas decorating, my brain is always full of more ideas than the budget would allow. I can't be the only one! Are you in the same boat? I have a few tips that have helped me a lot in the past.
You know all those gift cards you get at Christmas time and never have a chance to use? You can actually sell them for cash on Raise at the price you choose. You can also buy gift cards from your favorite brands at a discount! It's like creating your own sale, and you can even couple it with other sales for deep discounts.
For example, if you go into your favorite store with a $100 gift card, it works just like cash, right? But what if the gift card only cost you $80?  You would save $20 before even walking in the store. That's what I call a shopping secret weapon! You can use them to buy holiday gifts, entertain your guests, or maybe treat yourself to keep your sanity this holiday season. I think we could all use some pampering during the holidays, right?
I use Raise as a way to buy and redeem discounted gift cards. They even have a phone app that allows you to buy and store gift cards on the go. They have fast delivery- with most electronic gift cards delivered within minutes!
So here is my experience – I like to use Raise especially for online shopping and at places such as Wayfair, Home Depot, and even HomeGoods. For instance, I saved about $25 on the dining room decorations after redeeming gift cards from Raise. I purchased six of the metal deer you see above for less than $8 each. Prices do change but I see discounts often from 2-20%, so you can watch for your favorite stores as well. And if convenience is important, you can add something to your online cart, order a gift card, and then come back to checkout. Raise even offers every purchase on their site the benefit of a 1 year Money-Back Guarantee!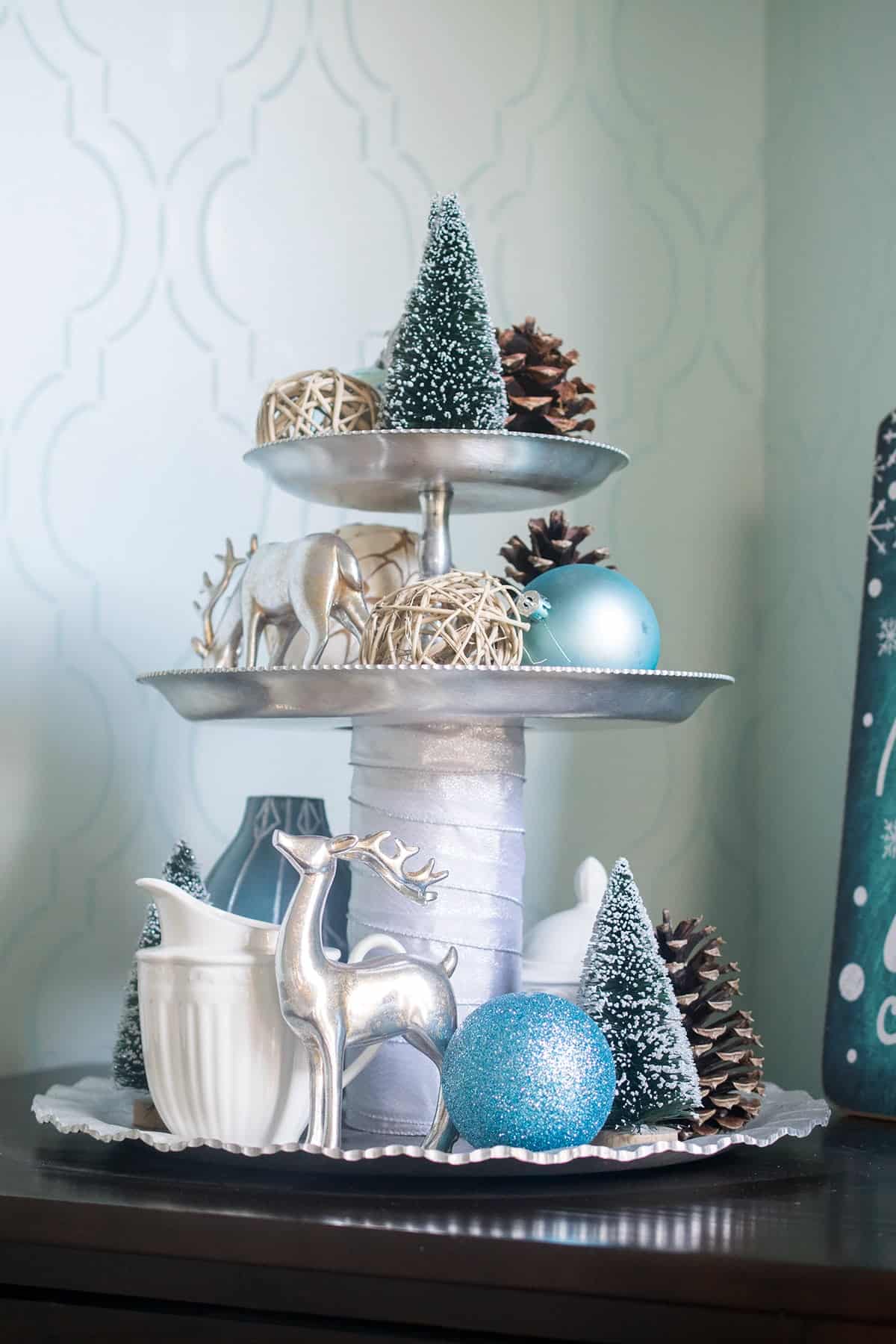 New users can get $10 off orders of $50 or more with code CHEER10. Of course, there's no easier time to save money than during or right after the holidays. If you've been hesitant before, try it this season and see how much you can save.  Happy Holidays!
Looking for More Holiday Home Decor Ideas? Check these out: