Treat boxes packed with love! These care package ideas for boyfriends, husbands, or friends will melt their heart and make them feel how much you care.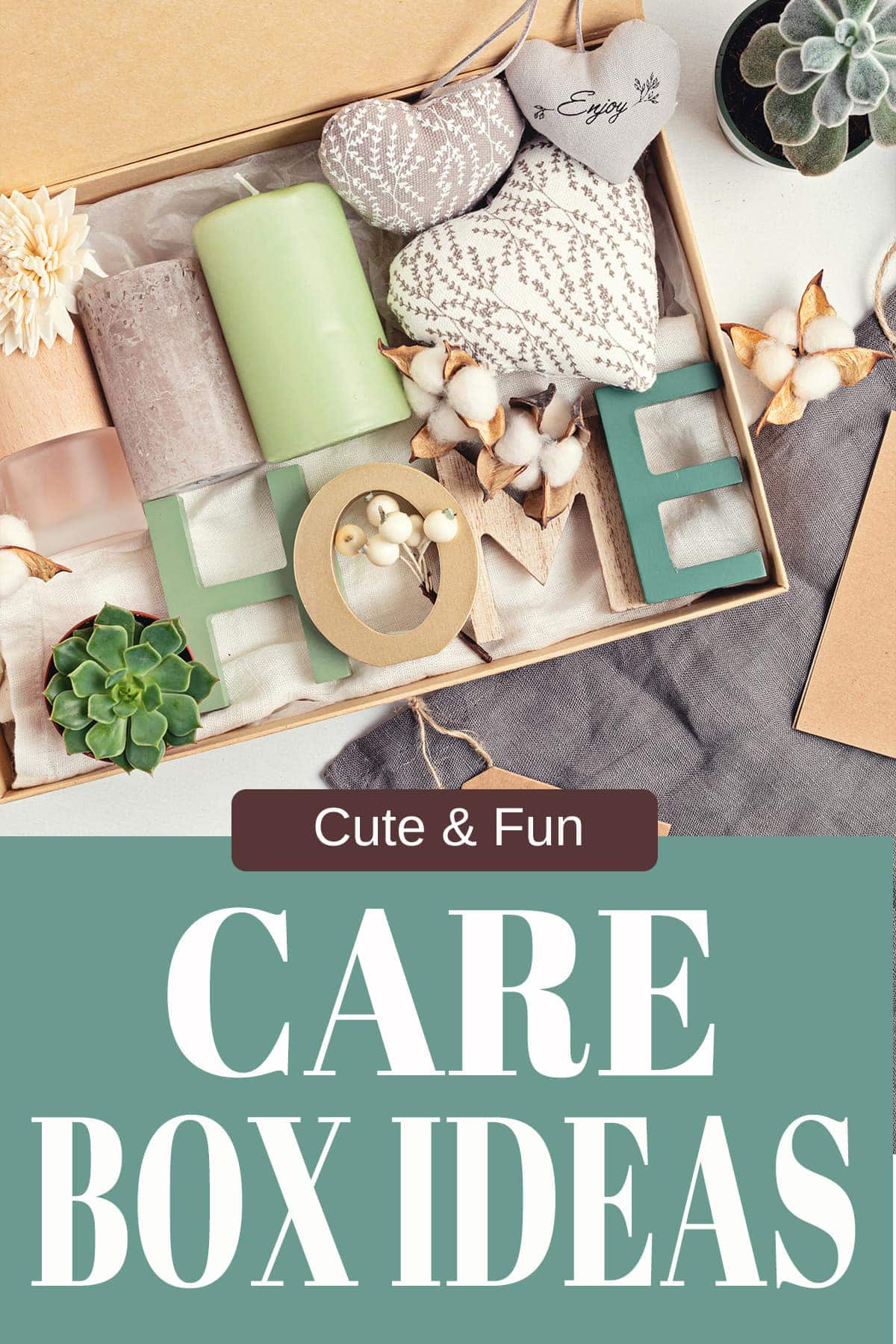 Who doesn't love to receive a little box of hand picked goodies?! For a boyfriend, the goal is to send him a care package that will melt his heart.
When Hubby got his big-boy job after college, he traveled quite a bit. I really wanted to show my support for him and his career. Being the sweet wife that I am (HA!), I always tried to tuck something in his suitcase when he wasn't looking.
Over the years, I have gotten really good at packing little treats of surprises from welcome packages for vacations, miss you packages, and even random just because I care.
Hopefully, these boyfriend care package ideas will help you send him a heart-melting box! There is some overlap in the themes below, but no item is repeated, so check them all out for great ideas.
How To Pack a Care Package
When deciding what to put in a care package, there are some important questions and considerations you want to ask yourself in the actual packing.
Are any items likely to be confiscated? (Military, TSA in airports, shipping regulations, etc)
All liquids should be well secured. Sometimes I double bag in ziplock baggies.
Wrap baked goods in plastic and then box to keep from crushing.
Understand that when shipping, the box may often be flipped upside down.
Anything perishable should be bagged separately, just in case!
Make the box cute, personal, and include a letter.
Easy Decoration Idea!
This store sells perfectly sized stickers for so many occasions and well wishes! The box feels personalized and super special!
The "Thing" They Didn't Know They Needed
This is where I include "A Few Of YOUR Favorite Things" philosophy with little items you know they love but maybe wouldn't buy for themselves.
Aspirin
Magazines
Books
A card with donation to their favorite charity or cause
Trial of Amazon Audible
Helpful Phone Apps
Pens or Pencils
Small Notebooks
Velcro Cable Ties – these are great!
Noise Cancelling Headphones
Mini-flashlight
An amazing wallet my husband loves this one! Bonus Points if you add a photo!
Sleep headphones – no earbuds sticking in your ears!
Magnetic wristband
Credit card multi-tool (so useful!)
Batteries
Gloves
Tiny Magnetic Fidget Balls – these are really fun to build things with.
Get Well Care Package Ideas
Although I would not wish illness on anyone, these are one of my favorites to put together! Comforting with a little TLC, these always seem to brighten their day.
Soups or homemade comfort recipes
Cookies
Comfy Pajamas
Air Cleaning Plants like Peace Lilies or Rubber Trees
Individual mint packs with encouraging statements written on them
Lip Balm
Cozy Blanket
Giant Mug that is easy to hold
Cold remedy medicines or cough drops
Romantic Care Package Ideas for Men
A picture of you or the family that misses them
A card or letter
A Mushion – hilarious!
A poem
A favorite keepsake or trinket that reminds them of an inside joke between you two
Pack of postcards and a pen
A swatch fabric with your perfume on it
A playlist of songs (yes, totally high school love awesome!)
DVDs (if his place of stay is equipped with a player)
New Boxers or Briefs
Mini-inspiration books
Japanese Incense – Clean burning with light floral scents. Not like that cheap stuff in stores.
Candle or reed diffuser
For The Foodie Man
Nuts or Trail Mix
Instant Breakfast Options
Hot sauce
Jerky
Cereal bars or granola bars
BBQ rub that looks so good (I love Smokehouse Maple)
Homemade baked goods (make sure to package well!)
Water mixes like Mio or Crystal Light
Mini-cereal boxes
Mints or Gum
Chocolate (preferably something that won't melt easily)
Snack packs like pretzels, crackers, or cookies
Dried Fruit
Fresh uncut fruit like apples or a pear (nothing squishy)
Does he have a favorite guilty pleasure candy?
Harvest Snaps
Nutella
For Manly Self Care
I once sent a care package with a "shared" facial experience. It was hysterical to have a long distance date over Facetime in mud masks. These ideas tell them you care about them and they should take care of themselves.
Lip balm
Cologne
Sunscreen or SPF moisturizer
Scarf
Collar Stays
Cuff links
Shaving Cream
Shave Balm
For The Traveler or Outdoorsman
Earbuds
Individual mixes of protein shakes
Things to do on the plane (magazines, sodoku puzzles)
Funny socks or t-shirt
Thermos or Yeti
Water pack
I-tunes gift cards
Handwarmers
Items that remind them of home (sports teams or hobbies)
Longer Stay or Deployment Ideas
Books/Magazines
Gift cards (I-tunes is one of my favorites!)
Laundry Detergent
Toiletries
Cash (because everyone runs out at some point!)
Socks – they still go missing
Candles
Writing Utensils and Paper or Clipboard
Pre-Built Care Packages
No time to shop and pack? Take the hassle out but still send all the love!
MENtal Health Package
Men dont take good enough care of themselves. This box is complete with everything the men in your life need to dive into self care, stress relief and relaxation.
Health Bro Box
Premium mix of gourmet snacks to keep them refreshed, energized, and ready for action with out the hangry-monster showing up!
Homemade Wishes
Nourishing and comforting, this package is just what that the doctor ordered for the man who needs a little heart-felt TLC.
Suds and Snacks
A relaxing night in! A little pampering smell-goods for relaxing vibes and indulging snacks to elevate their mood.
Ultimate Snack Box
Great deal with over 50 awesome snacks for less than $30!
FAQs
How can I personalize my care package?
I like to decorate the inside or include a special card – anything that puts a smile on their face when they open it up. You can also use wrapping paper or decorate it with their favorite sports team colors. Include things they love with things that remind them of home.
Is there anything I should avoid including in a care package?
I like to keep it simple with some of their favorite snacks and pampering items. Some things you should steer clear of include perishables during transport, aerosols, carbonated liquids, flammable items, or anything that might be deemed inappropriate. Be mindful of shipping and travel restrictions.
Should I have a theme for my care package?
It's not entirely necessary, but I think a theme makes it all the more special. Keep in mind the recipient's favorite hobbies like fishing, sports, or movies. If you share children, it's always nice to include them by letting them help decorate. Get creative and use your imagination They'll be so excited to know you thought of them.
The simple unexpected gifts are often the most cherished and I am sure you can come up with a few of your own tailored care package ideas. My husband still talks about it even though he doesn't travel as much now and he always seemed to look forward to coming home even more especially with the spruced up bed.
Want more sweet gift ideas? Check out these DIY tutorials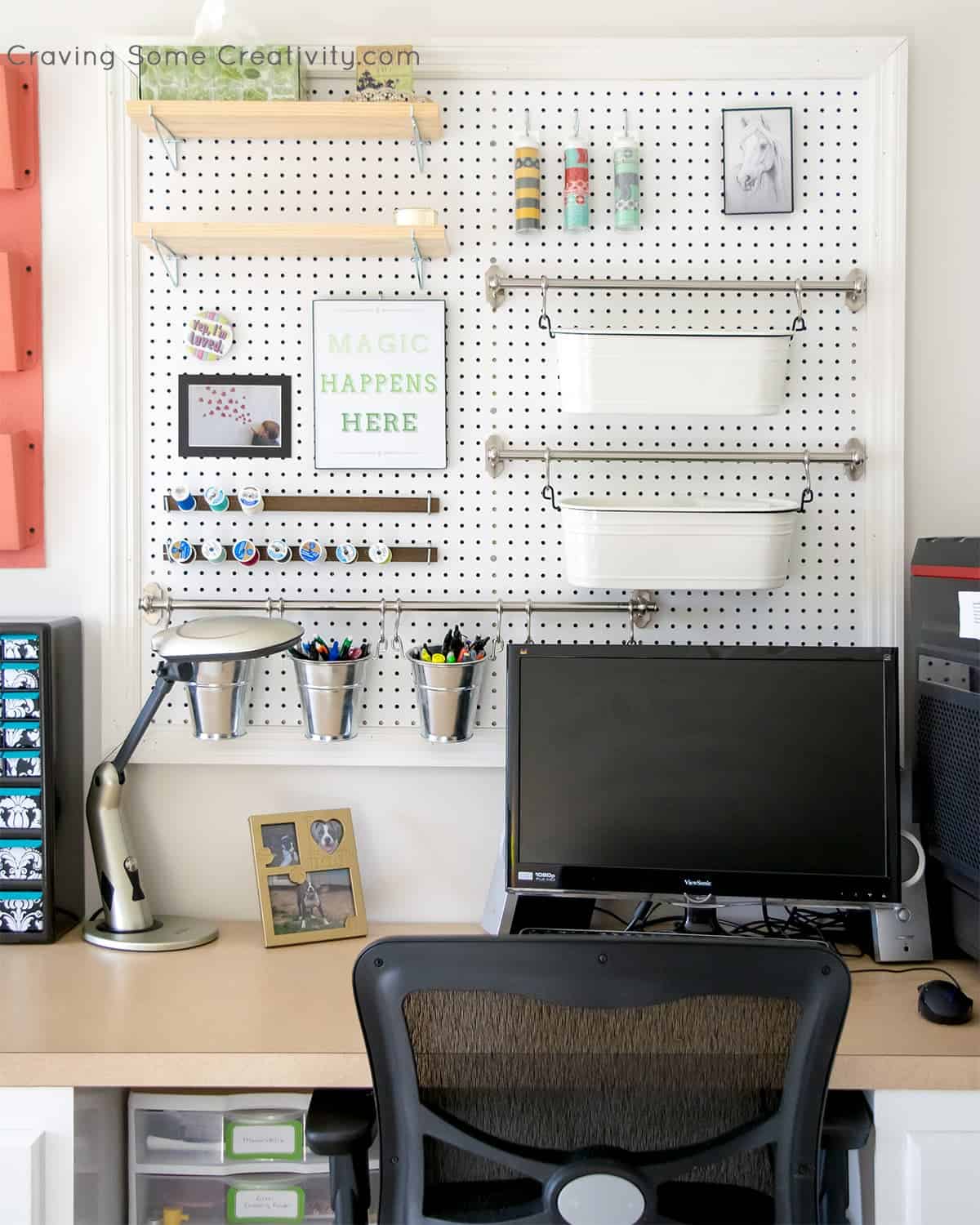 Grab our free series "Weekend Home Projects that will Transform Your Life"
Sign up below to receive updates including free printables, organization tips, home improvement projects, recipes and more!
For more sweet ideas, check these out!