Learn how to make DIY clay coasters with a marbled effect to add a chic touch to any room while protecting your furniture!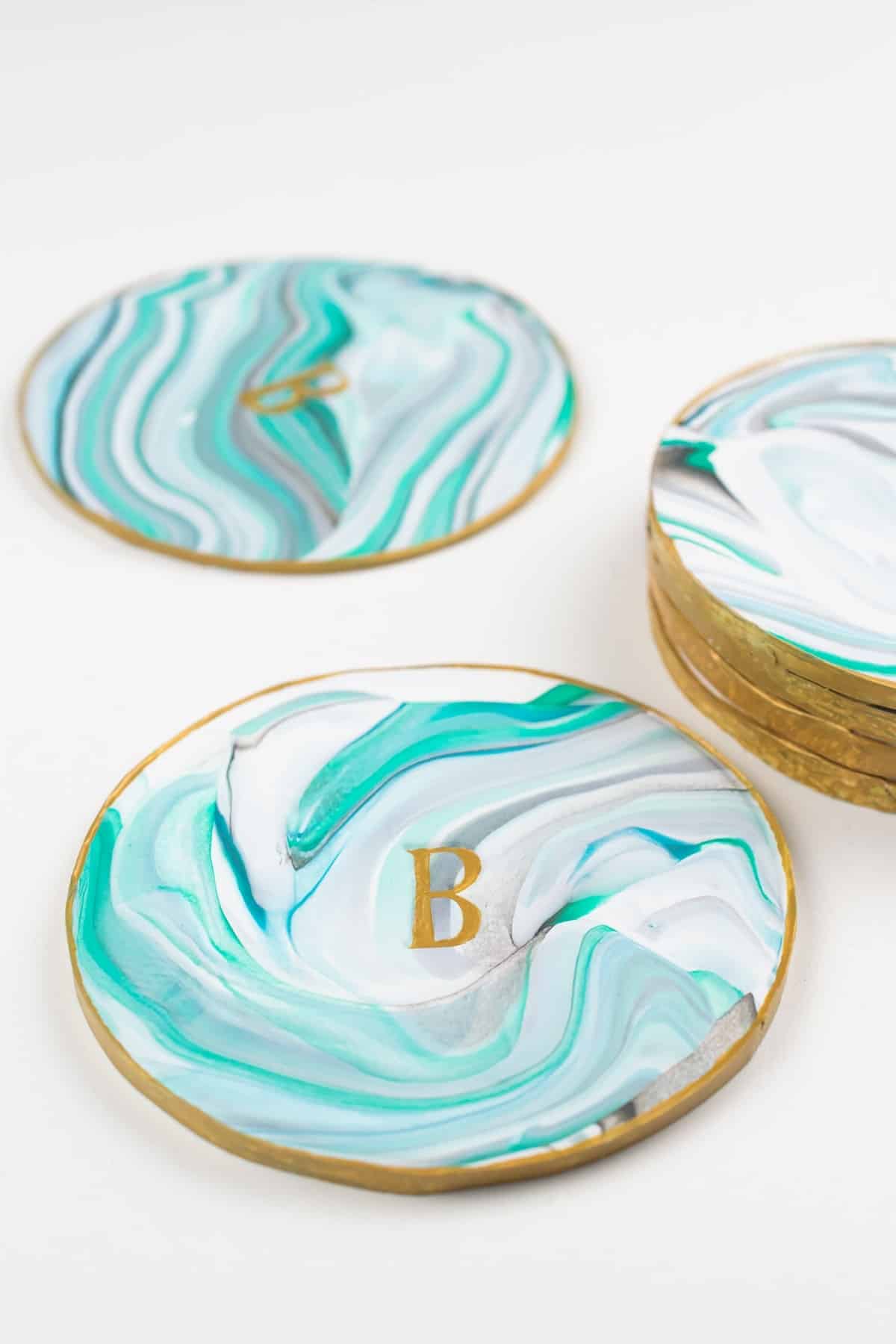 Supplies for Creating DIY Coasters
Fine tip paint brush
Craft cutting knife or X-acto Knife
Rolling Pin or Acrylic roller
Monogram Stamp
Metallic Paint
Circle shape for cutting or large jar, about 3.5 inches wide
These simple and elegant marbled coasters with a monogram are actually really easy to make in just a few minutes. The color combinations are endless and these make a perfect party or wedding gift! Watch the video below (that I also uploaded to the Joann App) or read on to make your own marbled clay coasters.
How to Make Marbled Clay Coasters
1. Choose 3-5 colors of modeling clay.
2. On a flat surface, roll each clay color into strips about 5 inches long. For your primary color (or white), make a roll slightly smaller than the diameter of a quarter. Make smaller rolls of secondary/highlight colors. The amount of each color you use will change the look and feel of the final project.
3. Twist the rolls together in a chain. Roll and gently stretch until smooth and well incorporated. Fold in half and twist several times. Roll and stretch the twisted clay. Repeat until you like what you see. The colors will start out chunky, but the more you repeat, the colors will blend and the striations will become finer.
4. Roll your chain into a ball, and flatten with your palm on a smooth surface.
5. Using a rolling pin or acrylic roller, flatten out the ball to at least 3.5 inches in diameter. Check for any apparent bubbles trapped in the clay. You can remove with a pin if necessary. Pick up to make sure it doesn't stick to the board.
6. Place your 3.5 inch circle cutting shape on top of the clay. Trace around with a craft cutting knife. Remove excess.
7. In the center, stamp the monogram if desired.
8. Bake at 275 degrees F for 15 minutes for every ¼ inch thickness. Let cool completely.
9. Using a small brush, paint the monogram and the edges if you desire.
Aren't they cute!?
More Adorable Crafts To Do With Kids
Grab our free series "Weekend Home Projects that will Transform Your Life"
Sign up below to receive updates including free printables, organization tips, home improvement projects, recipes and more!
More Crafting Ideas