Looking to paint some cute coffee mugs? This tutorial is dishwasher safe for super cute mugs.
I love cute and easy crafts, don't you? These valentine's day painted coffee mugs are a snap to do and, then, you and your honey can spend a quiet morning reminding each other how great your life together is!
Have you seen all those adorable sharpie painted coffee mug projects on Pinterest? Although I am a big fan of sharpies, they aren't dishwasher safe or even remotely permanent on surfaces such as ceramic, glass, or even most fabrics (horrible fading). I shared my chalkboard message board last week and I was using a multi-surface craft paint from FolkArt. Guess what?! It is top-shelf dishwasher safe for ceramics. That got me thinking about making some cute painted coffee mugs for Valentine's Day.
I used an old technique from art class called stippling. Stippling is basically creating any shape or object out of drawing only dots. I once did a project making a picture of a tiger on safari with this technique. I love to look at it but I think my hand cramped so many times from making all those darn dots. Slowest form of drawing ever! But not these mugs. Total time drawing took maybe 15 minutes.
Instructions for Painting Ceramic Mugs
1. Draw or trace outline of a shape on ceramic mug with a pencil. Pencil wipes off easily but also provides a good guide.
2. I used FolkArt Enamel satin paint to make the little dots in the shape of a heart.
3. Let paint dry for 1 hour.
4. To cure the paint and make it top-shelf dishwasher safe, you can use 1 of 2 methods: Bake Method: Allow painted item to dry for 1 hour to be sure all layers of paint have dried. Place project in a cool oven. Set oven temperature to 350ºF. Once temperature has reached 350ºF, start timing for 30 minutes. After 30 minutes, turn the oven off. Glass must heat gradually with the oven to avoid breakage. Do not place glass in a hot oven. Let glass cool completely in oven. Do not use for 72 hours. Air Dry Method: Air dry project for 21 days before use.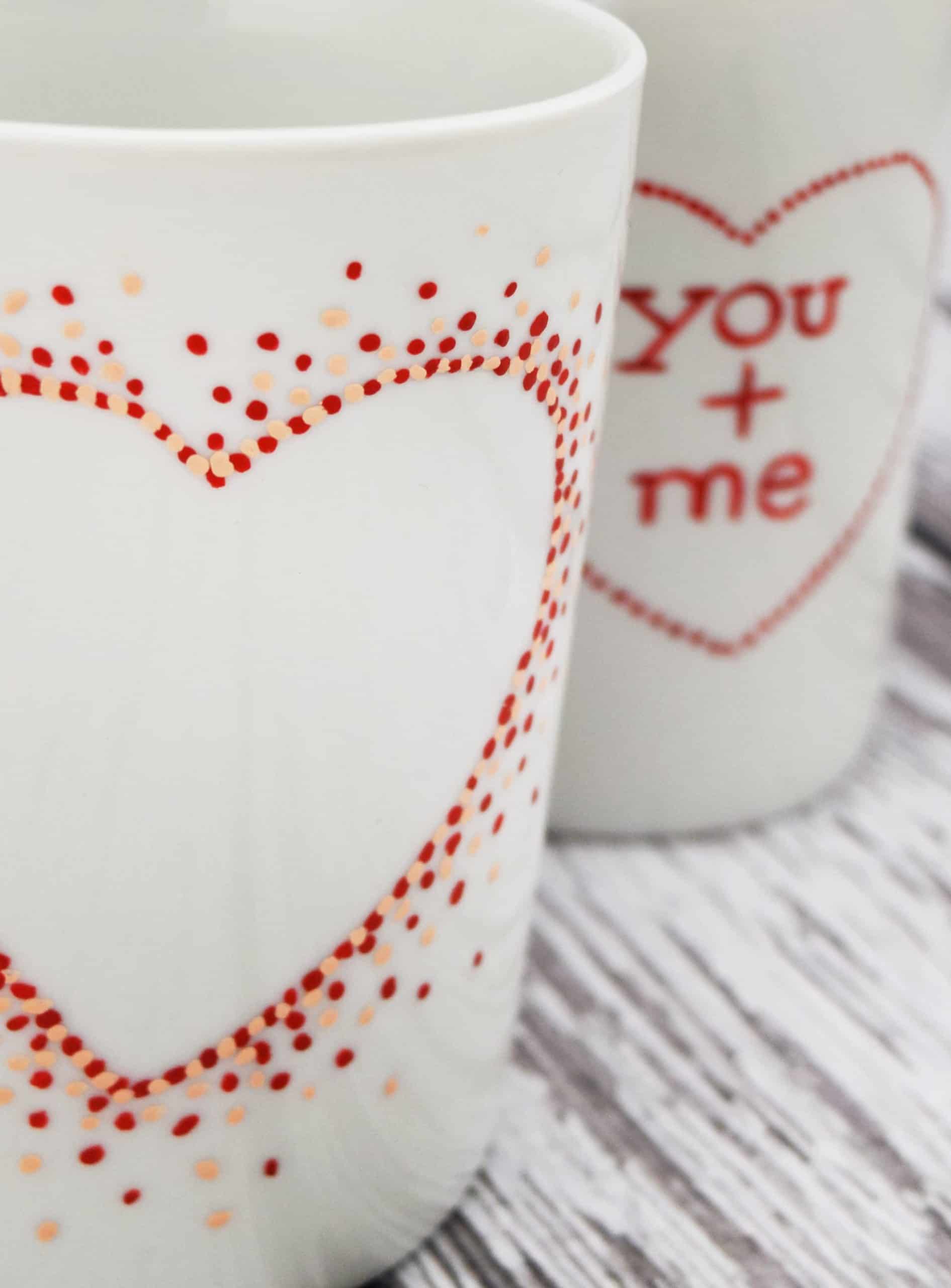 Hope you get to make you sweetheart a painted coffee mug! I think I am going to show these babies off with breakfast in bed or maybe just a quiet coffee in the morning before the little one wakes up. Whatever you do, I am sure it will be lovely.
Check out a few more of my easy holiday DIY craft ideas here:
Grab our free series "Weekend Home Projects that will Transform Your Life"
Sign up below to receive updates including free printables, organization tips, home improvement projects, recipes and more!
More Valentine's Day Crafts