With a creamy egg custard, savory veggies, and cheese filling in a flaky pie crust, this easy Spinach Mushroom Quiche recipe is something to wake up for!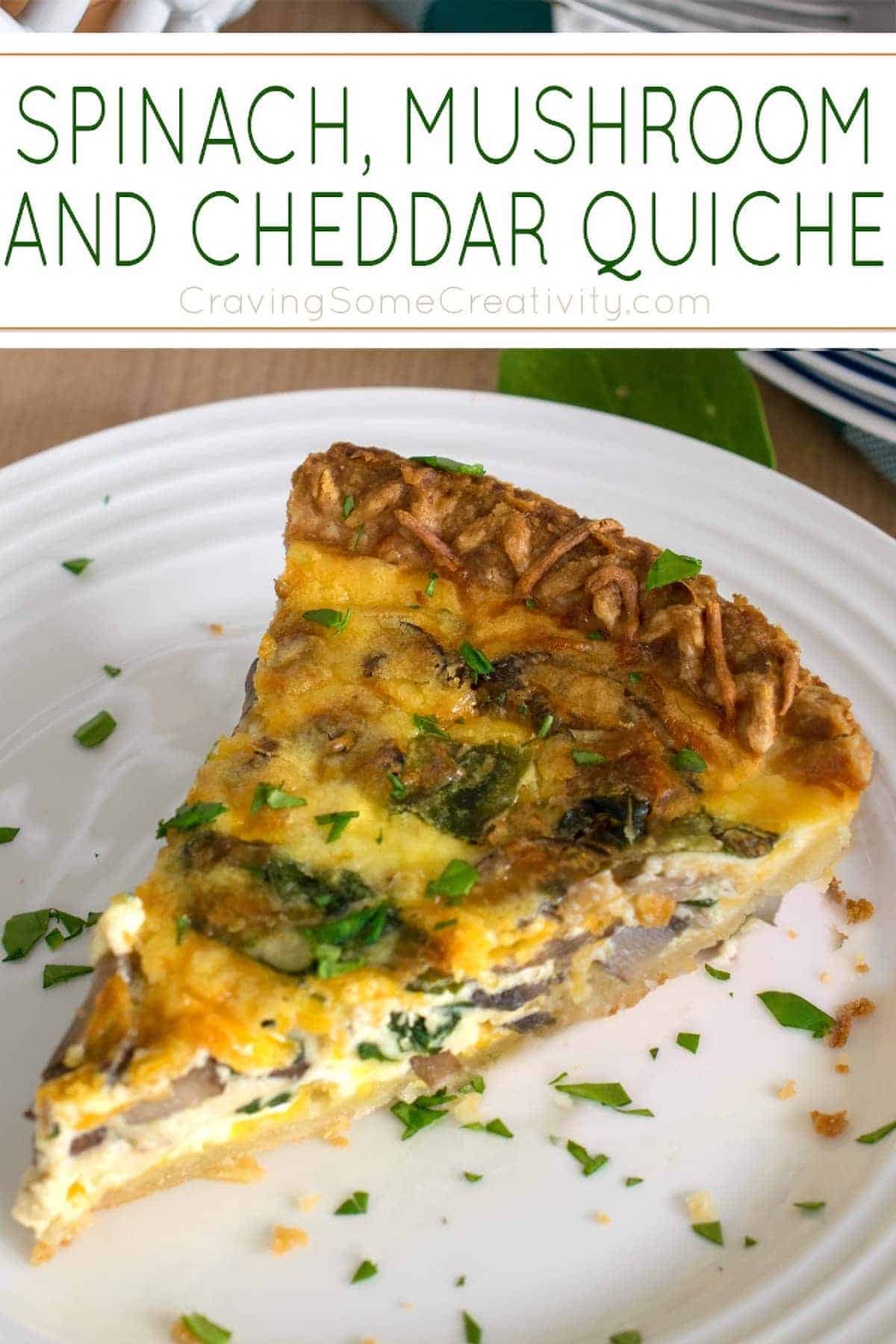 I'm a big fan of savory, meaty breakfast dishes and I've been making this easy quiche recipe for years. It's very filling and it's bursting with flavor without sacrificing texture.
Actually, it's the perfect brunch recipe for those Sunday mornings where everyone slept in a little late. It reheats well by the slice, so I can bake it the night before. Or prep everything and toss it in the oven for homemade hearty brunch to feed the whole family. And the kids get more veggies which is always a good thing!
What is a quiche? Quiche is an egg and milky cream custard filling that is loaded with toppings like cheese and veggies. It's a little like a lighter, fluffier omelet with a pie crust, although some quiches are crustless. Spinach quiche and quiche Lorraine are the most common varieties. It is excellent when paired with Strawberry Walnut Salad, Sour Cream Doughnuts with Cold Brew Coffee, or a simple fresh fruit salad.
The best thing about this easy Spinach Mushroom Quiche recipe is that it utilizes a pre-made pie crust. That makes it very easy for measuring and cuts down on the preparation time.
What You Will Need
Eggs: Large eggs are the most common. Eggs should ideally be room temperature to make the silkiest, lightest filling.
Mushrooms: Since the veggies are pre-cooked, you can slice them as thick or thin as you like. I generally use baby bella mushrooms, but Button mushrooms work great too.
Prepared Pie Crust: Your favorite homemade pie crust or one from the store works.
Shredded Cheddar: I grate my own but store-bought shredded sharp cheddar is perfect.
Milk/Heavy Cream: The recipe contains ½ cup milk and ½ cup heavy cream. I usually have those on hand but have also used 1 cup of half and half.
Chopped Spinach: If using fresh spinach, don't pack the cups when measuring. Remove stems and chop to your desired texture. For frozen, thaw in a mesh sieve, chop and squeeze out excess moisture.
*Variation Tip – You can actually use any vegetables, meat, or cheeses you like and I have a spinach bacon quiche variation. What I love about quiche is using up the leftover bits of veggies from the fridge!
How To Make Quiche
Prepare your crust– The crust should be baked according to directions before preparing.
Prepare Add-Ins – This includes cooking meats and vegetables, shredding cheese, etc. All meats and vegetables should be precooked before adding to your quiche.
Combine Seasonings, Eggs & Milk/Cream – Beat together until smooth and creamy.
4. Layering Quiche – I like to layer my quiche in a specific order. Layers should be sprinkled and loose so the egg mixture can fill in the gaps.
Sprinkle half the cheese on the bottom of the crust. Loosely sprinkle the add-ins and then top with remaining cheese. Lastly pour the egg mixture over top. I pour around the top rather than just one spot. The cheese sitting just above the egg mixture is fine. It will melt and create a pretty, cheesy crust on top.
Expert Tips For Making Quiche
With fresh, sometimes I tear off the stems, sometimes I don't – depends on my mood. However, the texture is a bit better without stems.
If you use frozen spinach, drain the spinach extra well. Thawed frozen spinach is full of water and you don't want that!
Bake the quiche until it is golden brown on top, and the center is no longer jiggly. If I am not sure, I use my finger to press the center very gently like a cake. If the center is bouncy, it is done Use a mitt or folded paper towel so you don't burn yourself.
It may dome or puff up during baking. This is normal and it will level out as it cools.
You can also make this recipe in a deep-dish pie crust. I usually double the recipe for a deep dish, including the spinach mixture. For a deep dish, the baking time will increase to about 45 minutes. I start checking around 40 minutes.
How To Store Spinach Mushroom Quiche
Serving Ideas: This recipe is perfect any time of day! Breakfast, brunch, even dinner. Depending on the meal, I have served quiche with fruit salad, french toast, waffles, pastries, garlic roasted potatoes, and tomato or butternut squash soup.
Store: Store quiche in a ziplock bag or other airtight container in the fridge. It should keep well for up to 4 days.
Freeze: You can freeze cooked quiche for up to 3 months, if you cover it with a few sheets of aluminum foil. Be sure to let it cool before sealing and storing it in the freezer.
Make Ahead: Everything can be prepped for the pie ahead of time like cooking the meats/veggies, preparing the pie crust, and whisking the egg mixture. The egg mixture may need a fresh whisking just before using to get any settled seasonings.
Looking for Delicious Breakfast Ideas? Check Out Our Other Recipes
Frequently asked questions:
Can I add or substitute the fillings in spinach mushroom quiche?
The possibilities are endless! A simple 1:1 substitution works well, just make sure to pre-cook or steam any add-ins.
-Shredded Cheeses like feta, mozzarella, smoked gouda, or swiss.
-Green or yellow onions
-Diced Red Pepper
-Asparagus spears (I cut them into bite sized pieces)
-Diced Meats like Bacon, Ham, Ground Beef, and Breakfast sausage
-Broccoli Florets (frozen or steamed fresh)
How do I keep my quiche from getting soggy?
The key to preventing a soggy quiche is to reduce the moisture in your vegetables. Cook mushrooms and other vegetables long enough that they release their juices, the liquid evaporates, and the mushrooms turn a dark golden brown. You don't want them black-brown.
What can I use instead of a quiche dish?
1. Pie Plate or Aluminum Crust plate
2. Tart Pan
3. Springform pan
4. Cake pan
5. 8×8 baking pan (i.e. brownie pan)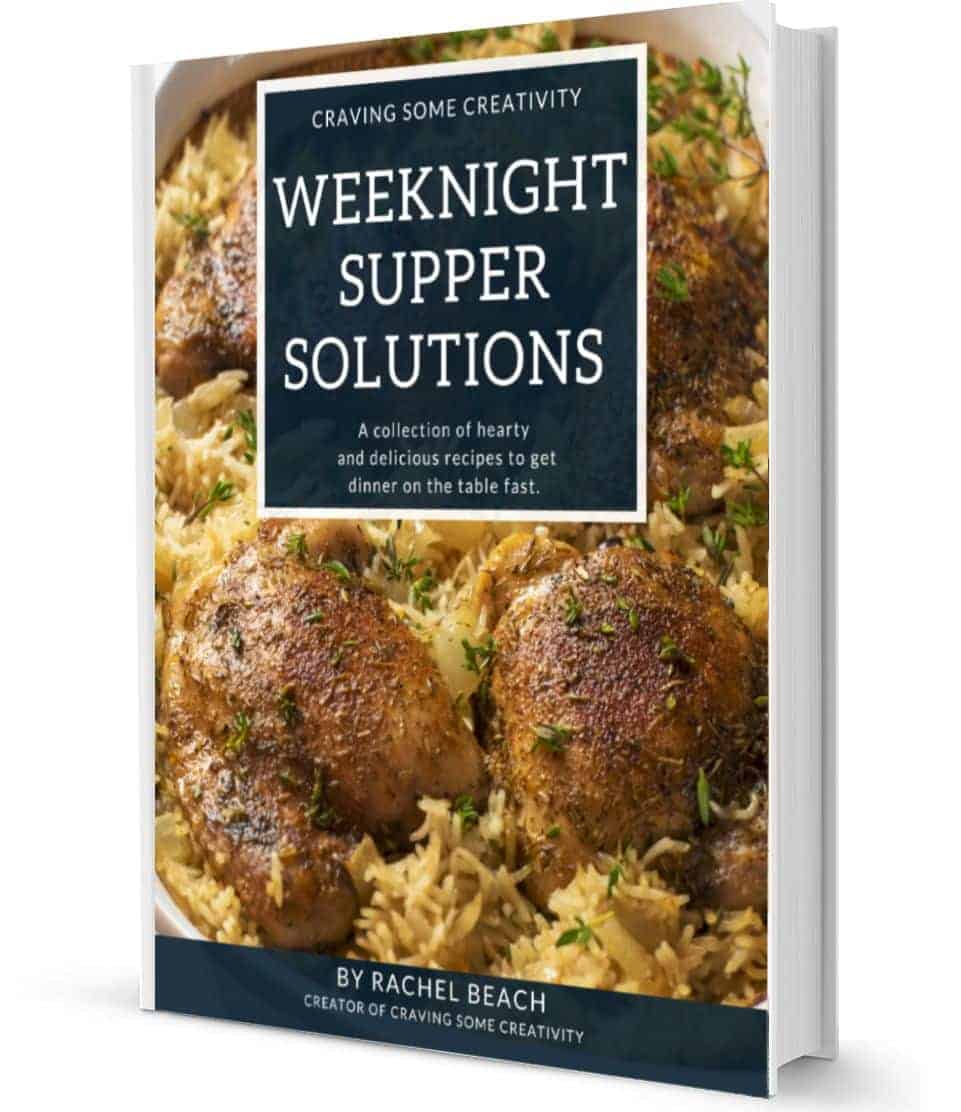 Not Sure
What's For Dinner?
Signup for recipe updates and get a free cookbook of Easy Weeknight Supper Solutions!
More Recipes You May Enjoy
PS. If you make this recipe, leave a COMMENT AND A STAR RATING in the comments section at the bottom and be sure to take a photo and tag it #cravingcreative on Instagram! I appreciate you for taking the time to read about me and my family recipes. 
Spinach Mushroom Quiche
With a creamy egg custard, savory veggies, and cheese filling in a flaky pie crust, this easy Spinach and Mushroom Quiche recipe is something to wake up for!
Print
Pin
Rate
Ingredients
1

pre-made crust prepared as directed

1

tablespoon

butter

½

lb

sliced mushrooms

baby bella

3

cups

fresh spinach

or 1 cup frozen

½

cup

diced yellow onion

½

cup

milk

½

cup

heavy cream

2

large eggs

1

large egg yolk

salt and pepper

1

cup

sharp cheddar cheese

divided
Instructions
Preheat oven to 375 degrees. Bake crust according to directions. Set aside to cool.

Melt butter in a large skillet over medium-high heat. Add onions, and cook, stirring until translucent but not brown. Add mushrooms and cook, stirring often until mushrooms release their liquid, and the liquid evaporates. The mushrooms should be a dark golden brown, about 8-10 minutes. Stir in the spinach, and cook for about a minute until the spinach wilts.

In a medium mixing bowl, whisk together milk, cream, eggs, and egg yolk. Season with salt and pepper to taste.

In the pie crust, sprinkle half of the cheese evenly over the bottom of the crust. Sprinkle with vegetable mixture, and then top with the remaining cheese. Pour the egg mixture over the cheese.

Transfer to oven. Bake until just set in the center, about 30-35 minutes. 40-50 for deep dish. Cool on a wire rack for about 10 minutes before slicing.
Notes
Make Ahead Instructions: You can prep everything the night before. That includes pre-baking the pie shell (cover tightly to store), and cooking the vegetables.
Deep Dish: My quiche recipe is made for a regular sized pre-bought pie crust. You can double the recipe for a deep dish or just double the egg mixture if you prefer.
Spinach: You can use frozen spinach instead. I would use about 1 cup of frozen. After thawing, make sure to squeeze and blot out any moisture you can.
Milk: I make this quiche with ½ cup heavy cream and ½ cup whatever % milk is in the fridge. However, whole milk does produce the creamiest texture.
Filling substitutions: I make different varieties all the time by substituting veggies with a 1 to 1 ratio. Basically, 1 cup of mushrooms roughly equals 1 cup of diced red peppers, etc. Sometimes, I have even skipped the spinach without changing the other ingredients.
Nutrition
Serving:
1
slice
|
Calories:
253
kcal
|
Carbohydrates:
23.8
g
|
Protein:
9.5
g
|
Fat:
15.1
g
|
Saturated Fat:
8
g
|
Cholesterol:
103
mg
|
Sodium:
310
mg