Blueberry Lemon Loaf Cake is a cake-like confection that's boosts your mood with bright lemon flavors balanced by sweet blueberries. Moist, bursting with sunny flavor, and drizzled with a delicate lemon glaze, this recipe is a must-try.
It's a cake, it's a bread, it's delicious! Lemon Blueberry Loaf is a joyful confection inspired by my favorite lemon blueberry muffins.
This blueberry Lemon Loaf recipe eats like a bright cake. The delicate lemon glaze is subtle and slightly tart. I love sweet breads and loaf cakes like my Lemon Yogurt Cake or Chocolate Chip Zucchini Bread because they are easier than muffins and layer cakes!
Whether you're hosting brunch, planning a bridal shower, or simply need a quick pick-me-up, this recipe is up to the task. So, let's roll up our sleeves, preheat the oven, and dive into this mouthwatering recipe.
What's Great About This Recipe
So pretty with it's colorful hues of purple and golden yellow.
No special equipment – just a whisk and a bowl!
A soft, plush crumb keeps the berries from all sinking to the bottom.
A quick, foolproof lemon glaze for a beautiful finish!
Recipe Tip: Your cake moisture level may vary based on how juicy your blueberries are. Taste your blueberries before baking. If they seem particularly plump and juicy, consider cutting back on the milk just slightly.
Ingredients and Notes
Here are the key ingredients that ensure every bite is flavorful and rises correctly:
Blueberries. I use fresh blueberries, but frozen will work too. If you use frozen, don't thaw them first–just add them right into the batter.
Lemon juice and zest. For the most flavorful lemon blueberry cake, use fresh squeezed lemon juice. We add some zest before juicing them to extract all of the flavor.
Vegetable Oil. This sweet bread is quite dense so I use oil instead of butter for a beautiful rise.
Sour Cream. This helps achieve a luscious, creamy loaf that rises evenly.
Recipe Tip: While my lemon icing complements this cake beautifully, you can make a cream cheese frosting variation too. You can slather it on with a knife or make it pourable by putting in the microwave for about 10 seconds after making the frosting.
Recipe Tips
I have been making this particular recipe all summer long, so there are a few things I have learned as I went and I'm sharing them here.
Line the pan with parchment paper and leave some flowing out the sides so you have handles to easily lift the whole loaf out without any worry of sticking. (photo 3) I still run a knife on the non-lined sides.
Don't overmix! This makes for overly dense bread that won't rise well. A streak or some leftover flour is better than overmixing the dough.
Fold vegetable oil in last rather than whisking it in with the other wet ingredients. Oil tends to coat the zest and can interfere with the rise process if it's added in too early.
Using a spoon, fold blueberries into the batter, reserving half. (Photo 2) Pour batter into the loaf pan. Sprinkle the last half of the blueberries over the top of the loaf. Your blueberries will be nicely spread without all of them sinking to the bottom.
More Recipes You Might Enjoy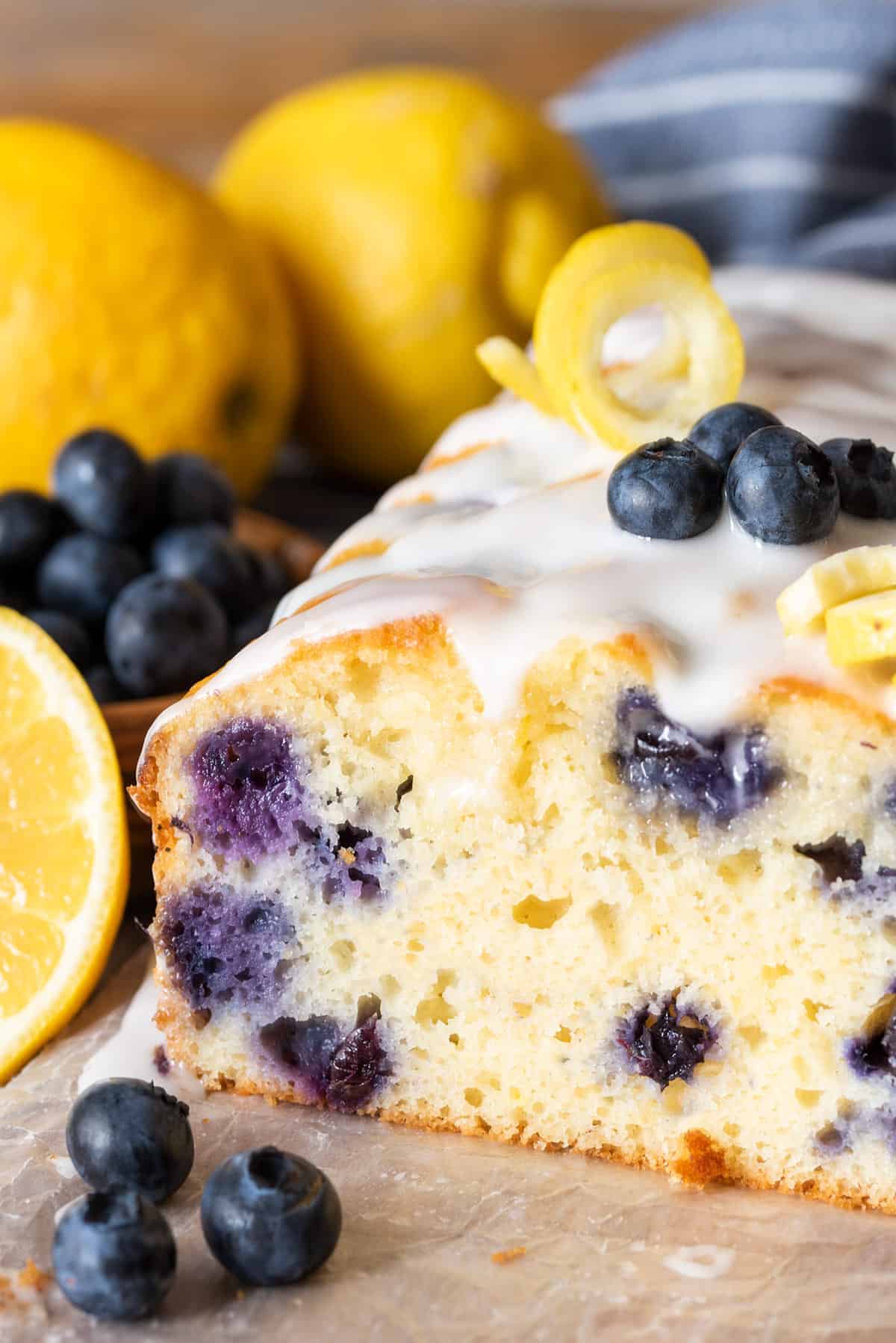 FAQs
Can I use frozen blueberries?
Frozen berries do tend to bleed more color in a cake, so it may become more muddled in coloring. However, it is perfectly fine to use frozen berries for taste and texture. I do recommend rinsing and thawing to keep the baking time consistent.
How do I keep blueberries from sinking in cake?
You may have read to toss the berries with a bit of flour or cornstarch before adding them to the batter. This is a myth – it does NOT work. Instead, try mix in half the blueberries and press the other half in the top of the batter after pouring or pouring a bit of empty batter into the bottoms before mixing the blueberries in.
How to freeze blueberry bread?
It also freezes well, you just have to wait for it too cool completely. I like to freeze individual slices. Makes it simple to quickly thaw and satisfy a craving when it strikes.
How long does lemon blueberry cake last?
Storage: Wrap it tightly in plastic wrap after cooling to keep it moist and in a domed cake travel carrier at room temperature. I store it in the microwave, (mostly so I don't eat the whole thing), but that's simply my personal preference. When stored properly, this cake lasts about 4 days.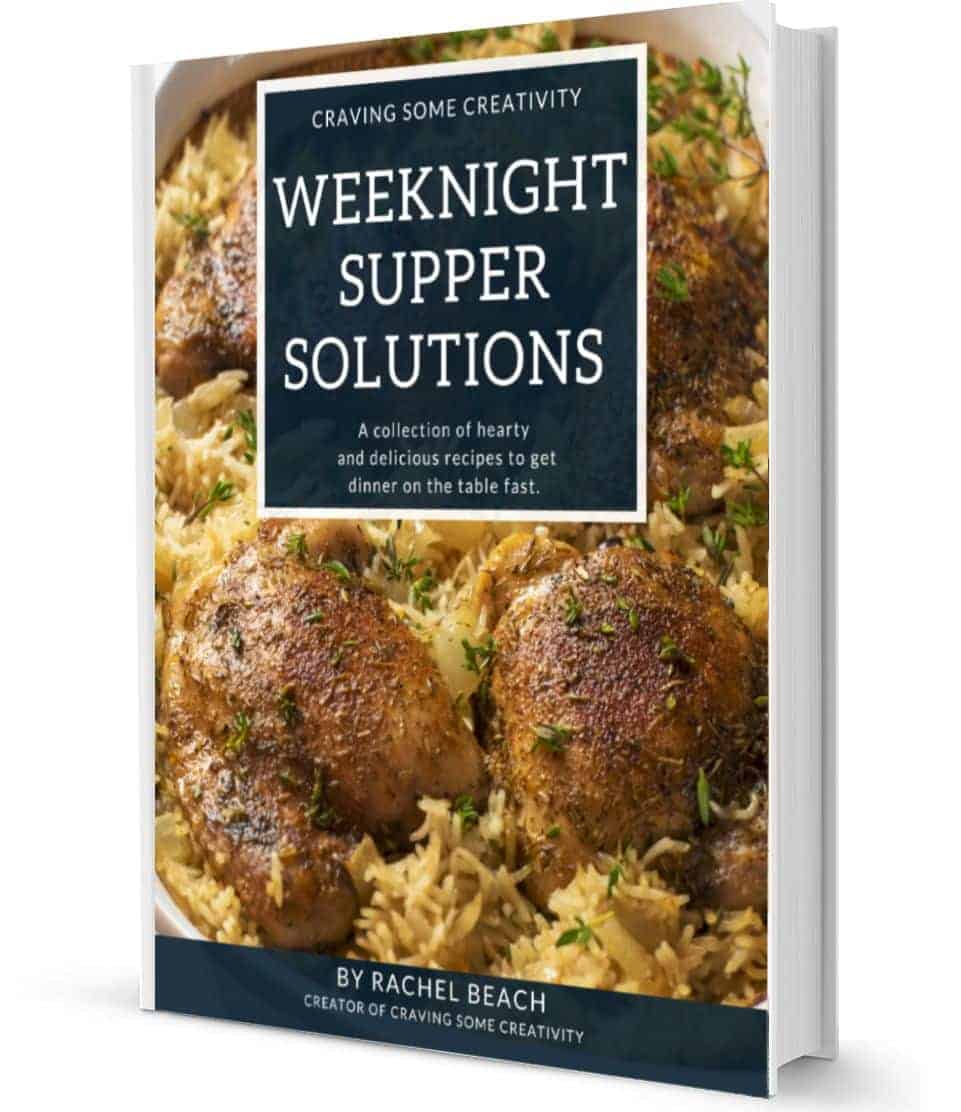 Not Sure
What's For Dinner?
Signup for recipe updates and get a free cookbook of Easy Weeknight Supper Solutions!
More Delicious Sweet Recipes
PS. If you make this recipe, leave a COMMENT AND A STAR RATING in the comments section at the bottom and be sure to take a photo and tag it #cravingcreative on Instagram! I appreciate you for taking the time to read about me and my family recipes. 
Blueberry Lemon Loaf Cake
Moist Blueberry Lemon Loaf, bursting with sunny flavor, and drizzled with a delicate lemon glaze, this recipe is a must-try.
Print
Pin
Rate
Ingredients
1.5

cup

all-purpose flour

192 grams

2

teaspoon

baking powder

½

teaspoon

salt

½

cup

granulated sugar

2

eggs

½

cup

sour cream

or greek yogurt

¼

cup

milk

1

teaspoon

vanilla extract

2

tablespoon

lemon juice

1

tablespoon

lemon zest

⅓

cup

vegetable oil

room temperature

1

cup

fresh or frozen blueberries

divided
Glaze
2

tablespoon

lemon juice

2

cup

powdered sugar
Instructions
Preheat oven to 350°F (177°C). line a 9"x 5" loaf pan with parchment paper (or lightly grease with butter)

In a large bowl, combine the dry ingredients: flour, baking powder, and salt. 

In a second large bowl, cream the sugar, eggs, and sour cream together until smooth. Add milk, vanilla, lemon juice and zest, and mix until well combined.

One cup at a time, add the dry mixture into the wet ingredients, stirring after each addition. Do not overmix. Then fold or whisk in the oil in with a spoon.

Using a spoon, fold blueberries into the batter, reserving half. Pour batter into the loaf pan. Sprinkle the last half of the blueberries over the top of the loaf.

Bake in the oven for 50-60 minutes. Allow to cool for about 10 minutes before removing to a wire rack to cool completely.

After loaf is completely cool, whisk together lemon juice and powdered sugar. Drizzle over the loaf.
Notes
You can use fresh or frozen blueberries, but frozen tends to bleed more and make the cake purple. If you do use frozen blueberries, thaw them a bit and rinse and pat them dry.
To freeze loaf cake: Let the bread cool completely first and slice for individual servings if desired. Then wrap in plastic wrap, followed by foil and then place in a freezer safe airtight container or ziploc bag for up to 3 months. Thaw in the refrigerator or pop in the microwave for about 20 seconds on low power.
Nutrition
Serving:
1
slice
|
Calories:
197
kcal
|
Carbohydrates:
33
g
|
Protein:
2
g
|
Fat:
7
g
|
Saturated Fat:
2
g
|
Polyunsaturated Fat:
3
g
|
Monounsaturated Fat:
2
g
|
Trans Fat:
0.03
g
|
Cholesterol:
25
mg
|
Sodium:
76
mg
|
Potassium:
50
mg
|
Fiber:
1
g
|
Sugar:
22
g
|
Vitamin A:
86
IU
|
Vitamin C:
3
mg
|
Calcium:
48
mg
|
Iron:
1
mg