Easy Almond Milk Overnight Oats Recipes for quick and delicious breakfasts to suit your tastes. It takes only minutes to make and is easily customized. Step by step included as well as seven ideas to get started.
My husband teases me that I am the morning beast. Grunting and barely conscious the first hour of the morning, I am not to be trusted with any big decisions. That's why I love quick, healthy breakfast recipes that can be made the night before like Double Chocolate Zucchini Bread, spinach bacon quiche, and Lemon Blueberry Muffins. (and yes, cereal rocks, haha)
These overnight oats are a godsend for mornings, especially if, ahem, I oversleep along with my Cold Brew Coffee. It's like the best thing for night owl mamas like me. Everyone gets to eat a healthy breakfast, even if we need to grab and go. But they are also great paired with a simple yet decadent mushroom quiche when you do have the time.
They are also, really, really tasty. Like gourmet, "I've got my act together" delicious. Although you can use any type of milk that you prefer, I use almond milk in mine because I prefer the taste that mixes with the yogurt. I have a handy list of substitutions for many dietary restrictions below.
Almond Milk Benefits
No, there is no squeezing any juice out of an almond. Almond milk is, essentially, super finely ground toasted almonds blended with filtered water, vitamins, and minerals. This produces a milk-like product with a creamy, slightly nutty taste. It's got loads of benefits too (depending on the brand):
50% more calcium than dairy milk
Excellent source of fiber and vitamin E
Good source of protein
Free of lactose, gluten, dairy, soy, egg, casein, and MSG
No cholesterol or saturated fat
Longer Shelf Life than Cow's Milk
What Are Overnight Oats?
If you haven't had the pleasure of almond milk overnight oats, the recipe is basically a no-cook method of making oatmeal. It is traditionally served cold right from the fridge after an overnight soak in a mixture of milk and yogurt. The soaking process allows the oats to soften and flavors to infuse.
Because of the yogurt, it starts out a little sweeter and creamier than making oatmeal on the stove. The consistency is a little thicker, but you can add more Almond milk to thin. And the flavor combinations are endless
Ingredients and Substitutions
The basic recipe is as follows:
Unsweetened Almond Milk: For these recipes, you can use regular milk, coconut milk, or almond milk if you prefer. You can use plain or vanilla flavored.
Chia Seeds: The chia seeds help to soak up any excess liquid and add some texture. Plus, they are very good for you.
Honey: You can substitute an appropriate sweetener like agave syrup, granulated sugar, maple syrup, or stevia/artificial sweeteners. Some of the recipes with naturally sweet fruits may not need an additional sweetener.
Vanilla Greek Yogurt: There are a few non-dairy substitutes that I have tested and work well including Silk Dairy Free Greek Style and Stonyfield farms. If you use a non-greek style yogurt, reduce the almond milk by 1 Tablespoon.
Oats: Only old-fashioned rolled oats will do.
Endless Topping and Flavor Ideas
I have a step by step of my favorite recipes below, but here is a handy list of delicious mix-ins to mix and match to your preference. Experiment as you like!
Berries: Blueberries, strawberries, raspberries, blackberries, Dried fruits like cranberries or raisins. Some frozen fruits are great like raspberries. However, thaw in refrigerator the night before.
Fruit: Banana, Peaches, Apples, Pears, Papaya, Guava, Plum, Apricot,
Nuts: Pecans, Sliced Almonds (toasted or untoasted), Cashews, Walnuts,
Sweeteners: Honey, Maple Syrup, Vanilla Sweetener, Agave Syrup
Other Ideas: Chocolate powder, Ovaltine, Peanut or Almond Butter, Chocolate Chips, Coconut Flakes, Cinnamon, Espresso grinds, Jams or Jellies, Nutella, mini-marshmallows, protein shakes.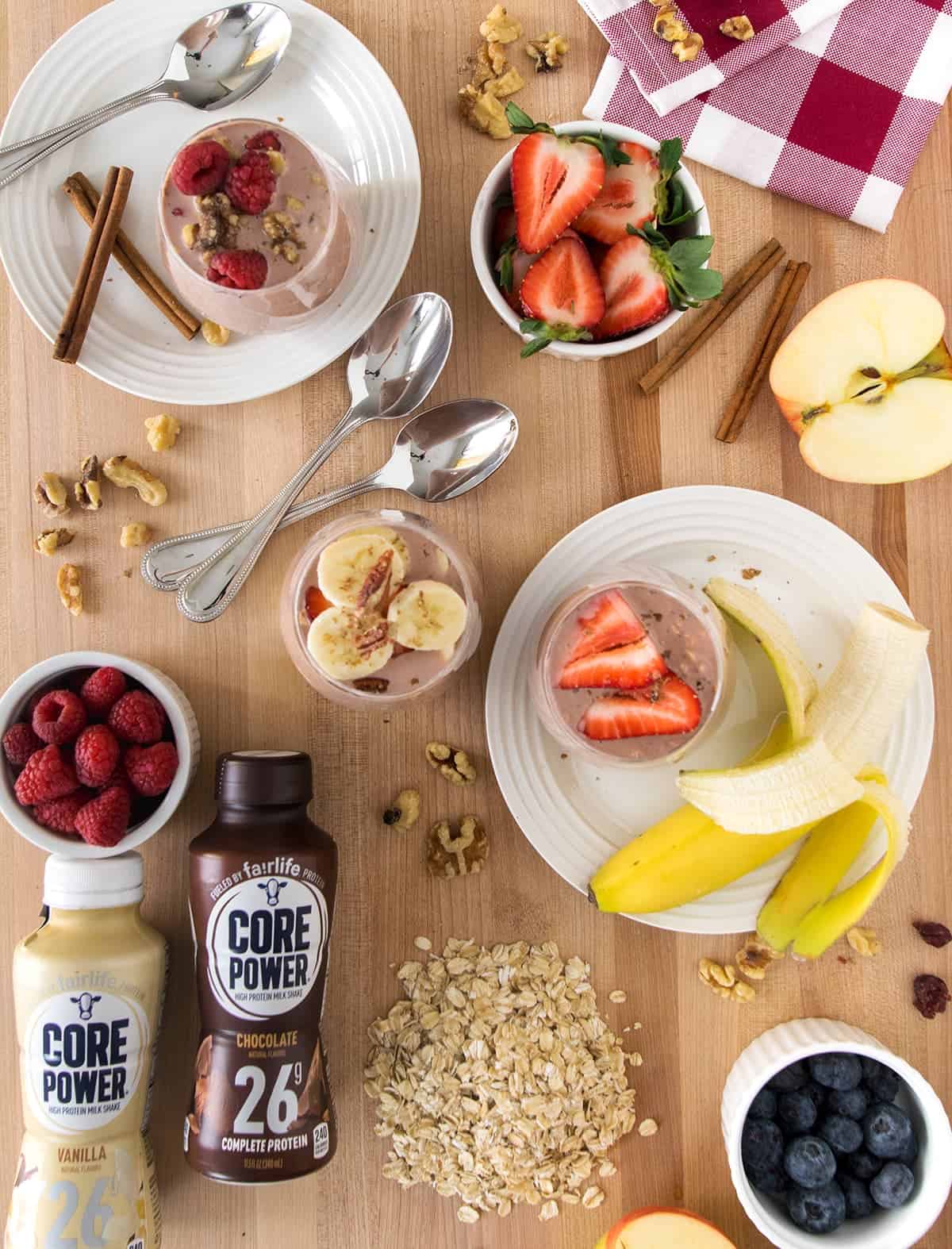 Overnight Oats Recipe Ideas
Almond Blueberry Maple: My unexpected favorite! I sprinkle blueberries, toasted sliced almonds, and add 1 Tablespoon of 100% maple syrup. The pairing is sweet and flavorful with a satisfying crunch.
Apple Cinnamon: A classic! 1 teaspoon ground cinnamon and ¼ cup of diced apples. The apples and cinnamon can be mixed in the night before or added just before eating.
Almond Joy: I am obsessed with coconut flavors and adding chocolate seals the deal. I use shredded, unsweetened coconut with mini-chocolate chips, and sliced almonds. If you use sweetened coconut, skip the honey.
PB & Chocolate: 2 teaspoon Peanut Butter, 2 teaspoon of chocolate powder (I use ovaltine but any chocolate milk works) and mix with the base recipe. The chocolate powder takes care of the sweetness.
Chocolate Strawberry & Banana: 2 teaspoon of chocolate milk powder, and topped with sliced strawberries, bananas, and walnuts for a healthy and satisfying chocolate breakfast.
Tropical Pineapple Cranberry: Tart and sweet with a fun tropical flavor. I add 2 teaspoon cranberries and ¼ cup of pineapple in the night before. I also skip the sweetener with this recipe.
Peaches & Cream: A quarter cup diced peaches and 1 Tablespoon of maple syrup (100% maple syrup will have more maple flavor or you can use something like Mrs. Butterworths) makes this classic a tangy and creamy pick-me-up
Tips for making the best overnight oats
Make it in a mason jar or lidded cup. This makes it easy to measure, mix, refrigerate, carry and eat the almond milk overnight oats without any extra dishes.
Use plain old fashioned rolled oats, NOT quick oats. Quick oats will be too mushy, and steel cut oats won't absorb enough liquid.
Some fruits are best added in the morning. Because of oxidation, apples, bananas, and pears do better either stirred into the yogurt mix or added as a topping in the morning.
Warm it up if you prefer warm oats in the morning. Although overnight oatmeal is typically served cold, you can definitely warm them up. Just place them in the microwave for 30-45 seconds and be sure to use a microwave-safe jar.
Make bigger batches so everyone can customize. Sometimes I make a single, large batch (4-5 cups) and everyone can make their own serving with their desired toppings in the morning. This also allows the fruit to stay fresher.
FAQs
Can I use a different type of milk?
If you're allergic to or don't have almond milk on hand, you can swap it out for any variety of milk. Soy milk, oat milk, coconut milk, rice milk, and cashew milk are some other options you can try.
Are overnight oats eaten hot or cold?
I have always eaten mine straight out of the refrigerator, but they can be enjoyed either way. I think it may just depend on the flavors you add in. Apple cinnamon overnight oats would be delicious, but I think I'd prefer some of my other flavor combinations served chilled. Heat in the microwave container for about 35-45 seconds (for 1 cup) and stir.
Can I eat my overnight oats if it's been more than 1 day?
Overnight oats are typically good for 2-3 days. Be mindful of expiration dates on your ingredients.
Are overnight oats healthy?
While the label of healthy is somewhat subjective and ever changing, there are lots of healthy benefits including high fiber content, good source of protein, and nutrients like oatmeal. I make no scientific claims, but rolled oats have reduced phytic acid levels due to their processing and heat treatment.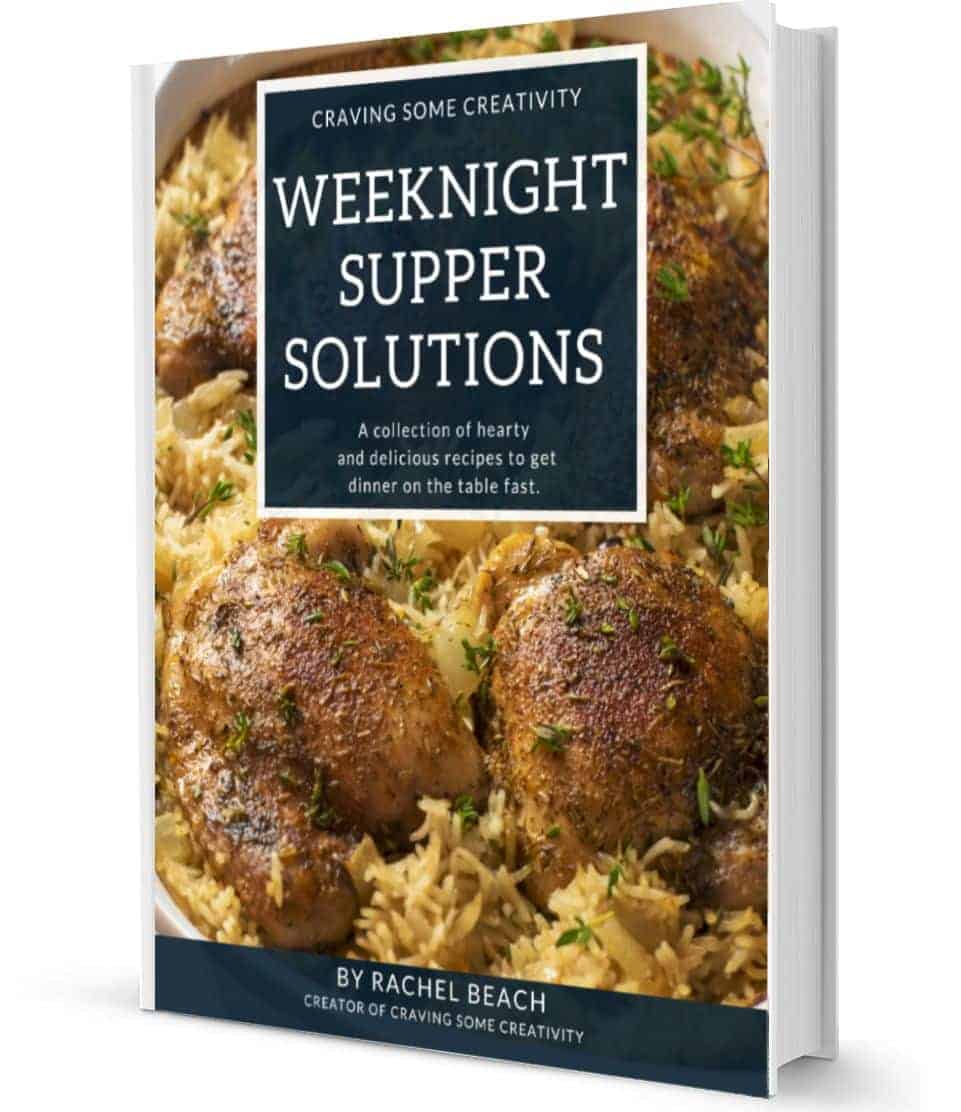 Not Sure
What's For Dinner?
Signup for recipe updates and get a free cookbook of Easy Weeknight Supper Solutions!
If you enjoyed this recipe, here is another one to try!
PS. If you make this recipe, leave a COMMENT AND A STAR RATING in the comments section at the bottom and be sure to take a photo and tag it #cravingcreative on Instagram! I appreciate you for taking the time to read about me and my family recipes. 
Almond Milk Overnight Oats
Easy Almond Milk Overnight Oats Recipes for quick and delicious breakfasts and easily customized. It takes only minutes to make for the perfect breakfast for fast-paced mornings. Easily make it dairy or nut free.
Print
Pin
Rate
Ingredients
Base Recipe
1.5

teaspoon

Chia Seeds

⅓

cup

Unsweetened Almond Milk

Vanilla or plain is fine

¼

cup

Vanilla Greek Style Yogurt

Dairy-free if desired

¼

cup

Old-Fashioned Rolled Oats
Almond Blueberry Maple
¼

cup

Blueberries

Fresh or Frozen

1

tablespoon

100% Maple Syrup
Apple Cinnamon
¼

cup

Diced Apples

1

teaspoon

Ground Cinnamon
Almond Joy
¼

cup

Unsweetened, shredded coconut

2

teaspoon

Honey

1

tablespoon

mini-chocolate chips

1

tablespoon

Sliced Almonds
Chocolate Strawberry & Banana
2

teaspoon

Chocolate Milk Powder

1

Strawberry, Sliced

¼

cup

Banana, Sliced
Instructions
This recipe makes a single serving of 1 cup. To fill a standard 16-oz mason jar, double the recipe.

Place all ingredients from the base recipe into a glass container and stir until well combined. Add the appropriate sweetener and flavorings (like peanut butter or cinnamon) for the recipe. You can choose to mix in the fruit now or top individual servings in the morning.

Cover the glass container with a lid or plastic wrap. Place in the refrigerator for at least 6 hours or overnight.

Uncover and enjoy or garnish with desired toppings. See more flavor/topping suggestions in the blog post above!

Overnight oats will keep in the refrigerator for 2-3 days, athough I find them best eaten within the first 24 hours. Not freezer friendly.
Notes
Storage: Overnight oats can be stored in the fridge for 2-3 days. However, I find it best within the first 24 hours. Excellent for meal prep.
Substitutes: I cannot guarantee all possible variations and brands as I have not tested them all. However here are some common substitutes that would work well in this recipe.
Milk : Use Regular Milk, Coconut Milk, or Soy Milk
Dairy-Free: There are a few non-dairy substitutes that I have tested and work well including Silk Dairy Free Greek Style and Stonyfield farms. If you use a non-greek style yogurt, reduce the almond milk by 1 Tablespoon. 
Vegan: Use plant-based yogurt, and maple syrup for sweetener
Gluten-free: Use certified gluten-free oats
Sugar-free: Omit the sweetener or used pureed fruit or sugar free jam in the base recipe
Nutrition
Calories:
115
kcal
|
Carbohydrates:
14.6
g
|
Protein:
6.2
g
|
Fat:
1.5
g
|
Sugar:
6
g