Wondering what to do with the space under your deck? Put it to good use with these handy storage ideas for under a deck!
Have you ever come across a situation you just know that a brilliant solution is right in front of you but you can't see it? I know I have. Despite the blog name, sometimes that creative solution is elusive, even for me!
Even though we stained and repaired an old deck a few years ago, I'm always looking for good ways to make that space better. I recently went on an extensive search into under deck storage ideas and found plenty of inspiration to share!
5 Tips for Creating Outdoor Storage
Consider your environment. Depending on the weather in your area and what you will be storing, you may need to create protection from insects, small animals, water damage, and mold or fungus.
Wet or Dry Storage. While everything will fare better with more protection, many items like aluminum fencing, firewood, some outdoor furniture, and seasonal decorations made for exterior use are good candidates that only require minimal protection.
Drainage and Slope. As you are designing your storage space, make sure not to impede the natural drainage (or add some). This can cause problems later on with standing water and air flow/moisture problems.
Measure everything. It's always a good idea to take full measurements of a space before starting a project. Length, width, height, plus note any obstructions or depth changes. Make a good visual map and you won't have to question whether something fits. (I carry a tape measure in my purse.)
A little maintenance goes a very long way. Usually in the spring and fall, I give the house a once over checking for any upkeep projects. For the outdoor storage, I clean out any debris, check outdoor plumbing, equipment, look for signs for fungus or rot, and assess the general condition of the area.
Under Deck Storage Ideas
It's time for some good inspiration! A deck should be a minimum of 30″ high generally to be optimally used for storage.
Not just for the garage, these ceiling mounted racks are perfect for keeping items off the ground like canoes, water hoses, and waterproof crates. It also makes for easy slide out storage on a flat surface.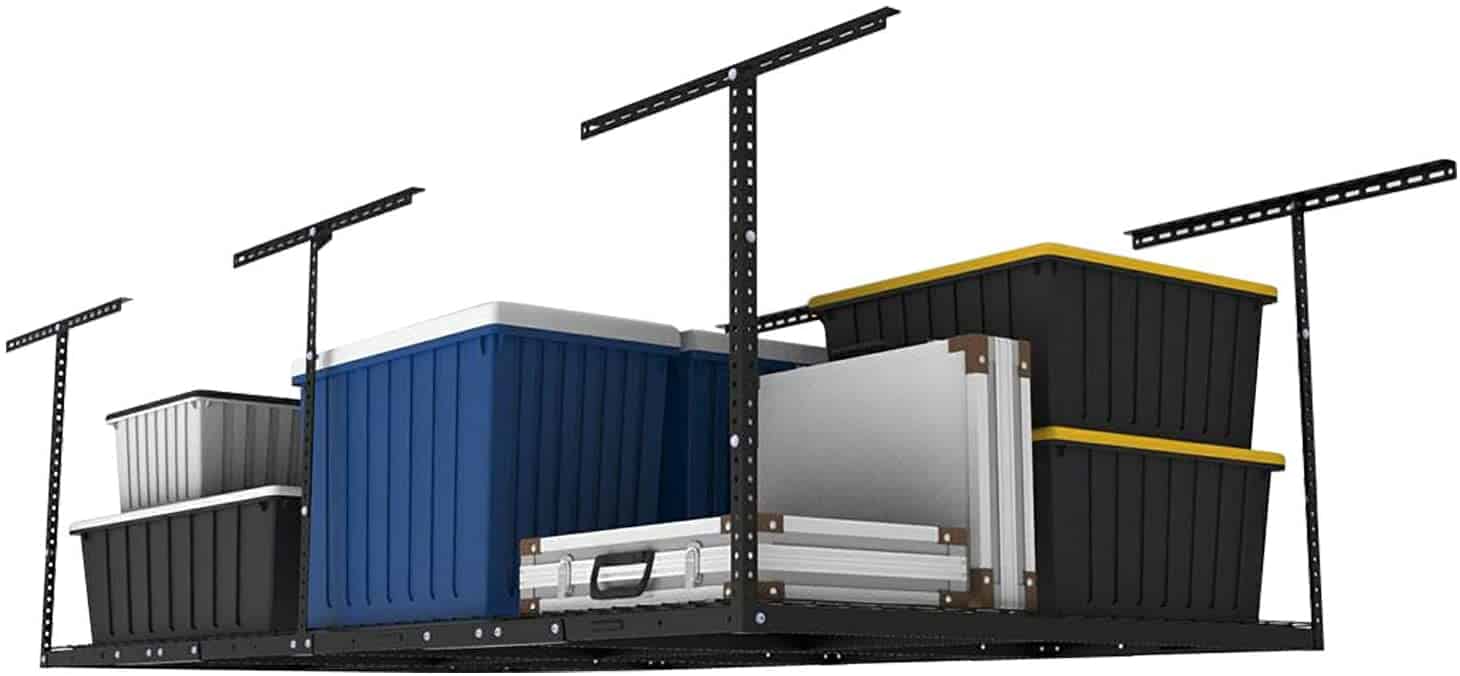 These are well constructed of heavy duty steel, and hold up to 600lbs. One thing to note is that may rust over time if the paint is removed. If going this route, I would recommend changing out the bolts for outdoor rated ones.
2. Build a Waterproof Ceiling
A few years ago, we enclosed our raised deck to make it a storage shed for the lawnmower and yard equipment. I show step by step with several variations how to create a create a ceiling under a deck that drains water away in this post.
3. Make Cubbies that slide out
We stained my parents deck last summer (the photo below is before we repaired it) and one of the features I love about their deck is they have these little cubbies on the side. While they were used as dog houses, I thought these would make excellent storage if you put a waterproof bin on a flat dolly with rollers. You could even add doors and hinges for hidden storage. So convenient!
4. Big Storage Systems
If you have a raised deck, it's easy to put items in large waterproof containers similar to sheds. These are a convenient, efficient way for storing items like cushions, large tools, or even bicycles. While most think of a deck box for storage, there are also portable options including a waterproof bicycle tent or a yardstash box like this one.
You can finally use effectively the storage space under your deck without comprising the style by adding these deck drawer kits. Made of galvanized steel, you can store items like garden tools, pool accessories, tires, toys and backyard items.
6. Removeable Panel or Skirting
I have a removable panel on our fence to allow the car to drive through, so I know how great and convenient having a removeable panel is for the deck too. Here is a brilliant tutorial to show you how to add a removable panel for access.
You can match any style this way or use traditional lattice skirting for a lightweight removable panel. Fasten the lattice to a square frame made of sturdy outdoor rated boards and add sliding bolts at the corners to keep the panel in place. In this instance, I would recommend using composite boards that won't warp.
7. Easy Access Door
Hinged panels are another way to hide and protect an under-deck storage area. Build a skirting frame using solid panels or siding that matches the house, and install the skirting around the deck. Build a frame for the door using 2x4s. Trim the siding or paneling to fit the door frame. Glue and nail the joints for durability. Install hinges and a latch and hang the door. For added security, use a padlock to keep the door closed and locked.
Grab our free series "Weekend Home Projects that will Transform Your Life"
Sign up below to receive updates including free printables, organization tips, home improvement projects, recipes and more!
Want more inspiration after seeing all these great under deck storage ideas? Check out some of our other projects to get your outdoor choose off the list!