The best and tackiest Ugly Christmas Sweater Party Ideas! Throw an amazing bash with creative ideas including the "best of the worst" invitations, decor, food and DIY sweaters ideas! This guide will walk you through everything you need to know to throw the ultimate Christmas party.
Did you know that December 17th is National Ugly Sweater Day? Yes, we actually have a day to celebrate our inner tackiness!
Christmas parties are the highlight of the holiday season, and nothing is more fun than an Ugly Sweater themed Christmas party.
From invitations to deciding what to wear, get ready to celebrate with all your tacky friends! If you are looking for the best ways to throw a party in style (or not!), I hope you will be inspired by these ideas.
What is an Ugly Sweater Party?
Forget your finest party clothes. At this type of theme, guests are encouraged to wear tacky holiday themed sweaters – the uglier, the better!
But that's just the start. The spirit of this theme is bad taste—from the dress code to activities and even the menu. Bad taste can be just plain hideous or gaudy or even bawdy and crude.
What Makes a Sweater Ugly?
Any Christmas-themed sweater that could be considered in bad taste, tacky, or gaudy. There are generally 3 camps:
Aunt Ida and her glue gun – The louder the embellishments—tinsel, reindeer, flashing lights, Christmas trees, glitter, etc. —the better.
Traditional Ugly – Think 80s and 90s Nordic knit sweaters or those that Bill Cosby and Fresh Prince's Carlton wore.
Bawdy Humor – On the internet you will easy find a plethora of holiday themed sweaters that are for adult parties and filled with all kinds of innuendo.
We have included some of our favorite ideas for all the things you need to throw an excellent party, whether it be for the office or all of your rowdy friends!
Creative Invitations
The invitations have a front and a back that lines up perfectly in your printer. Simply print the front side, flip your paper accordingly, and print out the back of the invitation.
DOWNLOAD FREE INVITATIONS HERE:
Fun DIY Sweater Ideas
Grab a glue gun and your favorite tacky trimmings to make your own sweater creation. It is the perfect time to go all out when making the ultimate ugly holiday sweater. Nothing is off limits here including tinsel, pom poms, pipe cleaners, Christmas ornaments, or jingle bells! Go all the way out and add some battery-operated Christmas lights. Grab your hot glue guns or fabric glue and get to work. Remember, the goal is to make the ugliest sweater that you possibly can out of an old sweater.
Some Ideas to get started:
Grandma Got Run Over By A Reindeer (from Pinterest)
If you're not into making your tacky duds, here are some horrifically awesome finds (pictured above) that make for the perfect ugly Christmas sweater:
Ugly Sweater Party Decorations Ideas
Add in some fun decorations too! If you are looking to stick to a tight budget, this list of free and cheap Christmas decorations is perfect.
Looking for more creative Christmas party decorations? Check these out:
Banners: Create a festive banner by cutting out sweater-shaped pieces of colored paper. Decorate each sweater with holiday-themed pieces like snowflakes, ornaments, or reindeer.
Ugly Wreaths: Use a foam wreath base and cover it with scraps of ugly sweater fabric or sweater-like patterns that you can score from your local thrift store or craft store. Add decorative accents like mini ornaments, ribbons, and small bells.
Ornament Chandeliers: Hang a variety of colorful and mismatched ornaments from the ceiling at different heights. You can use fishing line or ribbon to attach them.
Table Centerpieces: Hot glue or wrap mason jars or vases with sweater pieces, securing them with twine or ribbon.
Christmas Sweater Stockings: Cut the sweater fabric into stocking shapes, then sew or glue together. Add decor pieces like jingle bells, pom-poms, and felt appliques for a fun Christmas themed touch.
Snowflake Balloons: Inflate white balloons and use a black permanent marker to draw various snowflake designs. Hang these balloons around the party area to create a whimsical, snowy atmosphere.
Photo Wall: Cover a section of a wall with a large piece of wrapping paper or a fabric backdrop. Provide a box of props for guests to wear in photos taken against the fun photo backdrop.
Fun Ugly Sweater Party Games to Play
Much like the theme, ideas for what to do is fairly indecorous and tacky. Drinking games with holiday twist, for example. Another favorite is Christmas Karaoke. And a photo booth to capture everyone's worst outfits is a must.
Here are ten creative games that you can put together with a trip to the dollar store for your party guests to play this holiday season:
Ugly Sweater Fashion Show
Make Your Own Tacky Top Station
Scavenger Hunt
Bawdy Trivia Games
Pin the Ugly Sweaters on the Gingerbread Men
Hideous Cookie Decorating
Christmas Karaoke
Tacky Photo Booth
Secret Santa Exchange
Christmas Charades
Free Party Awards
Anyone willing to wear something so hideous that it is voted to be the UGLIEST deserves a badge of horror. This free printable includes winning medallions for the ugly, uglier, and ugliest sweaters in the contest. I know they will wear it proud! Or, at least, it won't make their outfit any less ugly.
Ugly Sweater Ideas for Couples
Double the ugly, double the fun!
Party Food Ideas
Fantastic food is a necessity at a good party. While you don't have to go overboard with the theme, this Holiday Cake is the perfect finishing touch that'll put everyone in the holiday spirit. Looking for more delicious appetizers for any occasion, check these delicious foods out:
Festive Drink Ideas
Christmas Punch is my personal favorite but classic Holiday drinks like eggnog, mulled wine, or a Grinch cocktail like this recipe will get everyone in the spirit.
Adult Ugly Sweater Ideas
I keep it clean around here, but if you are going for the slightly risqué experience and over the top bad humored, I couldn't write this without including a few options. (May contain swear words):
Beyond the Knit
Who says it has to stop with the sweater? Dress up with some more accessories to up your game!
Use a tree skirt as a real skirt
FAQ's
How do you host an ugly sweater Christmas party?
It is quite simple. All you have to do is invite some friends and family over and encourage them to wear the ugliest Christmas sweater that they can make or find. Bonus points to the DIY ugly Christmas sweaters! From there you can decide if you want to play games, offer awards, or even decorate. It could be as simple as you inviting friends over to hang out in ugly Christmas sweaters.
What are the rules?
There is only one rule and it is to wear the ugliest Christmas sweater you can find!
What is the point of the ugly sweater party?
The point is to have fun and make light of a season that often times leads to a lot of stress. They are a great way to lighten the mood during what could be a very gloomy season for many.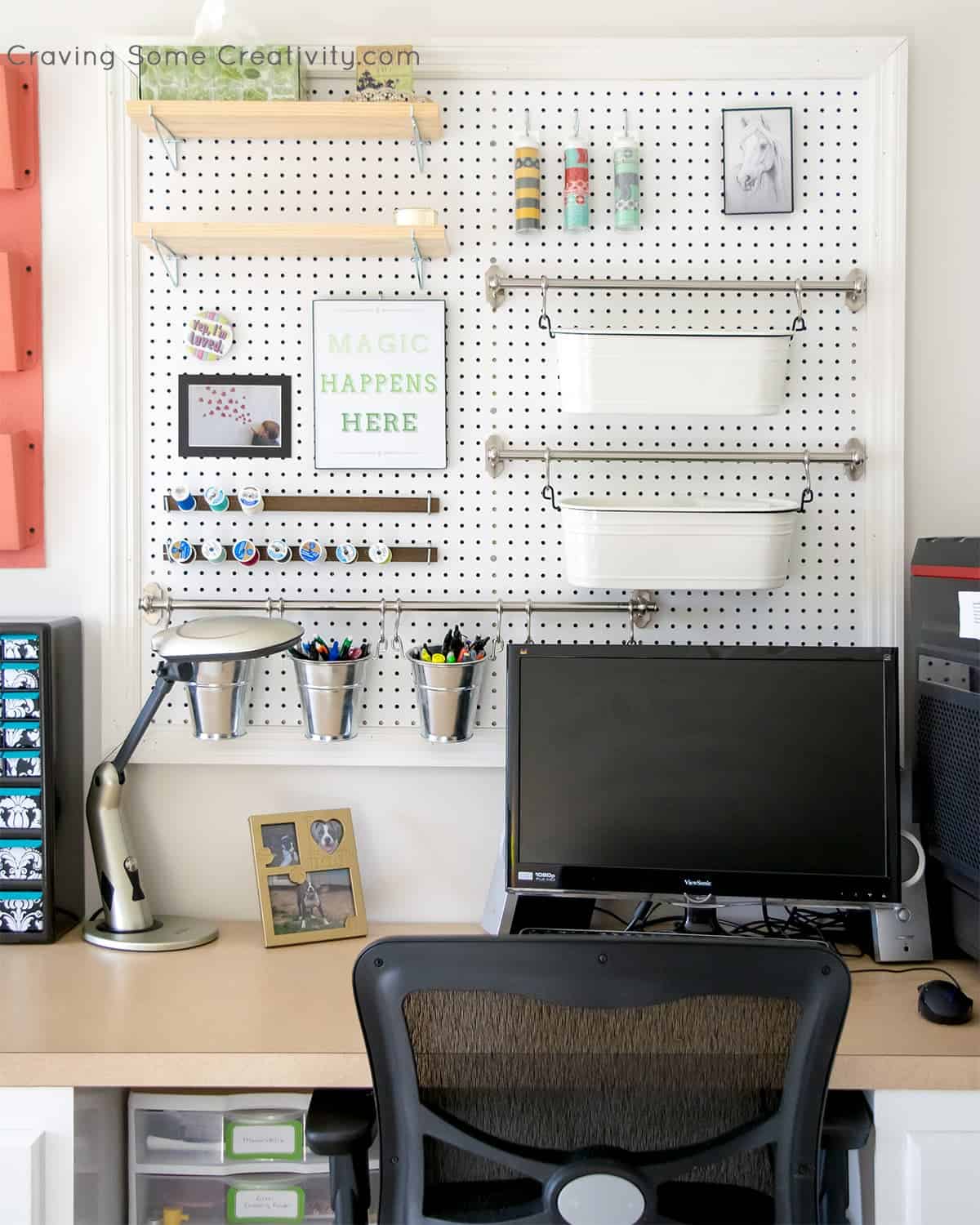 Grab our free series "Weekend Home Projects that will Transform Your Life"
Sign up below to receive updates including free printables, organization tips, home improvement projects, recipes and more!
More Christmas Crafts