French Onion Soup is a delicious blend of caramelized onions, herbs, toasted bread, and lots of melted cheese. However, there are lots of customization options and today, I am sharing both of my family's recipe.
Sometimes I say that I am a self-taught cook, and that isn't entirely true. We all have influences and usually the biggest one is a family member. I get my love and appreciation for the well-seasoned cuisines of New Orleans (and, trust me, I benefited from his relentless requests for my mother to carbon copy the dishes of his youth). My mother is pretty much the start of everything else. Although my mother wasn't in the kitchen every day, when she was, you knew something special would be arriving on the table shortly. From the best pork chops I have ever eaten anywhere to some kickin' omelets, I cherish the recipes and foundation of cooking I learned from her. Now before we get into the recipes, I stopped to ask my mom a few questions about what it was like to cook in the kitchen with me as a little one?
Q. What dish is everyone's favorite in the family?
Mom – Beef Stew
Dad – Pralines, Mom's Pork Chops, anything mom makes that she doesn't burn.
My sister – Spaghetti and Pork Chops
Myself – Ettoufee, Stuffed Mushrooms, and Cincinnati Chili
Q. Do you have any good stories about me learning to cook?
You were about 10 years old when you really got into cooking. You always fancied yourself a smaller Julia Childs and wanted to make very complex meals even though you could barely read the instructions. Some of the learning adjustments were rather hilarious, indeed. There was a Coq Au Vin attempt where you used an entire bottle of high dollar burgundy wine from your father's cellar. I can also remember a certain vegetable juice concoction that asked for 2 cloves of garlic, and you thought that meant two whole heads of garlic. You were so proud that we drank it anyways, but thought it best to avoid the public for a week.
Hey, I was figuring you didn't want the vampires to get you.
Now, everyone grows up with expecting a certain style of cooking but our tastes change over time and I am no exception. So our tastes have diverged and a winning example is French Onion Soup. My Mom prefers a robust soup with a heavy-handed flavors that meld and layer within the broth. Her version is far more authentic to the European style of French Onion Soup.
How To Make French Onion Soup
The best advice about making french onion soup is to use the right onions. The best onions are the plain ol' yellow cooking onions. I once tried to get fancy with Vidalia onions and it completely changes the authentic taste.
The second important characteristic of a good french onion soup is properly caramelized onions. Caramelizing is a chemical process that occurs when the sugars in the onions reach a certain temperature and they become sweeter and darker in color. In this recipe, all of the flavor from the onions enhances the soup, so it will take at least 30 minutes to reach a good carmelization.
Tools Used in Making These French Onion Soup Recipes
Soup Crock – Oven and Microwave safe, these are great to serve and melt the cheese on top directly in the oven.
Beef Base – This is my favorite addition for a bit more flavor to canned beef stock.
French Onion Soup - Authentic, Robust Flavor
French Onion Soup is a delicious blend of caramelized onions, herbs, toasted bread, and lots of melted cheese. This is an Authentic and robust flavor version.
Print
Pin
Rate
Ingredients
2

Tbsp

olive oil

1

Tbsp

Butter

3

lbs

yellow onions

thinly sliced

1/2

cup

cognac

2-3

sprigs

Fresh thyme

6

cups

Beef stock

1

tsp

beef base

I use better than Bouillon

8

slices

ciabatta bread, thick sliced

Salt and Pepper to Taste

Gruyere Cheese for topping

sliced or grated is fine
Instructions
Melt butter and olive oil in a large dutch oven over medium heat. Add onions and sprinkle with salt and pepper. Cook onions until translucent and soft. Turn down heat to med-low and cook until onions are thoroughly caramelized, about 20 minutes. Add cognac for 30 seconds and stir to deglaze the pot. Add fresh thyme to taste and more ground pepper, if desired. Pour in beef stock and base and heat to simmer. Cover and reduce heat, simmer for 30 minutes.

Heat oven to 325 degrees F. Brush each side of the bread slices with a bit of olive oil and place on baking sheet. Cook the slices for 15 minutes in the oven on each side (30 minutes total).

Pour the soup into oven safe bowls or ramekins, top with bread and cover entirely with gruyere cheese. Place bowls on a cookie sheet and place under broiler until cheese melts and is bubbly.
Nutrition
Serving:
1
cup
|
Calories:
440
kcal
|
Carbohydrates:
59
g
|
Protein:
18.4
g
|
Fat:
14.3
g
|
Cholesterol:
31
mg
|
Sodium:
976
mg
|
Potassium:
421
mg
|
Fiber:
4.5
g
|
Sugar:
8.3
g
|
Calcium:
240
mg
|
Iron:
1.8
mg
My recipe is more mellow and what I would call "Americanized". In my cooking and recipe development, I tend to apply Occam's Razor in that the simplest recipe is usually the correct one. I start with the basics and build it to my own tastes. It has always worked out for me that way. My French Onion Soup is mellow and closer to the style of soup you might find in classic American Style Resturants such as T.G.I. Friday's or Panera Bread.
Click on Picture to Print Off (Should be One Page)
Which ever version you choose, I hope you enjoy it! Thanks Mom for making me grow up right and teaching me to cook!
LOOKING FOR MORE HEARTY SOUP RECIPES? CHECK THESE OUT: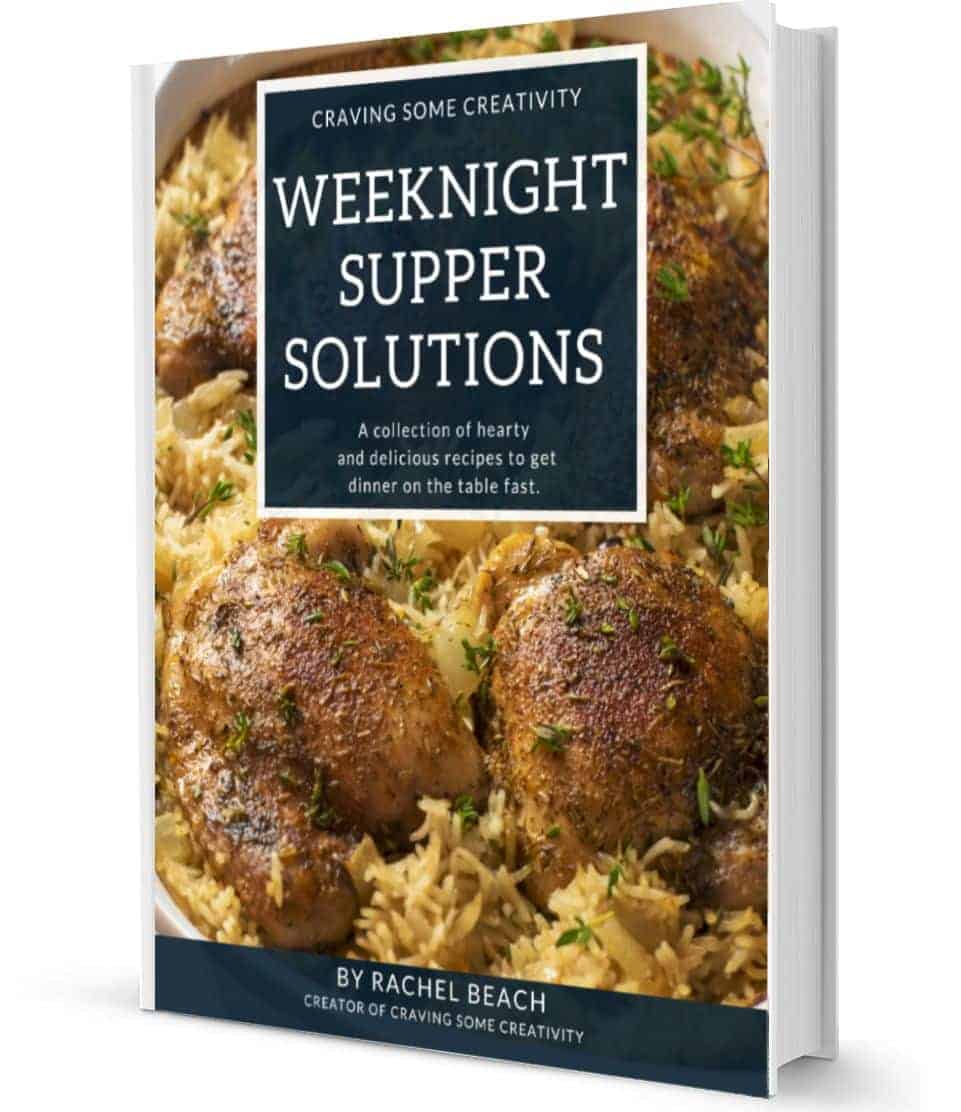 Not Sure
What's For Dinner?
Signup for recipe updates and get a free cookbook of Easy Weeknight Supper Solutions!
Our Latest Recipe Videos
More Great Soup Recipes: