Chicken and Sausage Gumbo transports you to the lively streets of New Orleans with every flavorful bite. This traditional gumbo recipe features a brown roux, tender chicken, andouille sausage, and the holy trinity of Louisiana cooking. Tips for shortcuts, substitutions, and storage options.
Some things are worth the wait. A proper gumbo recipe is one of them.
Much like the rich culture and character of Louisiana, this Chicken and Sausage Gumbo is a deeply personal dish. Similar to other New Orleans delicacies like Etouffee or Pralines, each chef & home cook has their own spin. Because of the unique blend of culinary influences that define this vibrant city, you'll never taste two pots of gumbo that are exactly the same.
This recipe is a love letter to the traditions passed down through generations of my family. Although I count myself as a Nashville native living near DC, I know the last four family generations as New Orleans natives who gladly schooled me in traditional Cajun food like the art of a Seafood Boil and a proper Cajun Spice.
So get ready for the ultimate culmination of my Cajun upbringing. This Chicken and Sausage Gumbo recipe hits all the right notes.
Ingredients and Notes
Meats: The chicken adds a richness and depth to the gumbo, while the Andouille sausage adds a smoky-spicy kick of flavor.
The holy trinity of Louisiana cooking—onions, bell peppers, and celery—whose aromatic magic forms the foundation of this incredible gumbo. All should be diced, while the meats are small bite-size pieces.
Spices. A mixture of thyme, paprika, onion powder, garlic, cayenne pepper and bay leaf are the perfect, yet simple combination to gumbo.
White or Brown Rice. For serving. I've got some rules to serving down below.
Does Gumbo have okra? Sometimes yes and sometimes no. Gumbo is a soup-like dish that is thickened with either okra or rice (occasionally both). This authentic Cajun gumbo doesn't include okra. I prefer okra with shrimp or seafood gumbo, not chicken.
Gumbo Shortcuts
We use a rotisserie chicken as a shortcut. I'm all about shortcuts and using store bought rotisserie chicken and chicken broth. None of it goes to waste though! Opt for traditional or lemon pepper seasoning in a pinch. You can, however, use chicken thighs or an uncooked whole chicken.
Pump-up store-bought chicken broth. While homemade broth is awesome, we pump-up store-bought chicken broth by simmering the bones and skin from the rotisserie chicken in the broth for maximum flavor. Gumbo should always use warmed broth, so use the bones too.
Create the experience of day-old gumbo. Most of us know that stews and gumbos are best the next day. I recently learned a trick that shocks the gumbo into creating that same flavor developing experience: Ice Cold Water. 1 cup. Ice cold. Right at the end. Try it!
How to Make a Gumbo Roux
The full instructions are in the recipe card at the bottom of this post. However, this area gives a visual representation of the steps and may answer questions. The steps are NOT in order here, but it gives you an idea of what, why, and how to make gumbo. It's like you are right in the kitchen beside me!
This recipe uses what I call a chocolate roux, although it's often called a red-brown roux or a gumbo roux.
Use a wooden spoon. Wood doesn't transfer heat the way metal utensils can so your roux will cook evenly and won't be lumpy or have other problems.
Be patient with your roux. An undercooked roux will have a flour taste – you don't want that. Give it time to develop. Some take over 3 hours to cook a roux- but I prefer to quicken it up a little, dancing the line between not wasting time while developing glorious flavors. My roux takes about 45 minutes to an hour.
Make the roux a little darker than the final dish. Because it's so concentrated, the roux will look darker (photo 2 above) than the final gumbo. It will continue to darken to almost black when you cook the vegetables (photo 3 above). That's just right.
Make Ahead Tip: If you want to break the long cooking time up, you can make the roux in advance. Make the roux as normal stopping just before adding the vegetables. When made with oil, it can be stored on the counter for a few days or in the refrigerator or freezer for up to a few months.
Tips for the Best Gumbo
What kind of sausage goes in Gumbo? Andouille sausage is THE classic. However, it tears my husband's stomach up. So, if you must, you can use other types of smoked sausage, either hot or mild.
Brown the sausage. Don't skip this step. Even better, after the sausage is browned (photo 1 above) pull them to a plate and mix a little chicken stock with the drippings. Yum!
Sometimes we do what our grandmother (or parents) said to, just because they said it. Don't question it. This is how I feel about bay leaf. I put it in there because my mother did. She used bay leaf in many stews, and they were good, so I just go with it.
Does it really need to cook for 2 hours after you add the broth and sausage? Yes, yes it does. See last tip about what our grandmothers said. Though, I personally know this one to be true.
Freeze leftovers for up to 3-4 months. This recipe also keeps in the fridge for 3-4 days, too. Just be sure to store it separately from the rice. To reheat the gumbo, simply heat in the microwave in 30-second bursts until it reaches your desired temperature. You may notice a thin layer of separated oil, which you can skim off or not, depending on your preference.
How to Serve Gumbo
We've been making this recipe for years for our summertime hangouts, and I have a few tips and tricks to making it easier on yourself…
Make your gumbo a day in advance. If hosting a party, it is perfectly fine to make Gumbo a day ahead of time. It actually tastes better! Skip the cup of ice cold water and store it in the fridge the night before. Skim any excess fat from the gumbo before reheating it the morning.
One-part white rice to two parts gumbo. Gumbo is supposed to be similar to a soup and the rice is a thickener. Don't forget to top with fresh green onions.
Have some hot sauce on the table. Some like Filé Powder in their gumbo too.
Double the recipe for a crowd. My recipe was specifically developed for a regular family meal size, but it easily doubles for a crowd.
Gumbo, and most Louisiana cooking, is about that slow development of flavor and not stressing over it. If it's not fun, you probably are not doing it right!
Frequently Asked Questions
What is the best pre-made roux?
Interestingly, my Dad went on a mission to find a good store-bought roux mix and he's a New Orleans native. He says that Kary's Roux is the best jarred liquid roux. However, I would highly insist on making your own to get just the right color and richness.
What is the secret ingredient in gumbo?
There really isn't a secret ingredient to making amazing gumbo! Many families have their own signature recipe passed down for generations. Gumbo is really about time and patience for the best roux and melding of flavors. Get quality ingredients and you will have a delicious meal.
Should I cook chicken before adding to gumbo?
You can use either, but I find that precooked has a chance to take in the seasoning and develop the flavors a little more without everything tasting the same. It's also a good shortcut to use a storebought rotisserie chicken.
What is gumbo filé?
Gumbo filé is basically dried and ground sassafras leaves. Louisiana cooks used what was around them, and it is said the Chocktaw Indians first started to use this tree as a spice. To me, it has an earthy, and slightly bitter taste that might remind you of unsweetened root beer. In gumbo, it is used as a thickener and seasoning agent.
What is the difference between Creole and Cajun?
There are full articles on this, because it's complicated. There is a whole lot of history to Creoles and Cajuns and it's more than just cooking. However, Cajun and Creole cooking have similarities, and the lines are a little blurry. They are not, however, the same. For example, Creole dishes call for tomatoes and okra while Cajun dishes do not. Both styles developed by using ingredients they knew and had available. Creole tends to have more Spanish and African influences whereas Cajun is often considered country cooking.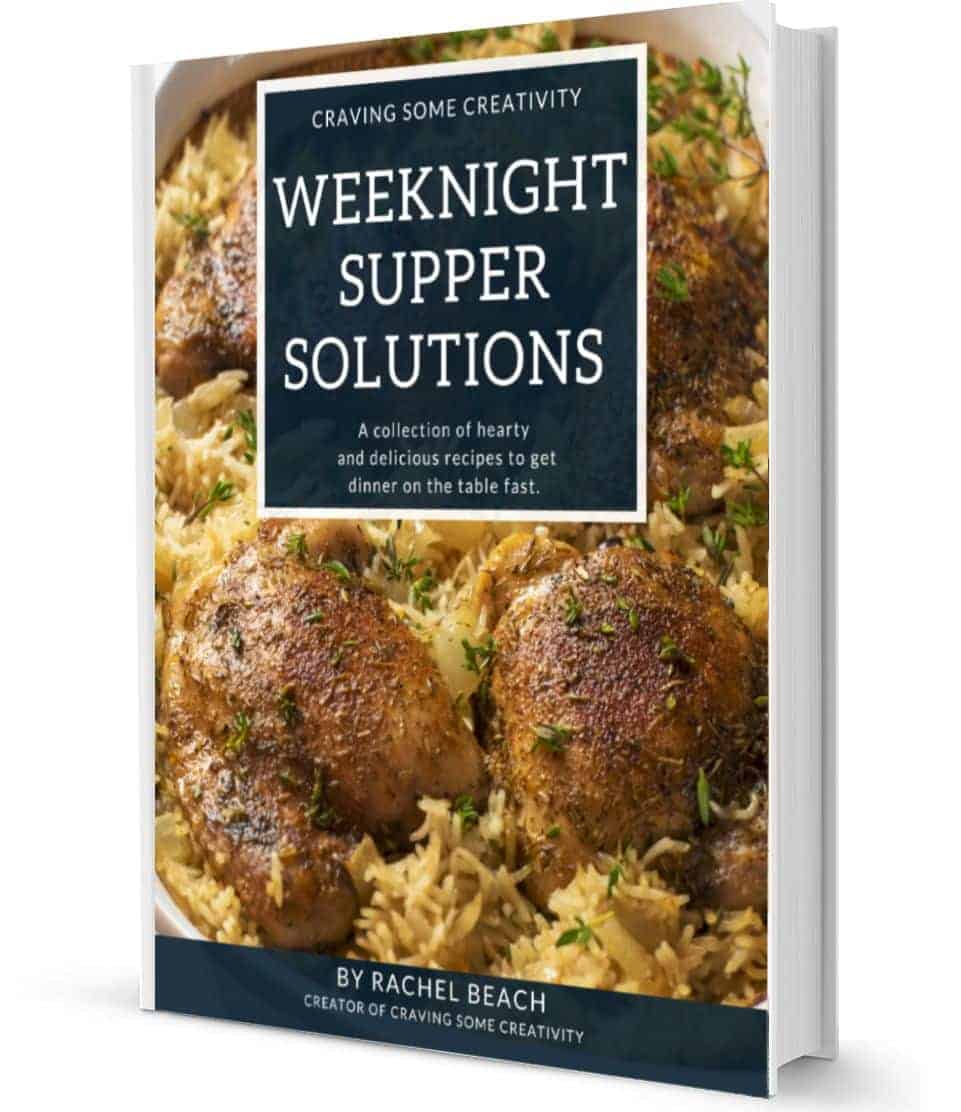 Not Sure
What's For Dinner?
Signup for recipe updates and get a free cookbook of Easy Weeknight Supper Solutions!
More Cajun and Creole Recipe Favorites
PS. If you make this recipe, leave a COMMENT AND A STAR RATING in the comments section at the bottom and be sure to take a photo and tag it #cravingcreative on Instagram! I appreciate you for taking the time to read about me and my family recipes. 
Chicken and Sausage Gumbo
This traditional Chicken and Sausage gumbo recipe hits all of the right notes! Featuring a dark roux, tender chicken, andouille sausage, and the holy trinity of Louisiana cooking, this gumbo recipe has tons of Cajun flavor without being super hot.
Print
Pin
Rate
Equipment
1 Wooden Spoon

1 Skillet or Sauté Pan
Ingredients
1

Whole Rotisserie Chicken

Shredded into bite sized pieces, but save the skin and bones.

64

ounces

Low-Sodium Chicken Stock

⅓

Cup

Vegetable Oil

½

Cup

All Purpose Flour

1

Yellow Onion

1 cup, finely chopped

1

Green Bell Pepper

1 cup, finely chopped

2

Sticks of Celery

finely chopped

2

Cloves

Garlic

minced

1

lbs

Andouille Smoked Sausage

You can also use other hot or mild smoked sausage.

1

teaspoon

Thyme

2

teaspoon

Paprika

½

teaspoon

Onion Powder

1

teaspoon

Garlic Powder

2

Bay Leaves

¼

teaspoon

cayenne pepper

Adjust to your desired level of heat.

1

teaspoon

Pepper

½

Teaspoon

Salt
For Serving
1

cup

Ice Cold Water

½

cup

Green Onions

4

cups

Cooked Rice

for Serving
Instructions
Prepare all ingredients first – chop vegetables, slice sausage, debone and shred chicken but save the skin and bones in a bowl. Put all prepped ingredients in the refrigerator.

Off to the side, heat a large pot and over medium-low heat, add the chicken stock as well as the skin and bones from the chicken. Cover and warm until needed.

Roux Note: Times will vary on how long it takes to get the roux to a chocolate color, but I am more of a fan of a quick roux, meaning that I use higher heat. It's a little more likely to burn so once you turn the heat up, you have to babysit the pot.

In the main large pot over medium-low heat, add the vegetable oil and the flour. Begin stirring regularly until smooth and consistent. After it is smooth, turn up the heat incrementally to about medium or even a little higher if you are experienced at it. Stir consistently for about 45 minutes to 1 hour.

While the roux is making (don't forget about stirring), separate the chicken bones from the stock by pouring through a fine mesh sieve into a large bowl. Add the stock back to the pot, cover, and let simmer.

In another pot off to the side over medium heat, sear the sausage. Once they have browned a little, remove the sausage to a plate. Add about ½ cup chicken stock to that pan and scrape with a wooden spatula to loosen up any bits from the pan. Pour the liquid back into the stock pot through a mesh sieve.

Once the roux has reached a rich brown chocolate color, add the onion, celery, bell pepper, and garlic and cook for another 10 minutes, stirring very often. The roux will continue to darken to a dark brown color.

Add the seasonings (thyme, paprika, onion powder, garlic powder, bay leaves, cayenne, salt and pepper).

Skim any fat off the top of the chicken stock. Ladle 1 cup of chicken stock into the roux and stir. Repeat until you get a smooth and creamy mixture sort of like chunky gravy, then add all of the remaining stock in.

Add the sausage. Bring to a boil, cover, lower to a simmering heat (low to medium low), and cook for 1.5 hour.

After 1.5 hour, remove the bay leaves and taste test. Add the chicken and turn up the heat to bring back to a simmer. Adjust the heat to maintain a simmer for another 30 minutes. Cook the rice according to package directions before the time is up.

At the end, turn off the heat, and add 1 cups ice cold water. Doing this at the end shocks the gumbo and produces a melded flavor more similar to next-day gumbo, which has better melded spices.

Serve immediately with rice and green onions, and hot sauce.
Notes
Freeze leftovers for up to 3-4 months. Store in refrigerator with rice separate. Lasts for 3-4 days. To reheat the gumbo, simply heat in the microwave in 30-second bursts until it reaches your desired temperature. You may notice a thin layer of separated oil, which you can skim off or not, depending on your preference.
Nutrition
Serving:
1
bowl
|
Calories:
516
kcal
|
Carbohydrates:
30
g
|
Protein:
35
g
|
Fat:
29
g
|
Saturated Fat:
8
g
|
Polyunsaturated Fat:
8
g
|
Monounsaturated Fat:
8
g
|
Trans Fat:
0.2
g
|
Cholesterol:
108
mg
|
Sodium:
986
mg
|
Potassium:
443
mg
|
Fiber:
1
g
|
Sugar:
2
g
|
Vitamin A:
384
IU
|
Vitamin C:
13
mg
|
Calcium:
33
mg
|
Iron:
3
mg