This Cajun Chicken Alfredo pasta is quick, easy and always receives rave reviews. An authentic Blackened chicken creates a charred, boldly seasoned, and succulent dish that wakes up the comforting, classic creamy alfredo sauce for a restaurant quality flavor. Plus, this skillet dinner recipe is ready in under 30 minutes!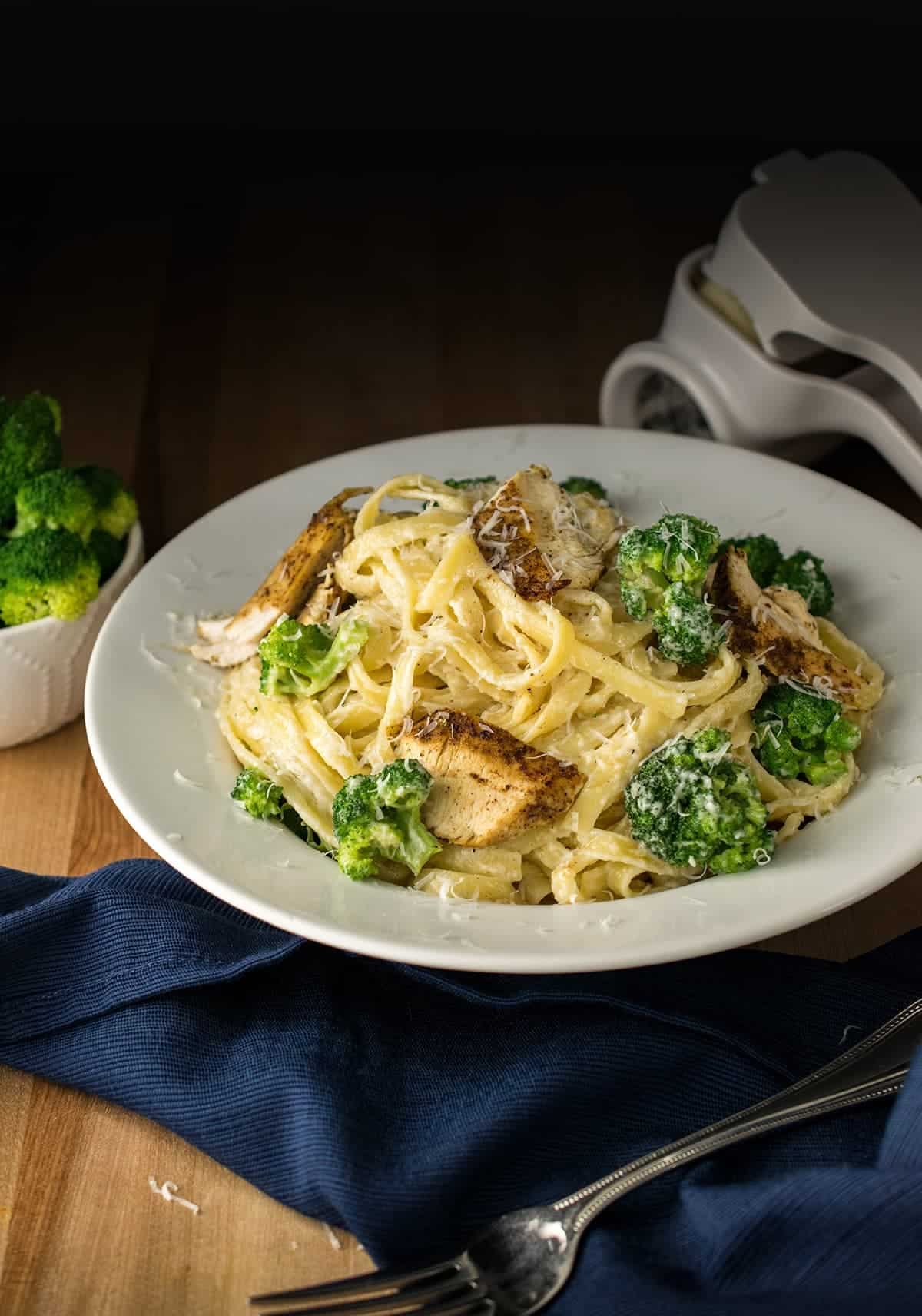 Chicken and pasta are of the modern-day household. These versatile ingredients are the foundation of many of our family weeknight favorites like Bruschetta Chicken and Chicken Marsala.
Like all of my family's cherished Cajun recipes, Cajun Chicken Alfredo Pasta is homemade classic prepared with love and flavor, but not 5 alarm spicy. Fiery New Orleans style Blackened Chicken is tempered down to a smooth warmth thanks to the rich Alfredo-style cream sauce. It's just the right kick of flavor to give the palate a welcome wakeup call.
This is a recipe that I have been making for years and years, so it's thoroughly tested with never-fail tips. It's not a mystery why this recipe is one of my son's all-time favorites. Plus, it's ready in about 30 minutes and, ahem, better than restaurant quality!
Ingredients and Notes
Here is an overview of the cajun spice ingredients you will need.
If you are in a pinch, pre-made cajun seasoning is pretty adequate, although it is harder to control the level of heat for your tastes.
While cast iron griddle like this is my preferred method, a sauté skillet will work. Or you can make it on an outdoor gas grill for the same effect – a charcoal grill doesn't get hot enough.
How to Make Cajun Blackened Chicken
It's the method of cooking that makes this recipe very special. The high heat of this cooking method seals in the juices and really wakes up the spice mixture in a way that's not easily duplicated by other methods. Seriously, it's amazing!
The key is using a cast iron skillet and medium-high to high heat. Wait for the pan to get really good and hot before adding the butter and chicken. You get incredibly flavorful chicken, juicy, and crisp on the outside. No marinating at all!
Pound out the chicken breast to a ½-¾ inch thickness, and season generously with the spice mixture. Make sure the pan is heated up well and then add the butter and chicken.
Why don't I put blackened seasoning in the sauce? There are almost 3 Tablespoons of seasoning on the chicken. Blackening is a specific process that wakes up the spices differently than just adding it to the sauce. When you plate it up, that delicious bold seasoning is going to transfer all through the creamy sauce. I don't find it necessary to have the entire dish taste homogonous, but your preference is the one that matters. Consider adding 1 tablespoon of the seasoning mixture to the alfredo sauce when you add the garlic and season the chicken less.
Homemade Alfredo Sauce Tips
The best part of this Alfredo sauce is that it's so simple with just 5 ingredients.
The sauce should be just bubbling when you add the cheese. The cheese can get a grainy, coagulated texture if it is too hot.
I like my sauce to stick to the noodles, but not drown in it. If you like lots of alfredo, consider doubling the sauce ingredients. You can double or triple the recipe without consequence.
Use freshly grated parmesan cheese, not pre-shredded. Not only is it cheaper by weight, but it also has a better texture melted into the sauce. Make sure to grate it as finely as possible so that it melts evenly.
I am not a fan of garlic, so this is optional. The rest of the family loves it in their pasta, however.
More Delicious Recipes
Yummy solutions to get dinner on the table tonight!
Frequently asked questions
Can this recipe be doubled if my family prefers a saucier pasta?
Absolutely! This sauce recipe can be doubled or even tripled with the same ingredient ratios if you prefer more sauce.
Can I swap out or add a different vegetable instead of broccoli?
You can add whichever vegetables you prefer. Choose the vegetables and just steam, grill, or sauté them in a little bit of butter before adding to the pasta. Some ideas that I like are:

Sauteed Mushrooms
Sauteed Red Peppers
Grilled Zucchini
Diced Tomatoes
Green Onions
What is alfredo made of?
Classic Alfredo Sauce is a simple but rich and creamy, white sauce. Commonly served over noodles, it is made from butter, cream, and parmesan cheese. Seasonings such as garlic, cajun spices, and other types of cheese are often blended in to make unique flavors. It goes well with chicken, fish, and shellfish such as shrimp or lobster.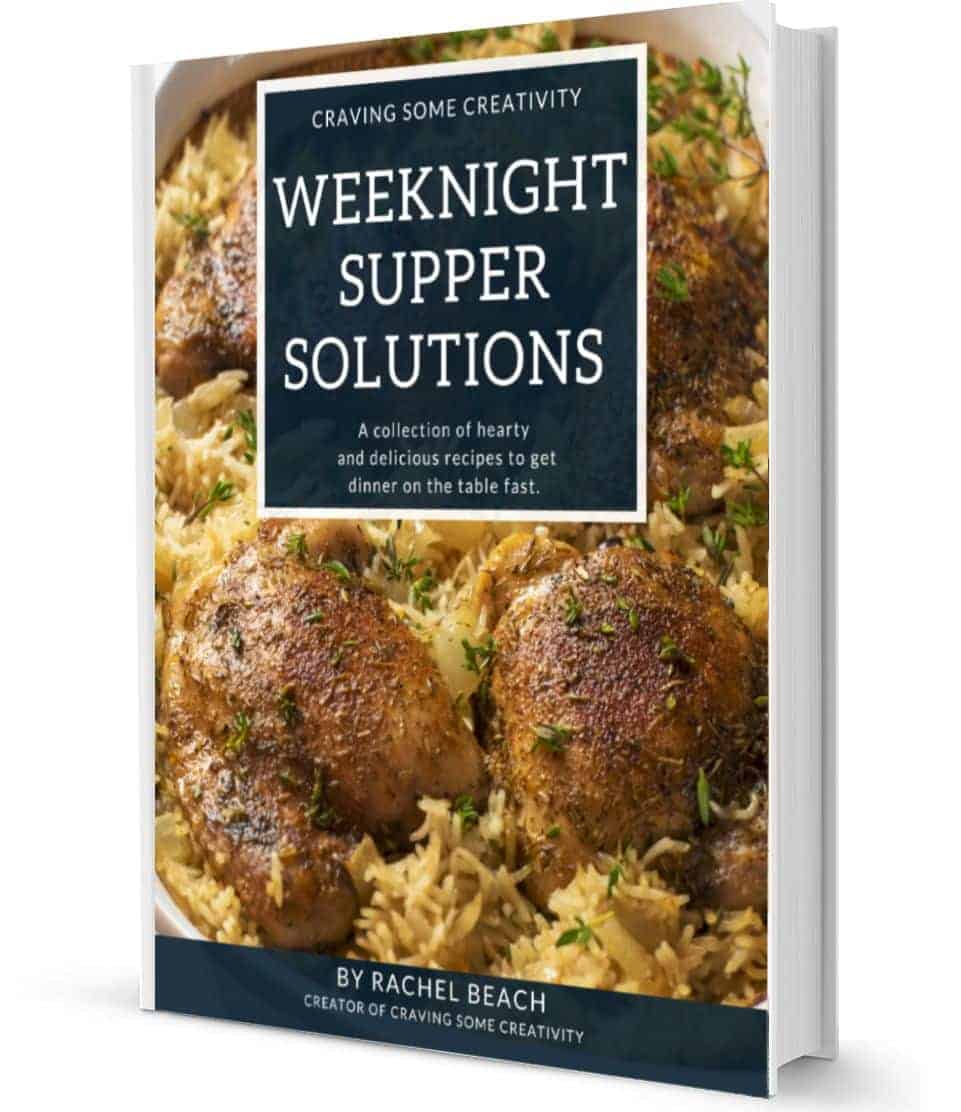 Not Sure
What's For Dinner?
Signup for recipe updates and get a free cookbook of Easy Weeknight Supper Solutions!
More Delicious Pasta Recipes for the Family
PS. If you make this recipe, leave a COMMENT AND A STAR RATING in the comments section at the bottom and be sure to take a photo and tag it #cravingcreative on Instagram! I appreciate you for taking the time to read about me and my family recipes.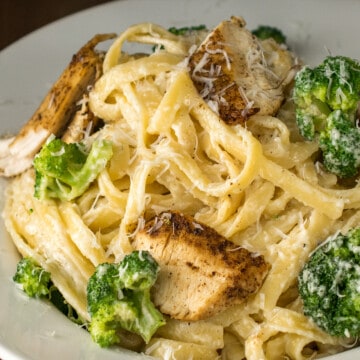 Cajun Chicken Alfredo
This Cajun Chicken Alfredo pasta is quick, easy, and always receives rave reviews. Authentic blackened chicken creates a charred, boldly seasoned, and succulent dish that wakes up the comforting, classic creamy alfredo sauce for a restaurant quality flavor.
Print
Pin
Rate
Equipment
1 Skillet

Cast iron is preferred, but the chicken can be cooked in a regular skillet or on a gas grill.
Ingredients
Cajun Chicken
2

Chicken Breast

1

tablespoon

Paprika

1

teaspoon

Cayenne Pepper

This is 3 pepper spicy rating. Add more or less depending on your heat preferene.

1

teaspoon

Onion Powder

1

teaspoon

Garlic Powder

½

teaspoon

 Salt

½

teaspoon

Dried Thyme 

½

teaspoon

Oregano

½

teaspoon

White Pepper 

black pepper can be substituted

1

tablespoon

butter
Alfredo Pasta
8

oz

fettuccine pasta

6

tablespoon

butter

1

teaspoon

garlic, minced

1

cup

heavy cream

2

cups

Parmesan, freshly grated

1

tablespoon

cornstarch

3

cups

broccoli, cut into florets

red and green peppers, mushrooms, and green onions are also great additions
Instructions
Stir all seasonings together in a small dish. Pound chicken to about ½-3/4 inch thickness and pat dry. Liberally season on both sides with the seasoning mixture. Set aside until ready to cook.

In a large pot, cook fettuccine pasta as directed on package. Drain and set aside.

* See Note for alternative if you don't have a steamer. In a large pot, add an inch of water and bring to a rolling boil. Place a steamer basket inside the pot and add the broccoli. Cover, turn the heat down to a medium-low, and cook for 6-10 minutes, until the broccoli is tender.

Melt 1-2 tablespoons of butter in a skillet, preferrably cast iron, over medium-high heat. Add chicken and cook for 2-3 minutes per side. Chicken should be dark brownish-black on the outside and cooked through, but still moist. The skillet may smoke during the blackening process. Don't be alarmed! Allow the chicken to rest uncut while the sauce is making.

In a large, deep skillet, melt 6 tablespoons of butter over medium heat. Add in minced garlic and sauté one minute until golden and fragrant. Slowly add in the cream and stir until well combined. Stir occassionally and bring to a bubbling boil, about 5 minutes. Add salt and pepper.

While the sauce is thickened and still bubbling, add in Parmesan cheese, ½ cup at a time, whisking vigorously between additions very well. Reduce heat to low after the cheese has completed melted. Stir frequently to keep the cheese from scorching.

In a small bowl, add ¼ cup of cream sauce and 1 tablespoon cornstarch. Mix until smooth and without lumps. Add cornstarch mixture into sauce and stir until well combined.

Mix noodles into sauce and heat up to warm. Plate with broccoli and chicken pieces on top. Sprinkle additional shredded parmesan as desired.
Notes
Substitutions and Equiptment
If you don't have a steamer, you can easily use these steamer bags in your microwave.
You can substitute 2 Tablespoons of store-bought Cajun seasoning, but the homemade version has more flavor, and you can control the heat level better.
I always make this in a cast iron skillet because of the smoke and high heat. However, you can make the chicken over a gas grill or in a regular skillet.
Nutrition
Serving:
2
cups
|
Calories:
980
kcal
|
Carbohydrates:
51
g
|
Protein:
45
g
|
Fat:
45
g
|
Saturated Fat:
22
g
|
Sodium:
1005
mg
|
Potassium:
1200
mg
|
Sugar:
4
g
|
Iron:
0.7
mg