Halloween Projector Decorations transform your home from happy haven to a haunted hideaway. Send shivers down neighbors' spines with an easy-yet-eerie digital display. Tips include how to choose the perfect location, how to set up your projector, and selecting spellbinding Halloween digital animations.
While pumpkin spice is all quite nice, October is synonymous to one thing in our household- Halloween! Our motto? Go big or go home. Our humble Halloween porch decor has metamorphosed into a full front lawn display. From a macabre DIY Apothecary display drenched in phantom-like fog, to a sinister set of witches casting spells under the Autumn night sky, our DIY Halloween decorations get spookier each year.
While spider webs and haunted headstones are timeless Halloween decor, how could I boost it more without storing an impractical 15-foot skeleton?
Answer: Halloween holographic decorations create a spooky illusion on walls, windows, and objects like interactive singing pumpkins!
Why you'll love digital decorations:
I purchased most of my decorations from AtmosFX which provides instant downloads. I'm not affiliated with the site in any way, but I love how compact and mesmerizing this setup is!
Realism: Digital projections create convincing and immersive Halloween scenes, whether it's a haunted house, a spooky graveyard, or a ghostly apparition.
Easily Refresh: Want a new look? It's easy and affordable to change up your theme.
Variety: Digital Halloween projections come in a wide range of themes and animations. Keep decor fresh and exciting year after year by switching up scenes and effects.
Interactivity: Digital Halloween projection systems allow for interactive elements. For example, motion sensors can trigger animations or sound effects when someone approaches.
Space Saving: Digital projections are super space-efficient. Use a single projector to cover a large area, eliminating the need to store away bulky decorations.
Reusability: While physical decorations may get degraded or damaged over time, digital Halloween projection decorations can be used year after year with minimal wear and tear.
Reliability: I've never had an issue with my setups not working exactly as intended!
Adaptability: Use the setup for other holidays and occasions. We have a Christmas display that the neighborhood kids love!
Suggested Supplies
Peruse the video and print step-by step instructions, both found at the bottom of this post. Here's a general overview of what I use for our setups for Halloween window projects, singing pumpkins, and Christmas window projector decorations.
Not every item is required for every type of setup:
Digital Decorations – I give options, both purchased and free below.
Extension Cord
Multiplug
Access to a computer, smartphone, or a Memory USB stick depending on your setup.
A media player with loop and shuffle features (for the computer)
A screening material. See options below.
Small set of speakers if you want sound effects.
Pumpkins
Zip ties
Scissors
Screw Eye Hooks or Heavy-Duty Command hooks
Portable power station. Only if you want to make a portable option.
ProTip: If you use a computer, a video player capable of playing MP4 media files, as well as looping and shuffling a playlist, is required. I use VLC media player because it has all the necessary features and a full screen without text. It's safe and completely free. Only download from the official site for safety.
What kind of Halloween projector do I need?
No need to invest in a super expensive movie projector for this! The key feature is brightness, and then deciphering if it's a short throw projector. I've used this projector for 3 years. It's light, bright, and easy to hide- it's perfect! Even better? You can find it on sale regularly for about $60.
An alternative option is to use a video projector with a rechargeable battery. This portable option is bright, crisp, and boasts a long battery life. It's the quintessential accompaniment to your next trunk or treat.
Or simply purchase a large portable power station with 110-V hookups.
What can I use for a window projector screen material?
I use this screening material for our giant picture window (120×50). I've seen smaller Halloween displays set up with cheap shower curtains and/or bed sheets. Although these options work well enough, the image is not as crisp.
For the best holographic effects, use a translucent material or a rear projection screen. The more translucent, the better.
If you want to up the scare ante, drape cheesecloth around the edges of the screen material.
Halloween Projection Effect Ideas
One of the best features about these types of decorations is the sheer versatility. Use them for Halloween, Christmas, and other holiday displays.
Ghosts and Wraiths flying across a window.
A Peek into Santa's Workshop
Ring in the new year filling your walls with fireworks or confetti poppers – no mess!
Play holiday sequences on your TV for parties.
Floating apparitions or singing witches in your doorway.
Leaping Velociraptors running across walls for a dino-mite birthday party.
Options abound from football themes to creepy eyes.
Halloween Projection Window Setup
Advantage of this setup:
Display multiple digital decoration packs.
Shuffle the order of the decorations.
Full control of sound and light, (including timer option).
Best resolution for larger windows.
Confession time: I'm quite shy in person. Nevertheless, I've attached a video explanation of how I setup my Halloween projection effects with detailed step-by-step visuals. I've included two different window setups as well as my singing pumpkin projection- a portable display option.
Where to get Free Digital Halloween Decorations?
This setup isn't limited to purchased hologram animations. Use free Halloween videos or photos from places like Upsplash and Vecteezy. If you've subscribed to services such as Envato elements, Shutterstock, or Adobe stock, you have access to even more options.
How to make a hologram for Halloween?
We've covered how to use them and where to put them. What's the most efficient setup these digital decorations? Here's some tried & true recommendations:
Use PVC frame to attach a screen, if you don't have anywhere natural to hang one.
Use heavy duty command hooks to stretch the screen material over the window or doorway surface.
Use screws or screw eye hooks to hang the screen around windows or on walls.
Project onto objects like pumpkins or 3D humanoid forms to watch them come alive!
Got a Roku or other stick-connection streaming device? Cast your decorations from your phone via Chromecast or AirPlay to a streaming stick plugged directly into the projector.
Use a one-way mirror with a short-throw projector that can be placed behind the mirror.
Have you created a spooky digital display like this one? Share your inspirations and triumphs (or tragedies) in creativity below. Happy haunting!
Video Demonstration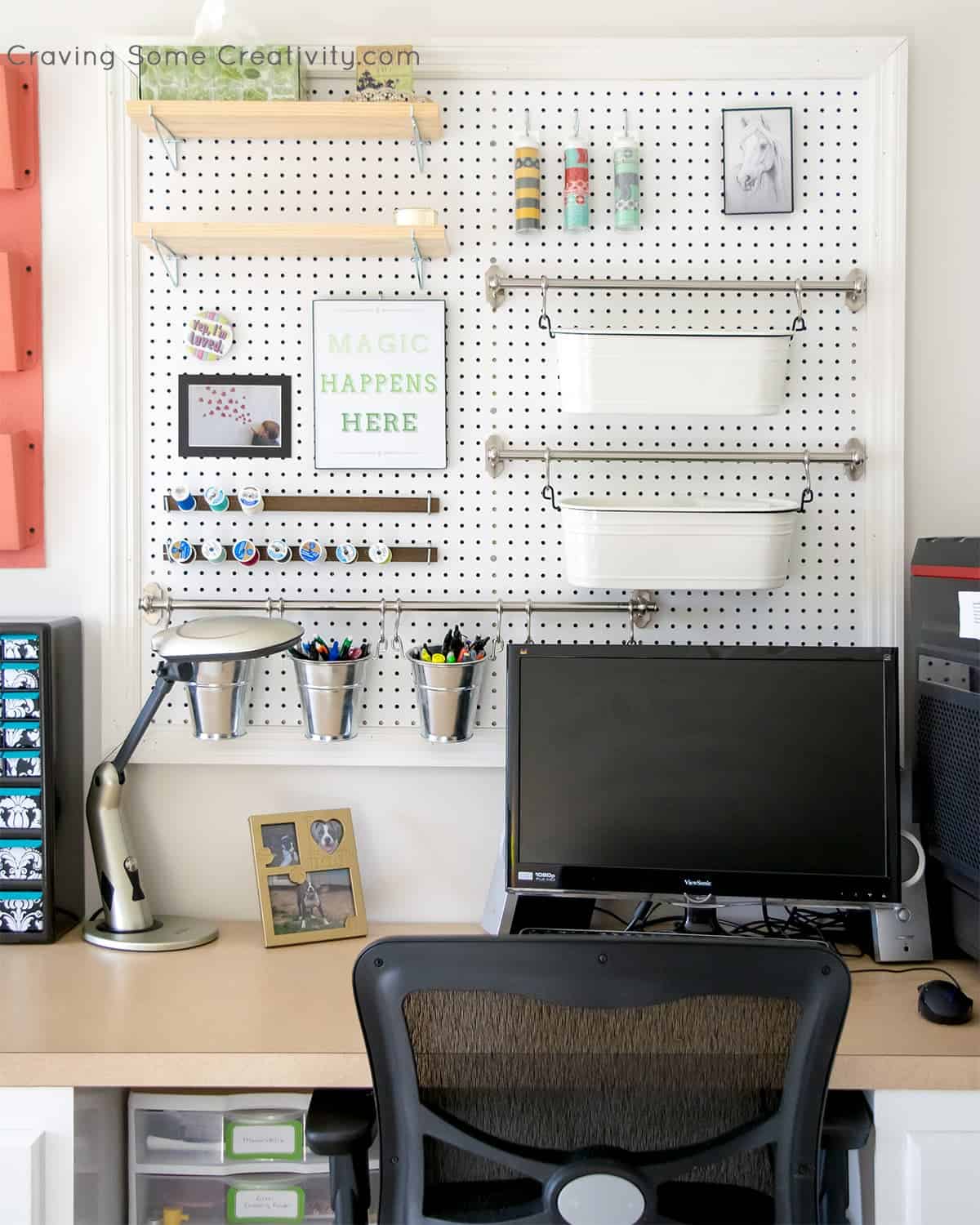 Grab our free series "Weekend Home Projects that will Transform Your Life"
Sign up below to receive updates including free printables, organization tips, home improvement projects, recipes and more!
More Halloween Posts
PS. If you make this recipe, leave a COMMENT AND A STAR RATING in the comments section at the bottom and be sure to take a photo and tag it #cravingcreative on Instagram! I appreciate you for taking the time to read about me and my family recipes. 
How To Setup a Window Halloween Projector
With this setup, you can transform your window into a captivating canvas for Halloween decorations, delighting trick-or-treaters and passersby with a spooky and immersive display.
Print
Pin
Rate
Tools
Digital Decorations

1 Memory Storage Device

A memory stick, laptop, or phone can be used.

1 Extension Cord

1 Projector

1 Scissors
Supplies
10-12

Zip Ties

1

Rear Projector Screen

*see note for alternatives

15

feet

1 ½" Diamter PVC pipe

depends on the size of your display area

2-4

pieces

1 ½" PVC Elbows

10

Heavy-Duty Command hooks

Optional, or you can build a PVC frame
Instructions
Decide your setup.
Select a window in your home where you want to project your Halloween decorations. It should be easily visible from the outside and near a power source for the projector.

Clean the inside and outside of the selected window thoroughly to ensure a clear projection.

Decide what storage device you would like to use to project your image. Your options may be dependant on your model of projector. Most projectors have a usb port where a memory stick can be attached, or you can use a laptop with an HDMI cable or attach with your phone through a bluetooth connection.
Hang the Projector Screen.
You can use screw eye hooks or heavy duty command strips or even a curtain rod to hang the screen. Just make sure that the screen is wrinkle free and covers the entirety of the window area, preferably just outside of the frame.

For a solution that breaks down easily, create a frame for your projection screen using PVC pipes and connectors. This frame should fit snugly within the window frame or lean against it. Attach the projector screen to the frame, ensuring it's taut and wrinkle-free.
Load Halloween Content.
Place the projector on a stable surface inside your home, preferably on a table or tripod, facing the window. Connect the projector to your chosen media storage device. Make sure the input source matches that.

Turn on your laptop and make sure it's set to duplicate the screen or extend the display to the projector. Adjust the display settings as needed. If you are using a memory card, you can use the projector menu to play the displays.

Adjust the projector's position and focus until the Halloween content fills the entire projection screen in the window.

If your projector kit includes speakers, connect them to the projector for synchronized sound effects. Alternatively, you can use external speakers and connect them to your laptop.
Start the show.
Dim the lights in the room to maximize the impact of your Halloween projections. Play your chosen Halloween content on the laptop or media player, and let the spooky spectacle begin! Keep an eye on the projection throughout the evening to ensure it runs smoothly and spooks your Halloween guests.
Notes
Video Demonstration
If you have any questions, there is a video demonstration of all the setups that I use and how I do it in the blog post on CravingSomeCreativity.com with this card.
Projector Screen alternatives
Although not as high quality, I have seen cheesecloth, bed sheets and cheap white shower curtains used. For objects to project onto, pumpkins and inflatable 3D humanoid forms are the most popular.