Our home is filled with DIY witch décor that makes for a festive outdoor Halloween scene. This apothecary Witch Shop using items already around the house like jars, potions, and lanterns for spooky and fun décor and I include additional ideas for your spooky haunt.
I'm sure I've said this before, but I looooove Halloween. Outdoor decorating for halloween is one of my favorite activities of the season. The jack-o-lanterns, ghosts, the feeling of tingles running up your spine wondering what's lurking in the dark of your favorite scary movie- I love it all!
…except spiders. Nope. No way. We have developed a respectful relationship. They stay away and no one has to see my panic shuffle moves.
Creepy good. Crawlie Bad. Ok?!
This year's Halloween Witch decorations have all of my favorite things!
I am building towards a theme of a witch's potion shop. Some years I like to dress up to greet the trick-or-treaters, so this seemed like a natural extension of that! It's like a creepy apothecary shop with a bit of witch flair for potions and spells and bubbling cauldrons.
I kept my basic fall decorations like the Mums and the Corn stalks. I am not a fan of redecorating for every season and every holiday so I try to incorporate things to keep the flow. Haybales and scarecrows work well with this theme as well.
Of course, I had to include the jack-o-lantern topiaries (you can find the tutorial here). The Boston ferns will probably die as soon as it turns cold, but they remind me of a lions mane or giant moss tendrils. The lights are on an automatic timer like this one so that I don't have to mess with them every night and we have less wires streaking through the yard.
A small graveyard peeks out from the front bushes warning would be hustlers what might befall them! Hehehehehe
I re-purposed a ton of items I have collected over the years. A simple collection of candles and black and white vases is from my Edgar Allen Poe Mantle. You can find similar iridescent pumpkins here. It's amazing what you can come up with when you shop your house. You could add some Halloween labels like these to condiment jars and vases you already have around the house.
The weather resistant lanterns (here is the Halloween lantern tutorial) greet the victims… I mean trick-or-treaters. They also light the path. How cool with these be with a fog machine?!?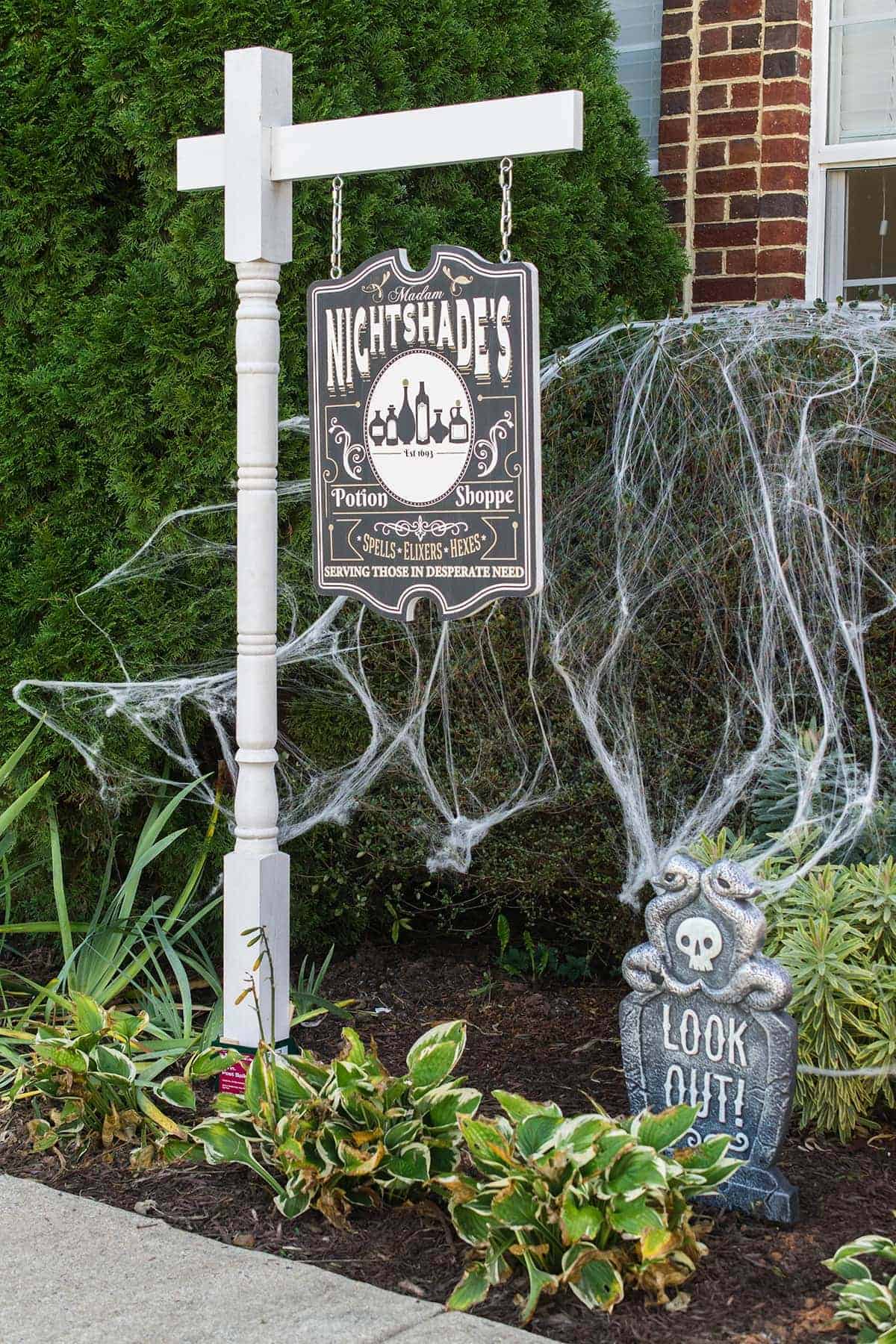 Previously, I shared how we built this DIY Yard Sign. It's like my absolute new favorite item in the whole glorious show!
Future Outdoor Decoration Ideas
While my front entry way looks pretty full and awesome, I have a few items I want to add for the maximum effect. You can use these as well to build your own Halloween capsule. Some of these we already have, but they don't show up well in the daylight pictures.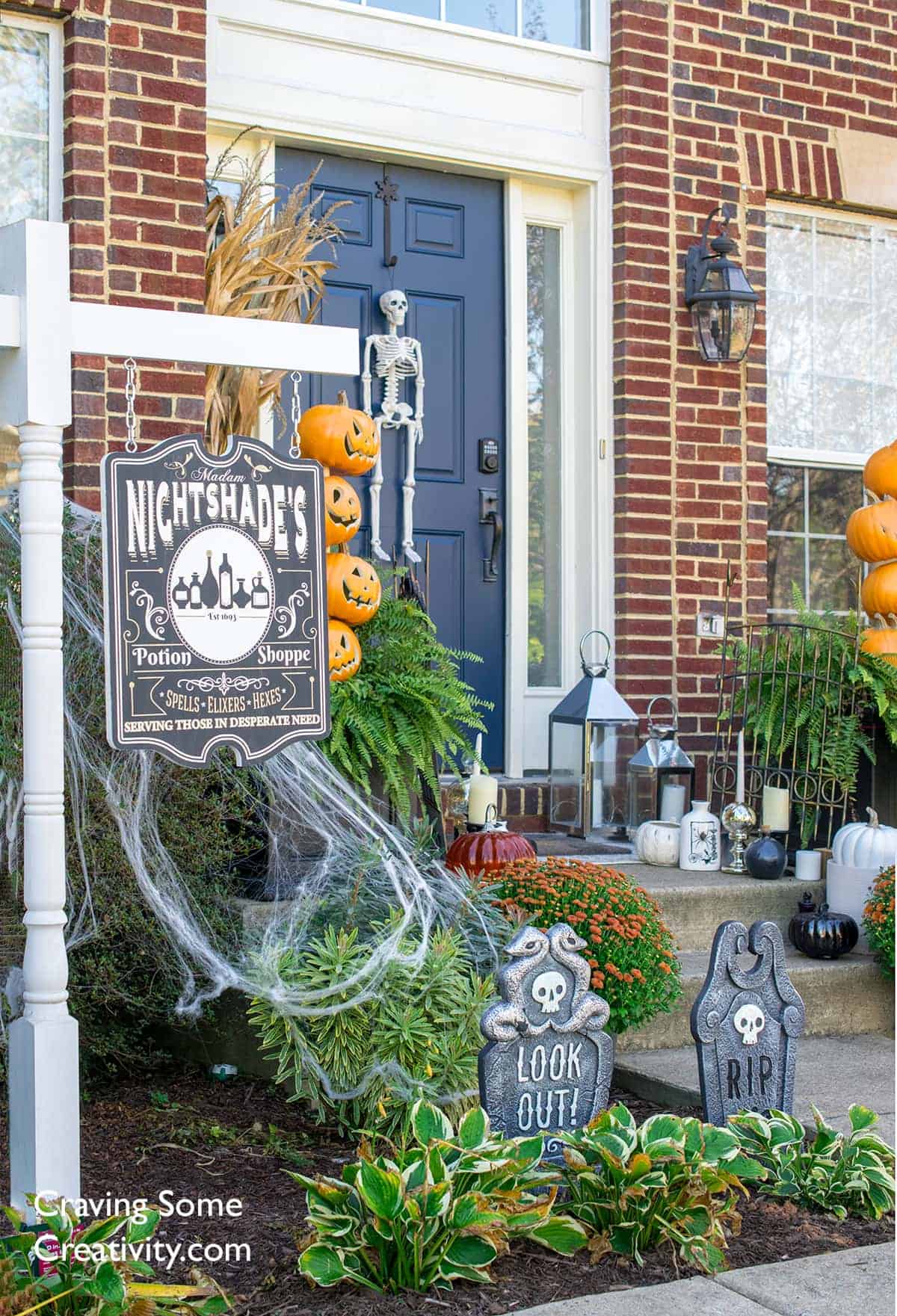 I've been collecting this stuff over the last few years, but if I had to make it all this year, I would say it would cost less than $400 total. The pumpkin topiaries were kind of expensive and the post cost $47, but most of the rest was shopped from our house and scrap wood.
Check Out Our Favorite Halloween Porch Decorating Ideas
More DIY Witch Decorations for Halloween
I have a lot of plans in the future for more witch themed decorations to go with my apothecary shop, so I wanted to leave you with a little more inspiration to use. These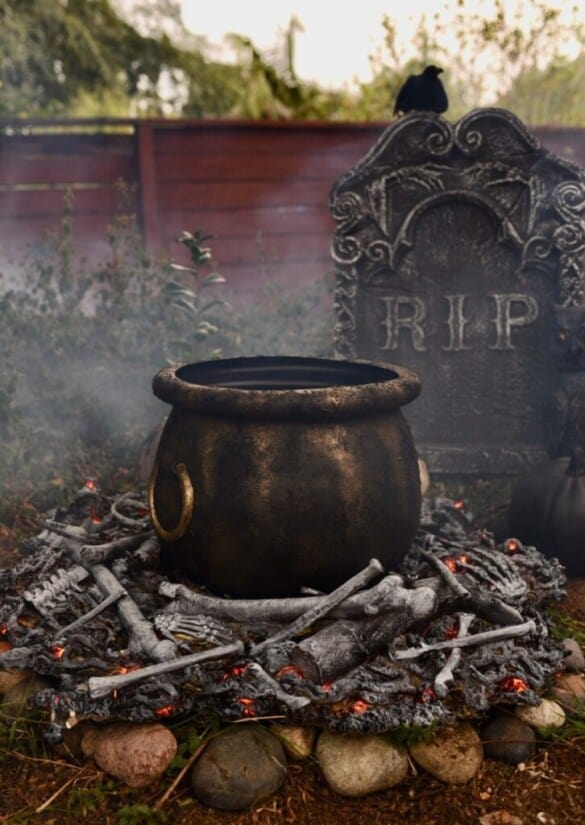 I was pretty amazed at this cauldron coming from an inexpensive plastic one.
Printable Apothecary Jar Labels
Amanda, from Domestically Creative, makes some of the most fun and interesting crafts. These free labels are the perfect touch for your apothecary bottles.
Grab our free series "Weekend Home Projects that will Transform Your Life"
Sign up below to receive updates including free printables, organization tips, home improvement projects, recipes and more!
More Halloween Decorating Ideas
PS I love seeing your creations! Be sure to take a photo and tag #cravingcreative on Instagram! You can also stay in touch with me through following me on Instagram, Pinterest, and Subscribing to the Newsletter!