Fun and Creative Halloween Front Porch Decor Ideas to get in the spirit! Join us in creating an easy DIY bewitching welcome that falls on the spooky side including witches, goblins, skeletons, and lots of frightful fun!
Who is ready for some Fall and Halloween decorating?! It was 90 degrees this past weekend, but I am pumped for everything SPOOK-TACULAR!
And it's all about the Halloween porch decor this year.
There are so many fun and creative ways to decorate your front porch for Halloween! The front door is the first thing guests and trick-or-treaters notice when they come to visit, so it's fun to dress it up a bit. Outdoor decorating is one of the best things about Halloween!
Halloween Front Porch Ideas
I am always working on our special Halloween front porch decorations, so I am sharing plenty of inspiration for you below with great DIY wreaths, porch decorations, and arrangements to feast upon. Don't forget to let us know which one of these ideas most inspired you and why! When do you begin decorating for Halloween?
Check out these 15 Halloween Front Porch Decorating Ideas to spook your entire neighborhood!
Halloween Porch #1: Make these super easy DIY tombstones from this tutorial to scare up a good time!
What's great about this front porch is the simple color scheme and repetition makes the elements stand out, so you don't need to spend a whole lot of money to get a cute look.
Halloween Outdoor Decor #2: I'm in love with these awesome Dead and Breakfast signs for Halloween! Check out more of this knock-you-dead porch!
It's a really cool theme that is fun and spooky. This was my inspiration for number 8. I added a fog machine this year to my Witches' Potion shop sign to our front yard. I think it's really unique and will last for many years.
Choose Your Adventure Sign: How awesome is this Halloween marker sign?! You can download the signs instantly and make your own welcoming entrance.
Throw some cobwebs around it, maybe a black cat, and the classic pumpkins to stake into the ground to complete the spooky look.
*Tip: Laminate the signs to protect from the elements. I also rub a bit of glue around the edges to keep water from getting into them.
Halloween Front Porch #4: Hilarious door mats are great to add to your Halloween decor. This DIY doormat from Longwood Lane is really simple to make and fun!
If you're looking for outdoor Halloween decorating ideas with a sense of humor, door mats are so easy!
DIY Halloween Outdoor Decoration #6: I couldn't do a list of Halloween porch décor without mentioning my favorite DIY Pumpkin Topiary.
These light up really well and the sinister carved pumpkins are so fun to greet the trick or treaters with. I don't have a covered porch, so these are like a gateway to getting the candy.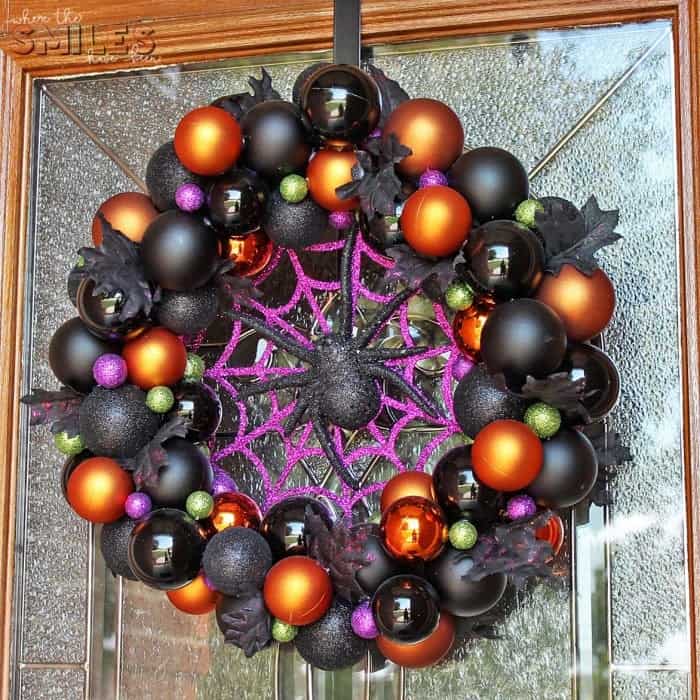 Halloween Wreath: Ornaments aren't just for Christmas! This DIY ornament wreath tutorial is perfect for Halloween.
I love how colorful and festive it is! The colors scheme gives it that classic Halloween feel, but the spider in the middle really brings home the creepiness.
For me, spiders are the absolute creepiest thing. I'd rather battle a horde of zombies than take on one giant spider. EEK!
Halloween Front Porch Idea #7: This creepy fun scene from Atta Girl Says is one of my favorites!
The small details like the lanterns, cobwebs on the glass, and the apothecary jars complete the spooky look. This is definitely one of the most creative outdoor Halloween decoration scenes I've seen.
Halloween Outdoor Decorating Idea #8: The pumpkin topiaries got some updated style on our Witch Shoppe Halloween porch, which you can see more of in this post.
At night, it is lit up but also very spooky with our DIY lanterns, candles, and a lighted sign we made. I updated it further with a fog machine over the steps.
Halloween Window Decor #9: If your house has a lot of windows, adding window clings really amps up the haunted house vibe. These halloween window silhouettes from Snazzy Little Things are fun, creepy, and sinister all in one! You can instantly download them here.
Halloween Porch Decorating Idea #10: I love how compact this Ghosts and Goblins Sign is for easy storage, but it will make the neighbors stop and stare to read it!
If you don't have a huge porch and want some small porch Halloween decorations, it's a good idea to feature just one unique element as a sort of centerpiece and surround it with smaller scary elements like the blackbirds, jack-o-lanterns, cobwebs, and bats.
Blackbird Wreath: Who doesn't love a good upcycle?! This Blackbird Wreath from Oh My Creative is inventive and affordable to make. Since I don't have a covered porch, I am very limited in what I can use for a wreath. This idea seems fairly sturdy for outdoor use.
Halloween Porch #12: This bold black and white porch features a striped rug, lighted trees, and an arrangement of pumpkins and fall foliage. I love the idea of mixing fall and Halloween so that there isn't as much need to store stuff or spend hours redecorating.
Halloween Witches Holding Hands: Ok, technically this decoration probably can't fit on most front porches. But they are still really, really cool and spooky! I really love cheap outdoor Halloween decorations especially, and you could make these pretty inexpensively with pvc pipe, Halloween costumes, and clear resin globes. There is something seriously creepy about soulless humanoid figures dancing around your yard.
DIY Man Eating Plants: How about man eating plants?! This creative and impressive idea utilizes recycled materials and Dollar Store items to create the entire sculpture. Imagine this guy greeting trick or treaters with mouth wide open!
Trash Bag Spider Webs: One of the easiest and cheapest crafts to decorate your entryway, but also amazingly effective! I love the idea of taping them to the windows, but these would also work great on garage doors, mailboxes, or creating some creepy crawly corners.
Which of these Halloween Front Porch Decorations will you be including this year? If I could fit them all, I would certainly try!
Grab our free series "Weekend Home Projects that will Transform Your Life"
Sign up below to receive updates including free printables, organization tips, home improvement projects, recipes and more!
More Halloween Decorating Ideas
PS I love seeing your creations! Be sure to take a photo and tag #cravingcreative on Instagram! You can also stay in touch with me through following me on Instagram, Pinterest, and Subscribing to the Newsletter!