Over 30 Easy Halloween Decoration Ideas to make for haunting your halls. Get into the spooky spirit of the season with these simple and budget-friendly décor ideas.
Halloween is one of my favorite holidays! I consider it the official opening of the holiday season. Every year, I add a little bit to our Apothecary Witch Outdoor Decorations and there's something so gleeful about decorating with jack-o-lanterns, black cats, witches, and bats. It truly inspires the curiosity in all of us.
Today, I've included over 30 inspiring decorations that are show-stopping and easy to make. Let's dig in, shall we?
Pin these Easy Halloween Wall ideas for later! And if you make one, leave a comment (or better yet, a photo) on the pin! That helps others know whether they want to try this project, too!

Boo-tiful Wreath Ideas
Festive wreaths are out in full force and a great pick-me-up for any front door. Some are created with simple ribbon and a form alone. Others use a combination of crafty materials to create a dimensional, layered look. The best part? People have used a lot of creativity and individuality to craft wreaths that are unique to their homes…and often they are made in very budget-friendly ways.
I think you'll be inspired as I was at these colorful, pattern full additions to each home!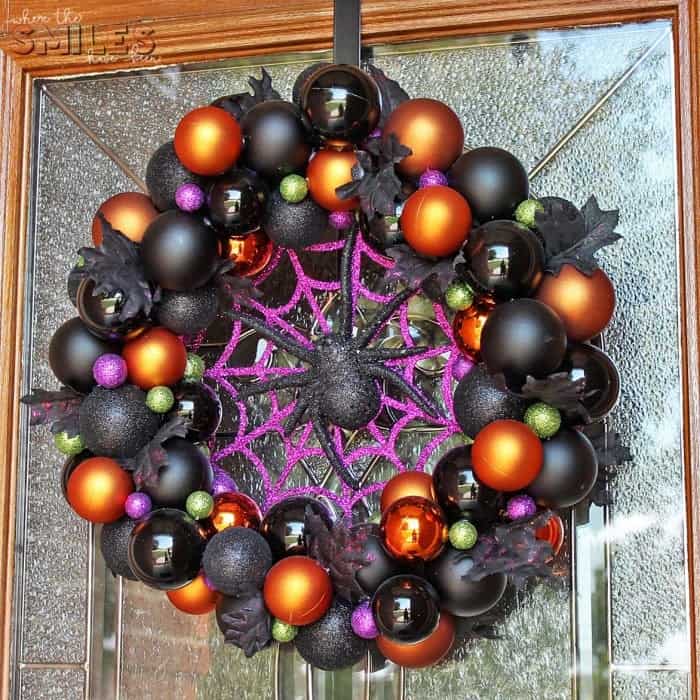 Learn how to make each one in the tutorials which are linked below:

Front Porch Frights
When it comes to Front Porch décor, a few good anchor pieces are the only requirement to creating a custom vibe. DIY pieces give shape to an original style that no neighbor can knockoff.
Tight on budget but big on Halloween spirit? Don't despair!
You can find lots of creative custom doormats like this one on Etsy, or create your own with a coir doormat and black outdoor paint.
Pair it with this easy to make DIY Pumpkin Topiary. It's a bold statement that's easy on the wallet.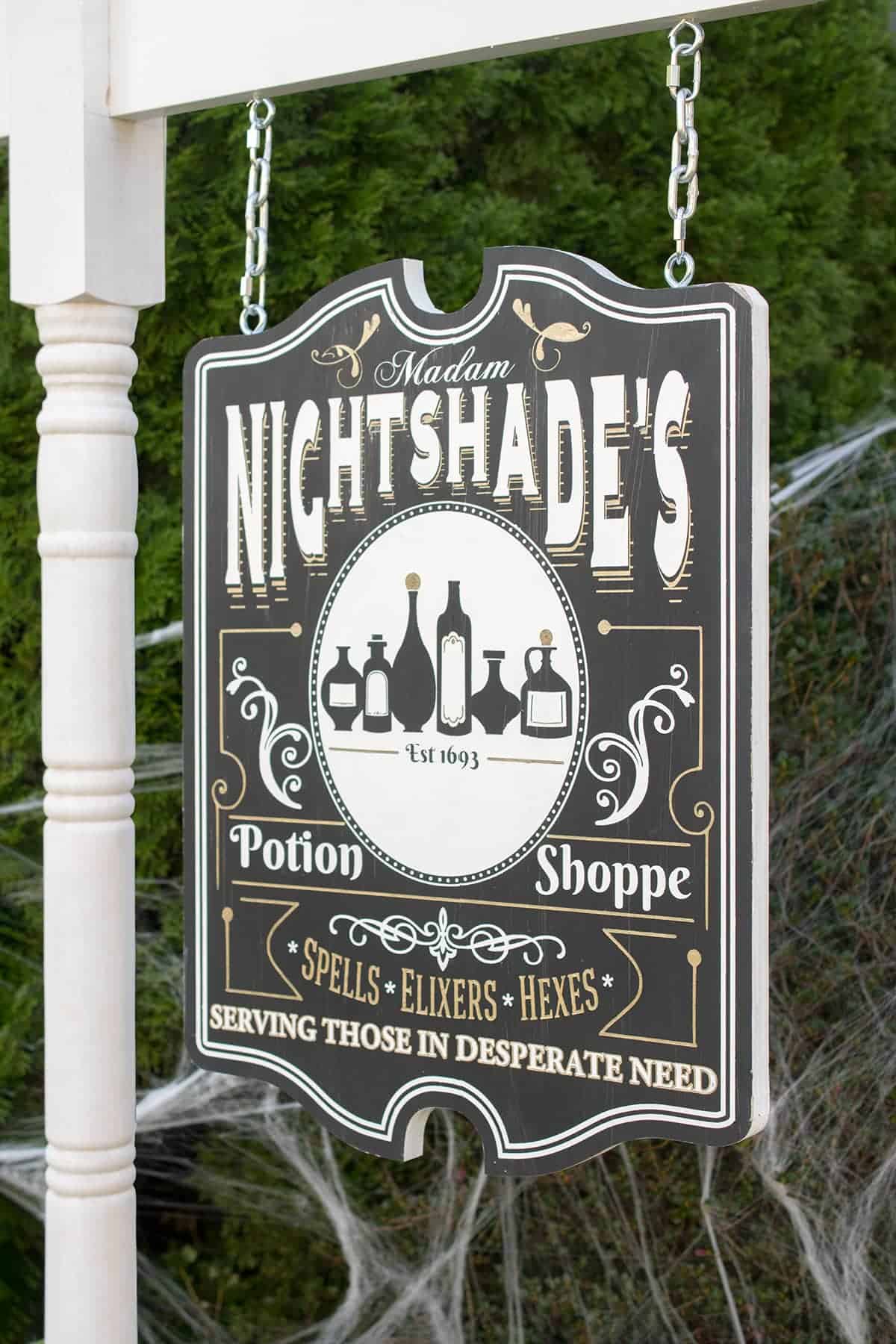 Learn how to make a big personalized yard sign with this diy tutorial! It certainly doesn't have to be as ornate as this one, but it will be just as spellbinding and it's easy to reverse for fall or Christmas decorating.
Make a firepit with these human sized skulls! Of course, they aren't real skulls, they are painted ceramic skulls that can be used in wood or natural gas fireplaces, so they are perfect for chilly evenings spend around an outdoor fire pit.
For more front porch ideas, I have rounded up all my favorites in 15 Outdoor Halloween Decorating Ideas.

Wicked Walkways
It's been a treat to watch brigades of costumed children enjoy it each Halloween. Easy diy Halloween Outdoor décor is step one in haunting your homestead this season. Think beyond the graveyard with these clever walkway installations.
Pro Tip: Most supplies for these projects can be found at your local dollar store!
DIY Halloween Lanterns – Enter if you dare! Better pay attention to these weather proof outdoor luminaries.
Ping Pong Ghost Lanterns – Use ping pong balls for these "lights" that can be hung anywhere take only a few minutes to make!
3. DIY Carnivorous Plants – A few simple supplies and imagination makes these fun and realistic little monsters.
4. Yard Monsters – Get your foliage in on the trick or treating! A girl and a glue gun shows you how to create several different looks depending what kind of shrubs or trees you have.

DIY Halloween Mantel Décor
Although the front porch theme is our family project each Halloween, we certainly don't let the fun stop there! We like to deck the halls full throttle 'round here.
Bats, cats & creepy crawlers – The "secret sauce" behind Pinterest-worthy holiday mantel displays is nothing more than creativity, a few cans of paint and your trusty glue gun.
Check out some of my favorite Scary Halloween mantle décor from previous years here! If you're hosting a scary movie marathon, bring the on-screen horror to life with some truly spine-tingling decor. Candy corn popcorn buckets and a clock to remind you that time is running out. Floor cushions promise extra seating — because power in numbers!
Or make it lighter in fun with this Candy Corn Banner and a pumpkin decorating contest! The pumpkins can be piled and lit up to watch the movie with their favorite new masters. Learn more from the Gracious Wife.
More Creative and Easy Halloween decoration ideas for your mantle:
Find the tutorials here:

Spooky Centerpieces
I simply adore a holiday table. Setting the Halloween table is always extra fun, because of the element of playfulness.
This Fun Halloween Party Tablescape from A Pumpkin and a Princess delights party-goers of all ages.
Have five minutes? Stamped transfer Halloween candles make an easy and versatile addition to your tablescape.
Or upcycle empty bottles headed for the compost, with these free printable Apothecary labels. Voila! Your dining room table is alight with fanciful frights.
Imagine these plates at a Halloween table! Or hang them on the wall with some plate hangers to create a creepy gallery effect. Get the tutorial from Boxwood Avenue here: DIY Silhouette Plates.
Dripping red and black candles are always a good time, but there's a really easy trick so you don't have to wait so long for the candles to burn down. Taste of Home even has a video to show you how.
This Mason Jar Ghouls tutorial is creative and countless ways to personalize them. I think of lighting them up with our last name, for example. The combination of chalky finish paint and spooky Halloween characters is great too!
Yearning for the newest department store Halloween decor? Try your hand at a DIY version instead! This Pottery-Barn inspired boneyard lantern is a perfect example.

Pretty as a Pumpkin
Is there anything more festive to decorate with than pumpkins? I admittedly go a bit gaga for gourds each Halloween. Here are some of my favorite unique pumpkin decorating ideas:
Pumpkins gilded in gold instantly dress up a table.
Make easy fabric pumpkins with cheap fabric squares from the store and some twine.
Add a touch of whimsy to traditional carved pumpkins with emoji styled pumpkins.
"Paint" mini-pumpkins with metallic sharpie markers or outdoor paint for a cute touch.
Cut off the top and add some succulents to create an easy pumpkin bouquet.

More Easy DIY Halloween Decorations
Perhaps the best part about Halloween is the child-like wonder it ignites in all of us. DIY projects that delight little ones, are a true treat. Create a Boo Sign or add a Polka Dot Pillow. It's been a joy to share this love with my son and cook up new crafty ideas every year.
Don't leave your living room out of the fun! These gilded insect plaques are so cool and unique, while a wall of bats is an easy wall decoration that anyone can do.
May none of us fully outgrow the mystery & wonder…Happy Haunting!
Grab our free series "Weekend Home Projects that will Transform Your Life"
Sign up below to receive updates including free printables, organization tips, home improvement projects, recipes and more!
PS I love seeing your creations! Be sure to take a photo and tag #cravingcreative on Instagram! You can also stay in touch with me through following me on Instagram, Pinterest, and Subscribing to the Newsletter!