Looking for outdoor games for adults or outdoor games for kids? These are the most fun outdoor games and activities around! From classics like capture the flag to giant yard jenga, the whole family will have a blast.
The notion of "social distancing" has been especially challenging for kids. Which naturally means it's been especially challenging for Moms and Dads.
Let's face it, there's only so many board games, craft projects and baking lessons one can sing song their way through before nerves get frayed.
Outside. The Original and best Playstation – this mama has never been so happy to finally heed the universal battle cry of mothers 'round the world: "Go play outside!"
While the majority of pools and entertainment venues are closed to the public, it's still possible to create a magical summer! These popular games are fun for family members of all ages. Your backyard will be an oasis of exploration and laughter.
Outdoor Party Game Ideas
Giant Yard Dice
Take the board game outdoors and get some much needed Vitamin D! Giant Yard Dice are ideal for playing Yahtzee, poker dice, craps or other dice games.
KanJam Disc Throwing Game
Frisbee gets a 21st century update with KanJam. It's fast paced and may take a little practice to get really adept, but it's sure to elicit a lot of laughs.
Spikeball
I like the description of this game – If volleyball and four square had a baby, it would be called Spikeball. This game is best with four players, but it's great for kids and adults alike. Kids can play gentle while the adults go full out Olympic tryouts mode.
Jenga Giant Hardwood Game
Who doesn't love a game of Jenga? The balancing game gets a colossal makeover in this version. At setup, it starts at over 2 feet high and can stack to over 5 feet high in play! Let the whole family take turns trying to remove pieces from the precarious puzzle. Just keep in mind that when it does come crashing down, secure small children, pets and glassware at a safe distance.
Elite Ring Toss Game
Ring toss is a classic that simply never goes out of style. This game can be customized, so it's enjoyable for the very youngest and the very eldest family members. It also requires some fine motor skills, agility and basic math skills so it's a real parenting win!
More Outdoor Party Games
DIY Backyard Fun – Make these yourself
For homegrown backyard inspiration, you often don't have to look further than your very own garage, kitchen or craft supplies.
Cornhole is probably one of the most popular backyard games and it works great with just two people. You can make your own budget savvy cornhole boards with this tutorial. A fun twist is to light up the holes with these ring lights for when it gets darker outside.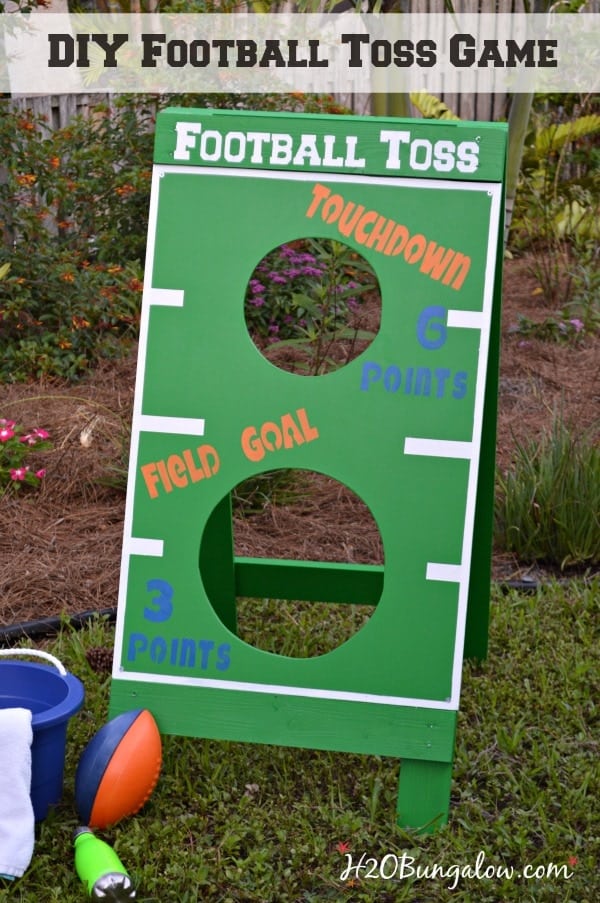 Show off your skills in the off-season! I am definitely building this Football Toss game for my own son.
The kids will go crazy when they see this Giant Outdoor Kerplunk! It's really unique and fun, plus great for any age.
More Outdoor DIY Game Ideas
Grab our free series "Weekend Home Projects that will Transform Your Life"
Sign up below to receive updates including free printables, organization tips, home improvement projects, recipes and more!