A sultry, soft, classic Chocolate Bundt Cake recipe drizzled with silky chocolate ganache topping made entirely from scratch with everyday ingredients! Made with real cocoa and a splash of coffee, this is the best chocolate cake you've ever tasted. Moist, decadent, and delicious- be prepared to lick your dessert plate clean.
All I want is world peace and chocolate dessert recipes. Ok a spa day wouldn't be bad, but I digress. Let's face facts, there's no comfort food equivalent to a piece of chocolate cake.
As a self-proclaimed chocoholic, I find many delicious ways to get my "fix." Some of my favorite ways to satiate my craving is batches of Chocolate Chip Pecan Cookies or Chocolate Cheesecake Bars. But this Chocolate Bundt Cake recipe really "takes the cake."
It's everything a dessert aspires to- sultry, sweet and consistently moist while using no hard-to-find ingredients. And a splash of coffee naturally enhances the flavor to intoxicating decadence.
My secret to success? Skip the run-of-the-mill ingredients for exceptional results. Only use chocolate that tastes good enough to eat by itself.
I've earned rave reviews for this recipe every time I've served it, which is a lot when you are a chocoholic. Pair it with a glass of cold milk, a piping hot cup of coffee, or a full-bodied glass of red wine- and yes, it's perfectly acceptable to lick your dessert plate clean. No judgment here.
Ingredients and Notes
Below is an overview of what you will need to make these with notes to making the very best Chocolate Bundt.
Chocolate Cake Base
Flour – A good quality all-purpose flour is an easy addition. If your flour is particularly lumpy, it can be sifted but not otherwise required.
Eggs. This cake has 4 eggs which allow for a generous rise and slightly denser cake. Delicious!
Strong Coffee. You won't taste this at all but it adds depth to the cake. While I usually brew a strong cup and let it cool, you can also use straight cold brew from the grocery store.
Sugar. I use both white sugar and light brown sugar in this recipe. The combination of white and light brown sugar in the batter helps keep things sweet and moist.
Tasting Chocolate. The real secret to this cake is using your favorite tasting bar, along with a quality cocoa powder. It will be much better than baking chocolate, chocolate chips, or just using cocoa powder. I like a 60-72% bar.
Sour Cream. The sour cream gives a zing and helps the cake rise to create that perfect crumb. Regular or light is fine.
Vegetable Oil. This cake is meant to be moist and flavorful while rising perfectly. The vegetable oil keeps that moisture without making it too dense.
Baking Powder/ Baking Soda. Make sure your ingredients are fresh.
Chocolate Ganache
Heavy Cream. Offering up a creaminess that works with the baking soda and baking powder but not as much as buttermilk, so the cake stays velvety and dense to support the apple slices.
Tasting Chocolate. Use the same type as above. I don't recommend chocolate chips for the best taste and texture, but they can be used in a pinch.
Vanilla. I always love vanilla in my baked good as it adds a warmth and brings out the other flavors of the cake.
Recipe Tip: I use this gorgeous Bundt pan not only because I like the style and bakes beautifully, but it is very well made to create even heat, and cooks perfectly.
Step by Step Recipe Guide
Because of the high-quality ingredients, it really doesn't get any easier. However, this visual guide can help with flouring and seeing each step.
Prepare a pan. Grease and flour a 9×13 pan or a Bundt pan. Spreading the butter will a brush gets into all the nooks and crannies. This will help the cake to release once it's baked. To make sure there are crisp edges, I usually bang my floured cake pan fairly hard against the kitchen sink to remove excess flour. (photo 1)
Make the batter. Because there are so many eggs, you will want to break them one at a time because it is harder to mix them in if you put all four eggs at once.
Pour the cake batter in the pan. (photo 2)
Bake. For a bundt cake, it is about 40-50 minutes or until the cake doesn't jiggle in the middle when you move it.
Wait about 10 minutes to cool before removing from the pan. I put a cookie cooling rack over the open side (the bottom of the cake) and flip it. The cake has never had a problem loosening and dropping onto the cooling rack with the proper flouring technique.
How To Make Chocolate Ganache
You will definitely want it to be cool before pouring on the ganache. Otherwise, it may make your topping run more and be thinner. I chose to only put a drizzle on for photographs, but the recipe has extra for a thicker layer.
Place the cream and vanilla in a small saucepan over medium heat. Once the saucepan is warm, break up the chocolate bar into small pieces and add to the saucepan. Stir occasionally until smooth and combined – about 2-3 minutes.
Don't let it come to a boil as that is too hot! It will take a long time to cool.
Recipe Tip: Ganache can be ready to use as a drizzle or you can let it sit at room temperature to cool. I know that waiting is for this delicious treat is hard, so you can put the ganache in the fridge for a few minutes, but stir it several times as it cools so it keeps even and smooth. It won't take long. If you forget, you may end up with ganache that can't be poured.
Topping Ideas
The cake is amazing with just the chocolate ganache, but if you want to add something different, here are some ideas.
Shavings – either white or dark
Chopped nuts like Pecans or Walnuts or hazelnuts
Whipped Cream
Sliced Fruit – Strawberries, blueberries, cherries, apricots
Serving and Storage Suggestions
Serving: After allowing it to cool for a bit, you can slice it up and top with caramel topping sauce if desired. It is delicious warmed slightly or at room temperature.
Storage: I leave mine in a doomed cake travel carrier at room temperature. I store it in the microwave, so I don't eat the whole thing, but that's just me. Lasts about 4 days.
Make Ahead: The cake itself can easily be made a day or two in advance. I wrap it tightly in plastic wrap after cooling to keep it moist. When ready to serve or a few hours earlier, I then add the ganache layer.
More Chocolate Dessert Recipes Impossible to Resist
FAQs
What is the point of a Bundt cake?
The main difference between Bundt cake and regular cake has less to do with the ingredients than with the pan itself. It is round with a hole in the center. The Bundt pan allows more of the cake to be in contact with the edges of the pan, and therefore the heat is transferred more evenly. However, these cakes tend to be denser than a layer cake.
Can you use Pam instead of grease and flour?
If you are looking for a flour substitution for greasing a cake pan, you can use a nonstick cooking spray such as Pam. However, I find that this can cook the outside a bit differently. As you see with this Bundt cake, there is no residue of flour left on the cake after baking.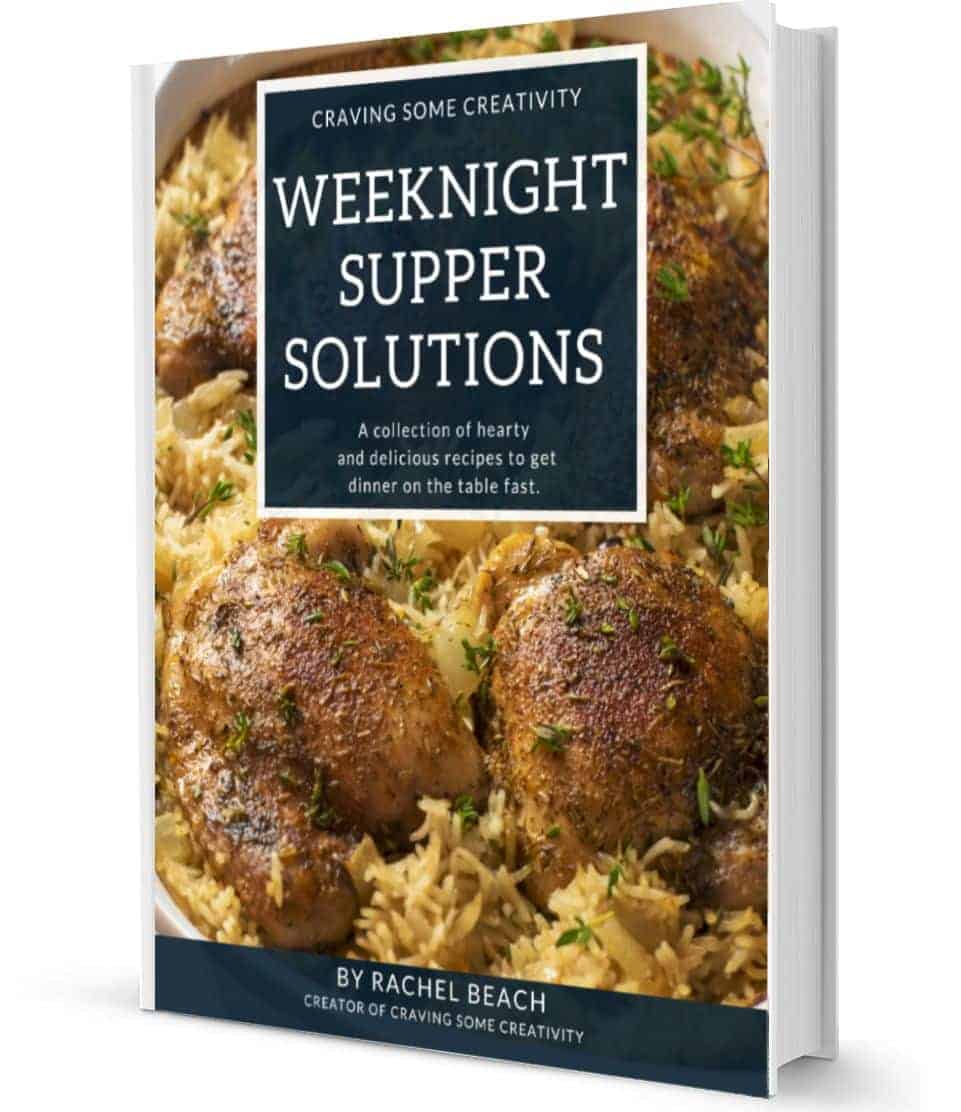 Not Sure
What's For Dinner?
Signup for recipe updates and get a free cookbook of Easy Weeknight Supper Solutions!
More Decadent Desserts You May Like
PS. If you make this recipe, leave a COMMENT AND A STAR RATING in the comments section at the bottom and be sure to take a photo and tag it #cravingcreative on Instagram! I appreciate you for taking the time to read about me and my family recipes. 
Chocolate Bundt Cake
This Chocolate Bundt Cake is a seriously delicious combination of an incredibly moist chocolate cake with a sweet, enticing chocolate ganache that gives it a sophisticated taste. Great for company or a dinner party.
Print
Pin
Rate
Ingredients
Bundt Cake
2

cups

All-Purpose Flour

¾

cup

Cocoa Powder

2

teaspoon

Baking Soda

1

teaspoon

Salt

1.5

cups

Granulated Sugar

½

cup

Light Brown Sugar

4

Large Eggs

¾

cup

Sour Cream

Regular or lite is fine.

1

cup

Vegetable Oil

2

teaspoon

Vanilla Extract

2

oz

Dark Chocolate

Use your favorite chocolate bar that you like to eat.

½

cup

Strong Coffee

Cooled
Chocolate Ganache
6

oz

Dark Chocolate

⅔

cup

Heavy Cream

1

teaspoon

Vanilla Extract
Instructions
Preheat oven to 325 F. Grease and flour a bundt cake pan.

In a medium bowl, add the flour, cocoa powder, baking soda, and salt. Whisk together.

Melt the chocolate in a microwave or a double boiler

In a large mixing bowl or a stand mixer, add the sugar and eggs and mix well. . When the chocolate is cool enough to touch, mix it into the sugar/egg mixture until just combined. Add the sour cream, vegetable oil, and vanilla and coffee to the egg mixture and mix until just combined.

Add dry ingredients to wet, one cup at a time, and mix until just combined.

Bake for 35-40 minutes. The center may be just slightly jiggle as you pull from the oven but it should be cooked through. Test with a toothpick if desired. Place on a cooling rack for 10 minutes before removing the cake from the pan. Cool on a wire rack until room temperature.
Ganache
Wait until the cake has cooled to make the chocolate ganache. Place the cream and vanilla in a small saucepan over medium heat. Once the sauce pan is warm, add the chocolate. Stir occassionally until smooth and combined – about 2-3 minutes. Don't let it come to a full boil as that is too hot.

Ganache can be ready to use as a drizzle or you can let it sit at room temperature to cool and thicken to your preference. Refrigerating speeds cooling, but the ganache will not cool evenly. Stir it a few times as it sets in the refrigerator so it remains even and smooth.
Nutrition
Serving:
1
slice
|
Calories:
385
kcal
|
Carbohydrates:
50.7
g
|
Protein:
5
g
|
Fat:
19.9
g
|
Saturated Fat:
4.3
g
|
Cholesterol:
28
mg
|
Sodium:
381
mg
|
Potassium:
212
mg
|
Sugar:
33.7
g
|
Calcium:
490
mg