This Honey Sesame Chicken recipe is better than Chinese take-out! The marinade is the secret to perfectly crispy chicken full of flavor. You will love this recipe for little crispy chicken bites coated in a sticky sweet and tangy sauce and topped with sesame seeds!
There's no denying it, Chinese takeout is delicious! It was one of the four major food groups during my years as a college student. Now that I'm a responsible adult I've curbed that habit, but I haven't lost my affinity for Asian cuisine. Stir-fry dinners are often one of our go-to's for a busy weeknight. Some of our favorites include Chicken Hibachi, Ginger Peanut Broccoli Salad and Teriyaki Chicken Kebabs.
If you enjoy Chinese food takeout as much as I do, this easy sesame chicken is going to top your list of favorite recipes. This recipe is so easy to prepare, that you can have dinner in thirty minutes or less- just like takeout!
The secret is in the sauce. It's a mixture of common ingredients found in the Asian section of your local grocery store. Mirin, hoisin sauce, sweet chili sauce, and soy sauce create a tangy base. Fresh ginger, garlic, honey and sugar provide sweet heat.
Ingredients and Notes
The sauce may look like a lot of ingredients, but they are all everyday ingredients that you can get at any food store or supermarket. This recipe is super simple, and most of these I have on hand since I cook a lot of stir fries.
Stir Fry Ideas
Fresh steamed rice and broccoli are my preferred pairing (the broccoli is so good in that sauce!), but this quick and flavorful dish is a versatile main course. Here are more ideas:
Serve with rice noodles and steamed veggies
Serve with sticky rice and steamed vegetables
Steamed veggie ideas – julienned carrots, broccoli, baby corn, snap peas, garlicy green beans
Grab a quick stir fry vegetable bag from the frozen grocery aisle
Serve with quinoa and veggies
Serve over zoodles
Sub the rice for cauliflower rice
Serve over an Asian inspired salad, no dressing needed
Vegetable Fried Rice on the side
Serve these little bites as an appetizer on a toothpick
How To Make Sesame Chicken
The full instructions are in the recipe card at the bottom of this post, but this section is a visual guide and helpful step by step that shows how the recipe comes together.
Marinade the chicken. This is what really sets this recipe apart. While marinading is technically optional, I encourage you to do so because all that flavor will soak deep into the breasts, and you'll taste the difference right after they cook (you won't be able to resist that one bite!)
Flour the meat. We use a mixture of cornstarch and flour to make a lighter, crispier bite that cooks a little faster and browns evenly.
Get that perfect crispy chicken. To get that perfectly crisp exterior, there is no better method than pan or deep frying. I rarely fry food, but all the restaurants do and that's why we love it so much. The bites should be golden brown and cooked through completely. Set aside on a paper towel lined plate.
The sauce is boss. The sauce is very simple, yet spectacular. The garlic and ginger flash fry until fragrant, and then all the sauce ingredients are tossed into simmer meld. I do thicken it a bit with a cornstarch slurry.
Put it all together. Once the meat and sauce are done, I like to mix the meat and steamed veggies back into the sauce to warm it up well and evenly coat every piece. I serve it family style with some rice, noodles, zoodles, or cauliflower rice.
*Recipe Tip: Cold chicken always fries crispier than room temperature chicken. Store your marinating chicken in the refrigerator until ready to use.
Recipe Tips
You don't need to deep fry the chicken at all. I coat the bottom of the pan in just enough oil just to cover the bottom completely.
If you like spicy, add a few teaspoons (or more) of sweet chili sauce.
All of the ingredients should be very common in the Asian section or others. Mirin is the only one that has been tricky at times. Mirin is also known as Rice Wine, sometimes seasoned. Seasoned or unseasoned is fine. Rice wine vinegar, however, is NOT the same thing.
If you can't find mirin, a sweet white cooking wine will be fine.
Storage Suggestions
This honey sesame chicken recipe works great as a meal prep lunch to take to work and as leftovers!
Store: You can either refrigerate the sauce and nuggets separately or together if you prefer. Simply allow it to come to room temperature, and then store in an airtight container. Last 3-4 days.
Freeze: Whenever I make this, I'll double the recipe and save half for another night. I do generally store the sauce and breast meat separately after cooking. Simply allow it to come to room temperature, and then store in an airtight, freezer safe container for about 3 months.
Reheat: You can either bake the naked chicken bites in an oven at 350 degrees F for about 10-12 minutes or until warmed throughout or heat up leftovers in a microwave for 1 minute 20 seconds, stirring halfway through.
Make Ahead: I know how everyone loves meal prepping these days, so I love to include these tips. You can marinade the meat the night before or make the sauce a few days ahead of time.

Frequently asked questions:
What are some tips to getting the crispiest chicken?
1. Do not overcrowd the pan and separate each piece when you put the chicken in.
2. Cold Chicken straight out of the fridge makes for crispier pan-fried chicken.
3. The breading on this recipe is not as thick as deep-fried chicken. That way it is crispy throughout.
Can you cook honey sesame chicken in an air fryer?
If you're looking to make a little healthier version of honey sesame chicken, the air fryer is the way to go. Corn starch really helps get a crispy coating when using an air fryer, so this recipe works well although it will be lighter in color. Spray the air fryer with oil. Set your air fryer to 390 degrees and allow to preheat for a few minutes. Place chicken in the basket in a single layer and cook for 20-25 minutes, depending how large your chicken pieces are. Flip the chicken over halfway through frying, and sauce as directed when finished.
Is Honey Sesame Chicken spicy?
As written, the recipe is sweet and tangy. It is very flavorful but doesn't have heat or a spicy taste. If you like spicy, add some sweet chili sauce to your heat preference.
Tag it, bookmark it, rolodex it. No more needing to travel to your local take-out dive to get your fix. Next time your craving Sesame Chicken, you will remember that you now have the recipe ready!
After a long day of trying to finish up all of our DIY renovation project, it's always nice to sit down with the family for dinner….oh yeah, life is good.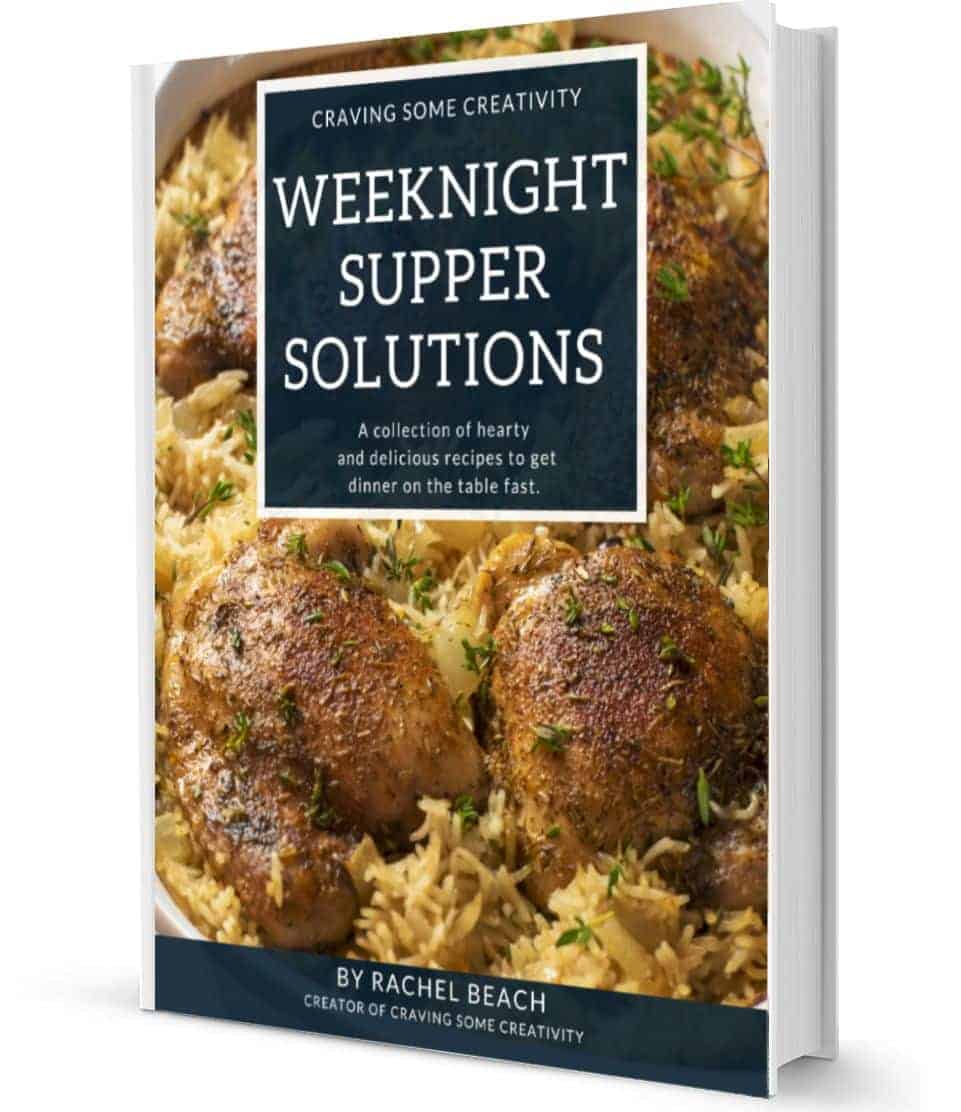 Not Sure
What's For Dinner?
Signup for recipe updates and get a free cookbook of Easy Weeknight Supper Solutions!
More Great Homecooked Recipes
PS. If you make this recipe, leave a COMMENT AND A STAR RATING in the comments section at the bottom and be sure to take a photo and tag it #cravingcreative on Instagram! I appreciate you for taking the time to read about me and my family recipes. 
Sesame Chicken
Honey Sesame Chicken recipe at home! Better than Chinese takeout, these crispy chicken bites are coated in a sticky sweet and tangy sauce and topped with sesame seeds.
Print
Pin
Rate
Ingredients
Chicken
1

lb

Chicken breast or boneless thighs

2

tablespoon

Soy Sauce

2

tablespoon

Toasted Sesame Oil

3

tablespoon

Granulated Sugar

6-8

tablespoon

Vegetable Oil

for pan frying

¾

cup

Cornstarch

½

cup

All Purpose Flour
Sauce
1

tablespoon

Minced Garlic

1

teaspoon

Grated Ginger

¼

cup

Mirin or Rice Wine

Not rice wine vinegar, you can substitute a sweet white wine in a pinch.

¼

cup

Hoisin Sauce

2

teaspoon

Ketchup

or 1 teaspoon tomato paste

3

tablespoon

Honey

⅓

cup

Soy Sauce

2

tablespoon

cornstarch

2

teaspoon

sweet chili sauce

if you like a little spiy kick
Serving Ideas
1

tablespoon

sesame seeds

3

cups

Cooked White or Brown Rice

3

cups

Steamed Vegetables

Broccoli, Sliced Carrots, Snow Peas are some of our favorites.
Instructions
Marinate the Chicken
Pat the chicken dry and cut into 1-inch pieces.

In a medium bowl, combine sesame oil, sugar, 2 tablespoon soy sauce, and pepper. Coat the chicken and put in the refrigerator while preparing the next steps. Cold chicken makes crispier fried chicken.
Pan Fry the Chicken
In a dish or large bag, mix the cornstarch and flour together. Dredge the chicken pieces in the cornstarch, shaking off any excess and place in oil.

Add just enough oil to cover the bottom of a skillet. Heat oil to 375 degrees (medium-medium high heat) in a skillet. This is not a deep fry, so the oil does not have to cover the chicken pieces.

Working in 2-3 batches, cook 3-5 minutes while stirring occasionally to brown evenly. The chicken should be golden brown and cooked through. Remove from pan and place on a paper towel lined plate.
Make Sauce
Pour the excess oil out of the pan, reserving about 1 Tbsp. Adjust to medium heat. Add the garlic and ginger and cook until fragrant, about 30 seconds.

Add the rice wine, hoisin, soy sauce, ketchup, and honey; bring to a simmer.

In a measuring cup, mix 2 tablespoons cornstarch with 2 tablespoon sauce from pan and whisk until smooth. Add back into the skillet and simmer for 1-2 minutes, until the sauce thickens.
Serve
Add in the chicken to the sauce and toss to coat. Sprinkle the chicken with sesame seeds. Serve with rice and steamed vegetables of your choice.
Nutrition