This list of free printable Valentine cards for kids is perfect for neighbors, friends, school classroom exchanges, and more. These craft ideas are sure to make them know you care and include non-candy Valentine options.
I adore Valentine's Day! Growing up, I have fond memories of the holiday. My mom called my sister and I her valentines. She'd give us each a small treat like a bath bomb or candy, and made the whole day feel special.
I've always enjoyed the cute version of Valentine's Day more than the red-hot romance version. Although we're officially beyond the years of my son handing out classroom Valentines (sniff), it wasn't too long ago that he was picking out the perfect craft.
What are some other fun ways to show your child love on Valentine's Day?
Write a Love Note: leave in a lunch box, or scrawl across the bathroom mirror,
Plan a Special Valentine's Day Meal: Heart shaped pancakes anyone?
Hang conversation heart style compliments on their bedroom door Feb 1-14.
Give them a small Valentine's gift.
Bake something homemade together.
Add one of these cards for a lunchbox note or bedtime treat.
Read a bedtime story together, even if they think they've outgrown that.
Paint your own mugs and share a cup of cocoa.
Printable Valentines Cards
These creative DIY and free printable options make for a fun afternoon of Valentine's Day memories. Each project is perfect for families-on-the-go. Watching your sweets? No problem! Candy-free options are included. So skip the store bought and spend some time with your smallest Valentines.
Quick to assemble and budget friendly, You Amaze Me Valentines, are sure to warm hearts. The little maze puzzles are also pretty fun!
Valentine's Printable Envelopes
A fun paper folding craft! Each free design of Valentine's Printable Envelopes by Hawthorne and Main comes in three different colors.
Customize your heart shaped boxes with one of these Beautiful Free Valentine's Day Tags from Brepurposed. These little tags each come in 3 different colors.
Spend a crafty afternoon with the kids. "I Think You're a Star-burst" Valentine by It's Always Autumn is a colorful keepsake.
A cute spin on a classic. You can print colors or phrases to match to sweetheart candy or make your own for some fun on the playground.
Cute Crafts To Hand Out
These little crafts are fun to make and use! Unique ideas that are fun for friends and portable.
Cook up some kitchen fun with the One Time Use Conversation Soap how-to by A Pumpkin and a Princess! Place these cute miniatures in a cellophane bag or glass jar for easy gifting.
Are your littles gaga for glow sticks? Download this Star Wars Valentine Printable from Ideal Savvy for a simple activity, ideal for the preschool set.
Transform four common supplies into the perfect class party favor, Pencil Valentine Free Printable Card by She Wears Many Hats.
Purrfectly Punny Valentine Cards
These clever cards feature great puns for Valentines! There is a huge variety, so you have many different options based on the personality of the recipient. Kids get unique cards and it's more fun this way!
Some of my favorite free printable valentine cards for kids! Love is in the air with these Cupid's Arrow Printable Valentines by Lisa Storms are a sweet treat. I actually
You're exSTRAW Special Valentine
Show them you're crazy about them! Attach the free "You're Ex-straw Special" Valentine printable from It's Always Autumn to Krazy Straws.
Fortune Teller Printable Valentine
Don't want to partake in all the sappy valentine's day traditions? These hilarious Mustache You a Question cootie catcher games are just what you need!
Give broken crayons new purpose with these Melted Crayon Hearts by WhipperBerry. Fun for any age!
Dollar store supplies get an overhaul with Practically Functional's Cupid's Arrow Craft Valentines. Swap the straw arrow for a Pixie Stick, for an added heap of sweetness.
What a genius gift idea for any educator! Valentine's Day Rolo Pencils from It's Written on the Walls are thoughtful treats for teachers or classmates.
Grade school approved- Nerdy Valentines by Paula Biggs are easy to assemble and fun to eat! Free printable included.
Valentine's Mailboxes
Many classrooms love to make little mail boxes to store the cards in and to pass out. Here are a few inspired ideas to store your cards!
Need a spot to store all of those pretty Valentines? Check out this adorable Happy Camper Box!
Got mail? This Mailbox on a candle stick makes a lovely receptacle for love notes.
Have a SWEET Valentine's Day!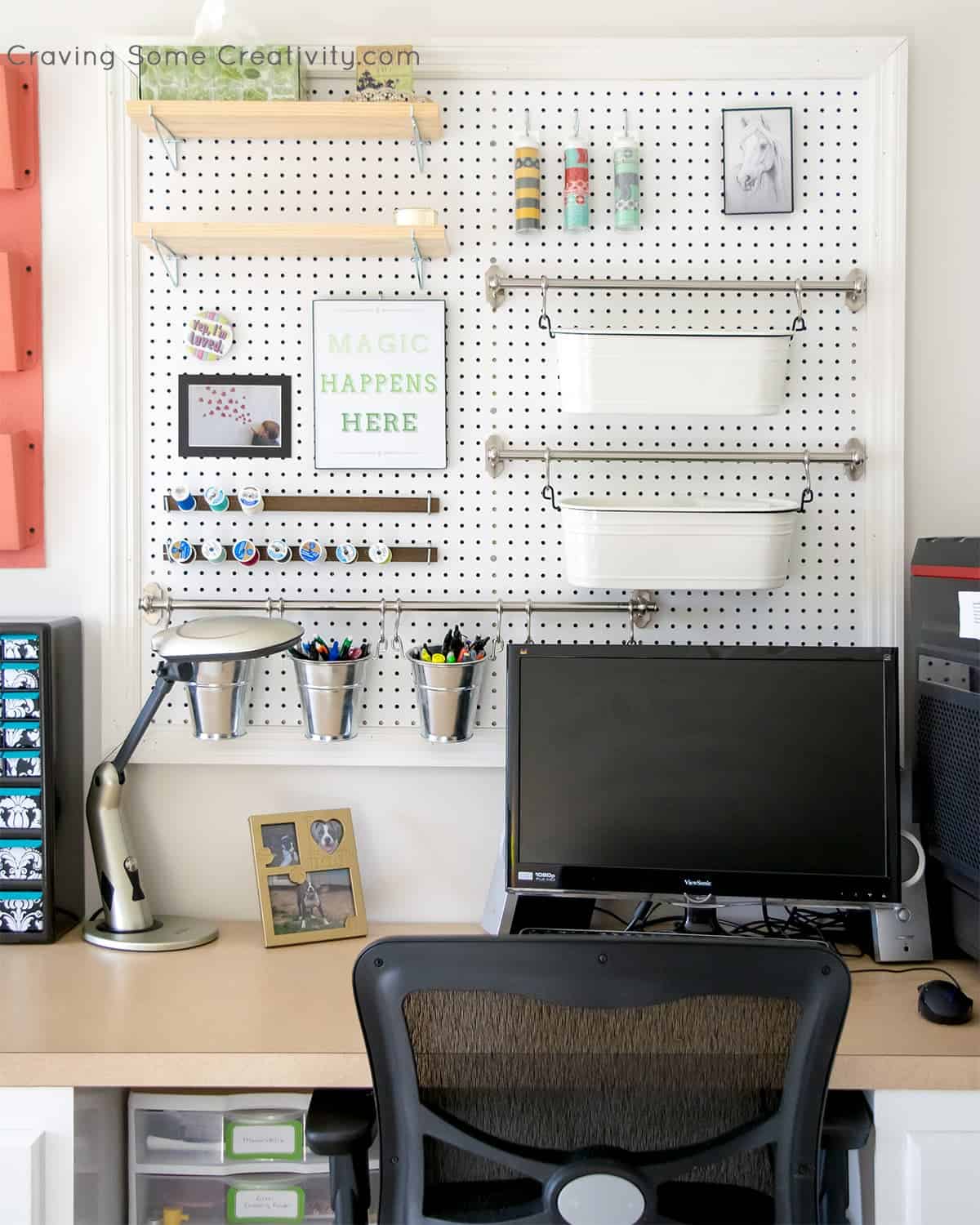 Grab our free series "Weekend Home Projects that will Transform Your Life"
Sign up below to receive updates including free printables, organization tips, home improvement projects, recipes and more!
PS I love seeing your creations! Be sure to take a photo and tag #cravingcreative on Instagram! You can also stay in touch with me through following me on Instagram, Pinterest, and subscribing to the newsletter!