Bruschetta Chicken Pasta Recipe – perfectly seasoned chicken, tomatoes and basil stewed with garlic, pasta, and a generous drizzle of balsamic makes for a meal full of flavor!
We love pasta recipes, especially as summer ends including this Ricotta Stuffed Shells and Creamy Marsala Chicken Bake. This easy grilled bruschetta chicken recipe is basically the weeknight answer to your "I didn't prep anything for dinner" dilemma! You can prep the bruschetta ahead of time and even use it as a topping for toasts or crackers, or make it just before serving.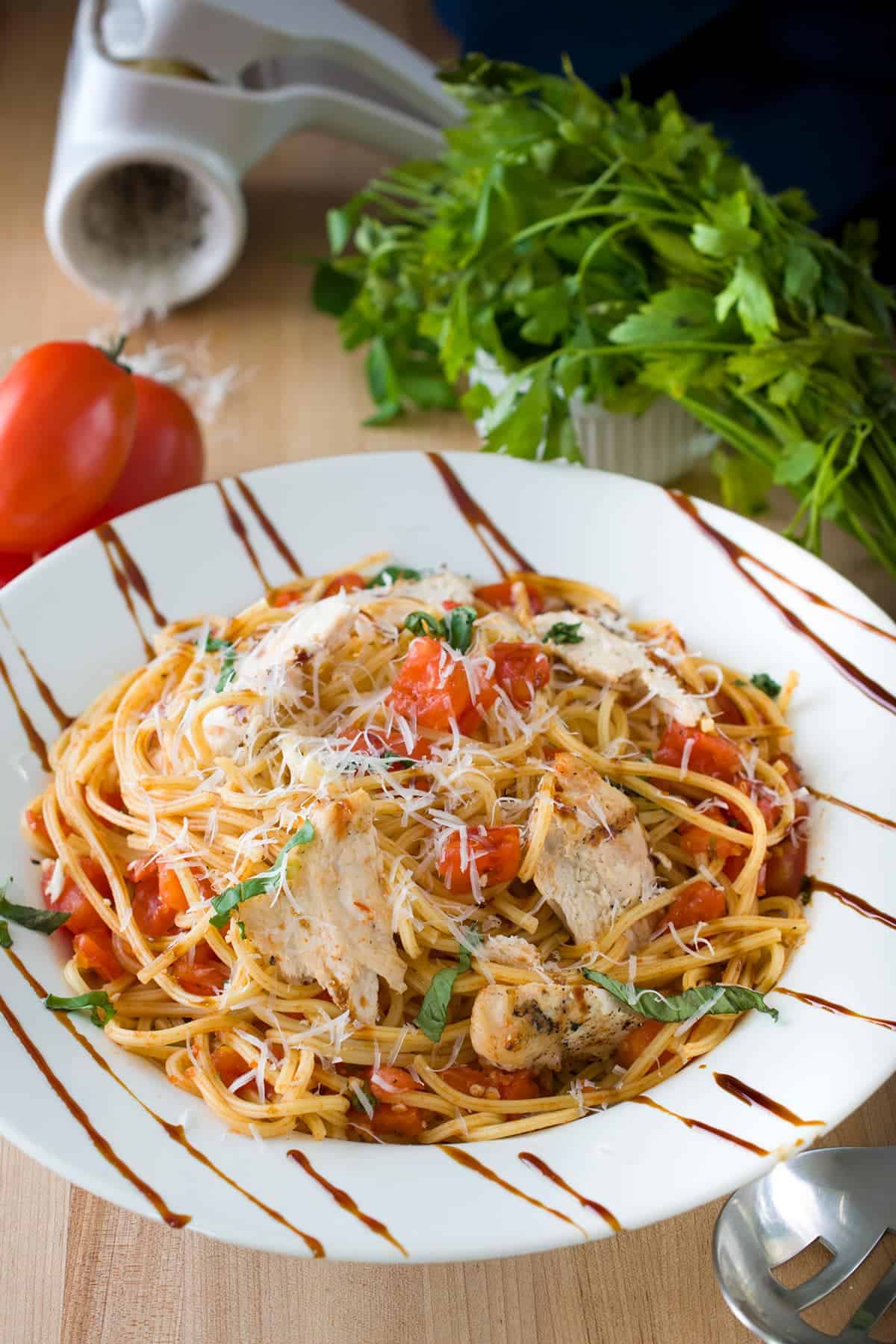 Bruschetta Chicken Pasta Recipe – TGI Fridays Copycat
Bruschetta Chicken Pasta is one of those recipes that we have made for years, and I don't know why I haven't put it on the blog until now. You may not know this, but my husband and I actually met while we worked together at TGI Fridays Restaurants. And my favorite meal, by far, was the Bruschetta Chicken Pasta. I mean, what is not perfect about deliciously seasoned chicken, tomatoes and sweet basil stewed with garlic, pasta, and a generous drizzle of balsamic? It is also a spectacular change-up from boring ol' spaghetti night.
This pasta is easy, full of delicious Italian flavors and totally kid friendly. I liken it to spaghetti for bougie people. While I am very generous with the balsamic glaze on my portion, my son isn't as keen so I leave it off and give him more Parmesan. Also, when you pack up leftovers for later you can add ¼ cup of bruschetta into the container first, and top it with the noodles, and it won't make your noodles soggy before lunch.
HOW TO MAKE BRUSCHETTA
The easiest thing about Brushetta is that you just toss it together in a bowl and let it sit. A good bruschetta is super simple to throw together, but it relies on fresh ingredients. For instance, fresh basil and roma tomatoes are the big ones, but I also recommend grating a brick of Parmesan for brushetta, if you can. The bricks are MUCH cheaper by weight than the pre-shredded. More importantly, I find that they have just a bit more flavor.
If roma tomatoes aren't available, you can use a mixture of any fresh, juicy, and firm tomatoes like campari or beefsteak. I generally recommend deseeding the tomatoes before chopping them up. The easiest way to do this generally is to slice off the stem/top of the tomato and then scoop out the seeded cavities. You can use a very small spoon or clean hands.
Frequently asked questions:
Can I use chopped jarred garlic instead?
Freshly minced garlic tends to have a more vibrant flavor with a bit more of a kick to it than the pre-minced kind. You can definitely use the jarred garlic if that's what you have on hand or if you prefer a milder garlic flavor.
What are some variations of this pasta that I can try?
This pasta can be altered to suit your personal taste. If chicken doesn't light up your world, try swapping it out for juicy shrimp. You could also make it vegetarian by omitting the chicken and adding more vegetables like sautéed spinach or zucchini, maybe even fresh mozzarella pearls. Try changing out the noodles and serving it cold as a pasta salad too. Yummy!
Is balsamic vinegar the same as balsamic glaze?
The taste of Balsamic Vinegar is intense, sweet and sour, aromatic and lingers in your mouth. It is often aged in barrels that give it a deep, complex flavor. The taste of Balsamic Glaze is sweet, slightly sour, and is more subdued and flat. It has a more syrupy consistency than straight balsamic vinegar and is great for garnishing dishes or decorating plates.
If You like Easy Weeknight Meals, Check out our other Family Friendly Recipes:
Bruschetta Chicken Pasta
Bruschetta Chicken Pasta Recipe – perfectly seasoned chicken, tomatoes and basil stewed with garlic, pasta, and a generous drizzle of balsamic makes for a meal full of flavor!
Print
Pin
Rate
Ingredients
Bruschetta
8

roma tomatoes

diced

⅓

cup

fresh basil

chopped

2

cloves

garlic

minced

2

teaspoon

balsamic glaze

1

teaspoon

olive oil

salt and pepper

2

tablespoon

shredded Parmesan Cheese
Chicken Pasta
1

lb

chicken

1

tablespoon

olive oil

1

clove

garlic

minced

⅓

cup

marinara sauce

meatless spaghetti sauce can work as well

thin spagetti noodles

balsamic glaze

for garnish

Parmesan cheese

for garnish
Instructions
In a bowl, toss together the tomatoes, basil, and garlic. Stir in balsamic glaze, olive oil, salt, pepper. Set aside. This step is best performed two hours ahead of time to let flavors meld, but not required. Sprinkle and stir in Parmesan cheese.

Boil noodles per directions in a large pot. Pound chicken breast until about ½ inch thick. Grill chicken on both sides until completely cooked as desired.

Add olive oil to a large, deep skillet over medium heat. Add garlic and saute for 1-2 minutes until golden brown and fragrant. Add marinara and bruschetta into pan and stir occassionally until warmed through, about 2-3 minutes.

Add noodles to pan and stir to combine with bruschetta, until warmed throughout.

Cut grilled chicken into pieces. Serve over top of the spagetti noodles. Garnish with a generous drizzle of balsamic glaze and parmesan cheese.
Nutrition
Serving:
2
cups
|
Calories:
423
kcal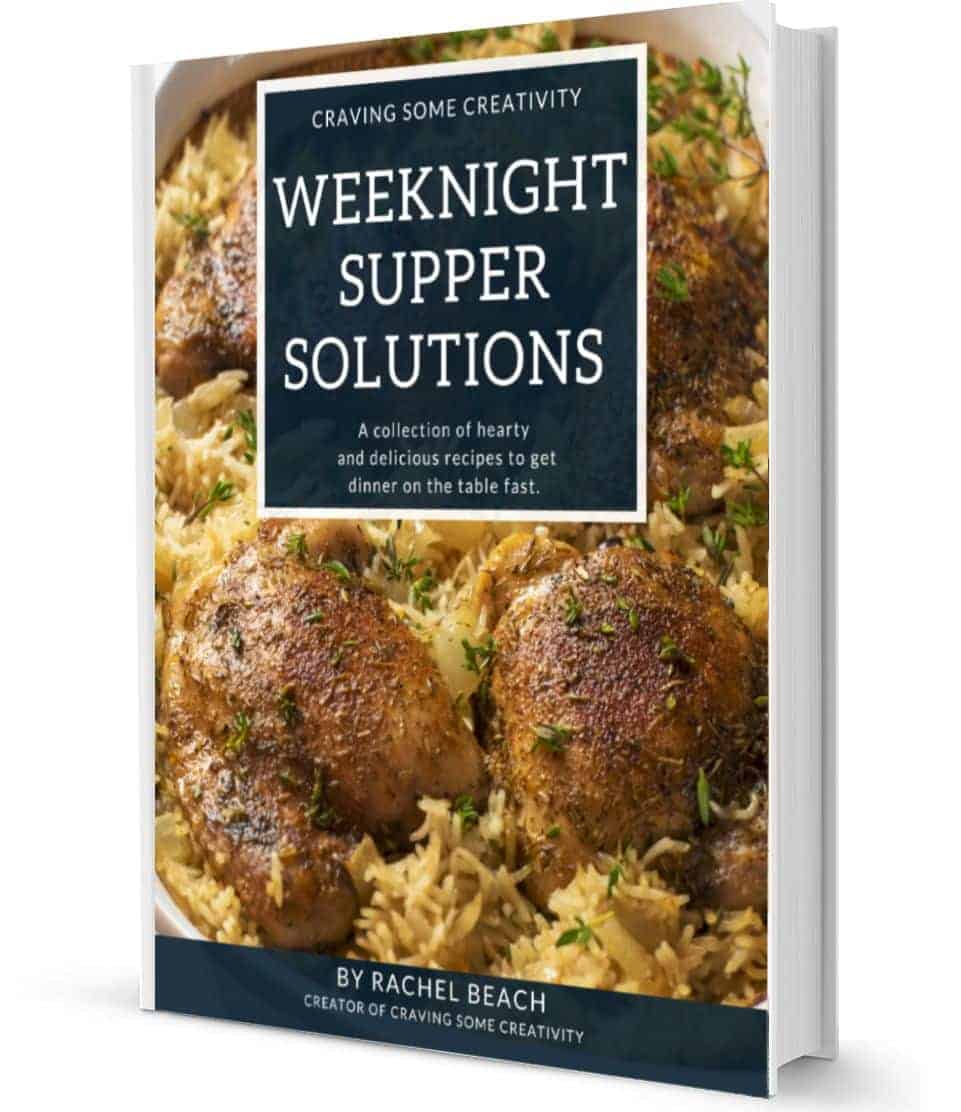 Not Sure
What's For Dinner?
Signup for recipe updates and get a free cookbook of Easy Weeknight Supper Solutions!
Pin It!