This shop has been compensated by Collective Bias, Inc. and its advertiser. All opinions are mine alone. Thanks for supporting the brands that support creativity!  #GreatTasteTourney #CollectiveBias
Basketball season is in full swing as we countdown to the championships! I am sure there will be lots of parties for The Big Tournament. I completely understand that throwing a party, especially a sports themed one, can be daunting. However, think of it this way- cakes, cookies, pizza, OREOs  and many classic party dishes are all round. Guess what else is round? A basketball! So this theme is actually a cinch to do. A few snacks and some festive themed crafts really help everyone to get into the spirit!
Everyone loves a cute table and a setup is easy to do with a few items you may already have on hand. I always like to add at least one decorative area with some height. This can be a cupcake stand or even some stacked crates. For this basketball party, I used a cupcake stand and balanced a basketball on a glass to add height.
The table is layered with a coordinating piece of felt cut to size and some wood-look floor tiles. While you may not have scrap tile laying around the house, another festive tea towel or even painted scrap wood would look beautiful.
All of these basketball party goodies have to come from somewhere, right? I stopped at Safeway to pick up the food items and utensils before I got down to crafting. For this party, I kept with my 'round' theme by purchasing some OREOs, pizza, queso dip and chips, and Coca-Cola Zero™.  Although I kept my basketball party classic with orange and black,  you could use your favorite college team's colors. Another idea that easily coordinates is using the colors of two rivals if they are playing each other. That would be really fun!
One thing I love about parties is creating crafts and decorating for the party. We threw around quite a few ideas about what to serve and I wanted to do something special with the drinks. Usually, I put cold sodas in a giant ice bucket and just go with it. However, the ice melts so fast and the bucket gets so heavy that I can't lift it on my own. That was how I decided to serve individual mason jars with Coke Zero and ice. Of course, I gave them the full basketball party theme treatment!
For these jars, use paint specifically made to bond to glass. You can find it at almost any craft store in the craft paint section. Paint several coats or until desired opaqueness is achieved with about 30 min to 1 hour between coats. Since they will be used for drinking, you do not want to paint the rims around the lid area or any area that will come in direct contact with food.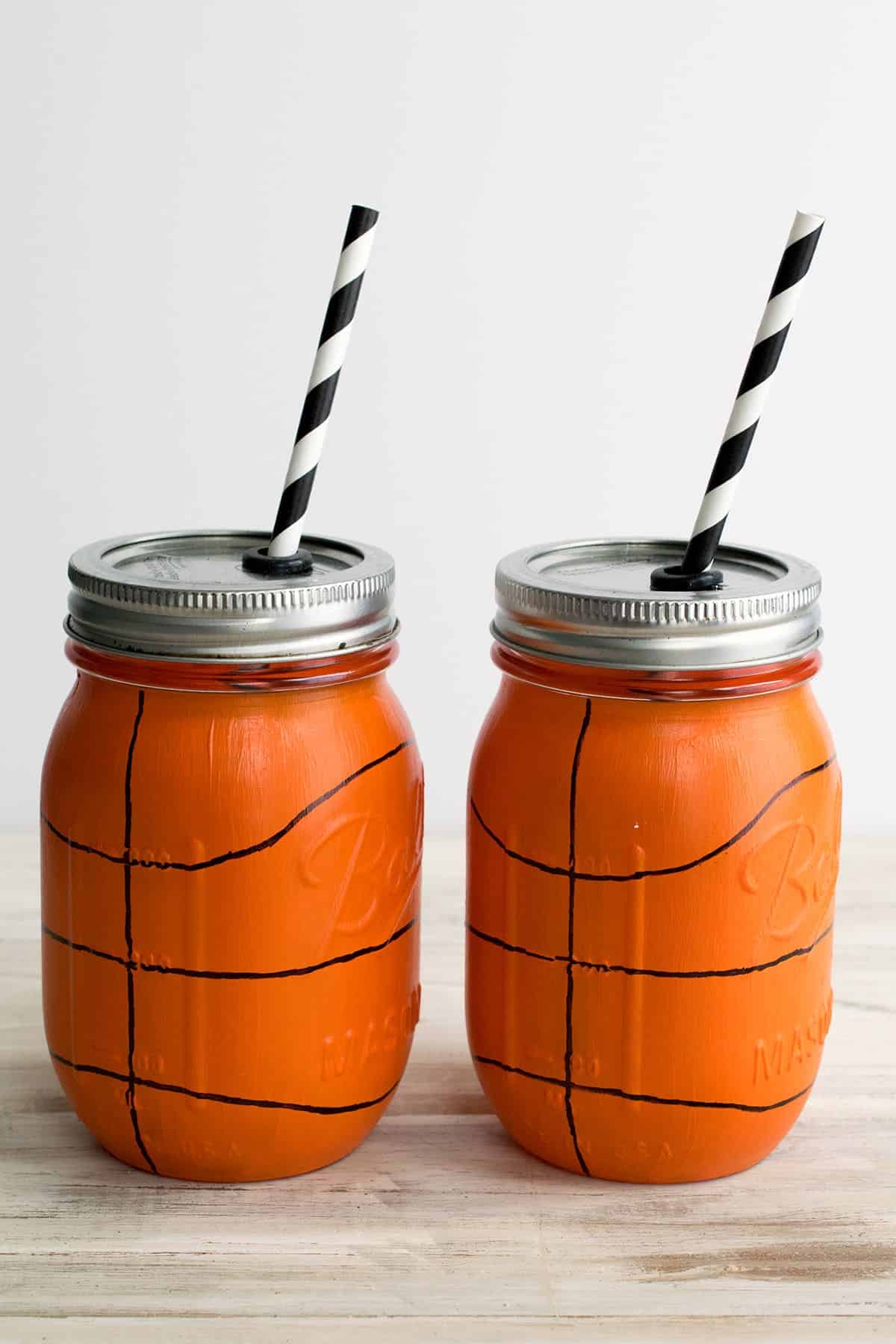 To resist scratching the paint (curing), you can either allow the paint to air dry for 3 weeks or bake them. If you are baking glassware, place the completed, painted glass in a cool oven. Turn the oven to 350ºF and bake for 30 minutes. Turn the oven off and allow to completely cool in the oven. You definitely don't want to jostle or allow the glass to change temperature too quickly, which results in possibly breaking. After completely cool, set aside for a day or two. Pour your favorite drink like Coke Zero and enjoy!
Easy and SO cute… and of course, you can't beat OREOs for when that desire for something sweet hits. These simple decorated OREOs are pretty awesome, you guys… so let's talk about that for a sec. I dipped the OREOs in orange candy melts, covering both sides. I scooped them up with a fork and shook off any excess chocolate. Allow the candy coating to cool on wax paper or a silicone baking mat. Using a #1 Cake Decorating tip (very, very tiny round hole) and black candy melts, write the stripes on the basketballs.
Now, who wants to party?!
Mondelēz International and Coca-Cola are Corporate Champion and Partners of the NCAA.
NCAA and Taste the Madness are trademarks of the National Collegiate Athletic Association.
© Mondelēz International group © Coca-Cola Zero is a registered trademark of the Coca-Cola Company.
Other party ideas you may enjoy (click on picture):