Warning – I might tear up as we go along.
Actually, it's almost guaranteed. Normally, I share tutorials and try to share things that are helpful or inspiring. But today I just want to reminisce and maybe brag a little. Just a little, wink. I hope today's post is a bit inspiring though. I never thought that any project could have more highs and lows than remodeling our own home, but I was very wrong.
Ok, let me back up.
This summer, my family spent 3 weeks down in Nashville, TN remodeling my parent's home – the home where I spent my teenage years. I call it "home- originale".
Oh, the memories are everywhere! My bedroom room hasn't been touched since the day I moved on to college. A semi-rural paradise where I would sit on the huge front porch to hear the pitter-patter of the rain. A 20-acre farm I used to fish and deer watch and learned how a little hard work can make dreams come true.
But, as you might imagine, home-originale is difficult for two people to manage. It's part of life that things change. Us kids have moved away. The fields have over-grown. My parents are retired and don't want to spend 6 days a week mowing, cleaning, and working on projects.
Oh, here come the tears.
Hold on. Whoooo, breath. Ok, I'm better now.
It's time for Home-originale to find another family to make memories there and to cherish and romp as our family has for 25 years. We can't be selfish with her anymore.
However, there are silver-linings everywhere. One of them is that, over the next year, home-originale is being remodeled to give her some 2020 sparkle. We are traveling as often as we can (3 times this year) to get the work done.
Home-originale is still VERY MUCH in-progress, but the improvements are undeniable. I took most of the photos below as I was scrambling the morning we had to leave, so they are taken with my phone, badly lit, aren't styled, and I didn't even clean up, so the spaces look SO MUCH BETTER IN PERSON.
The Secret Garden Bedroom
We made some big impacts in the 3 weeks I was able to visit this summer. Although we didn't finish most of our plans (hello, does DIY ever go according to plan?!), let's start with what we did get completed.
Like my sponge painted bedroom.
As a teenager around 1998, I had this crazy vision of a secret garden themed room. Apparently, that meant sponge painted green walls.
Yep, I take full responsibility for that.
But here she is now complete with a new fan, new outlets, and a fresh outlook on life. It's definitely a fresh start.
Water Damaged Bedroom
My second project was to bring some freshness to my sister's old bedroom.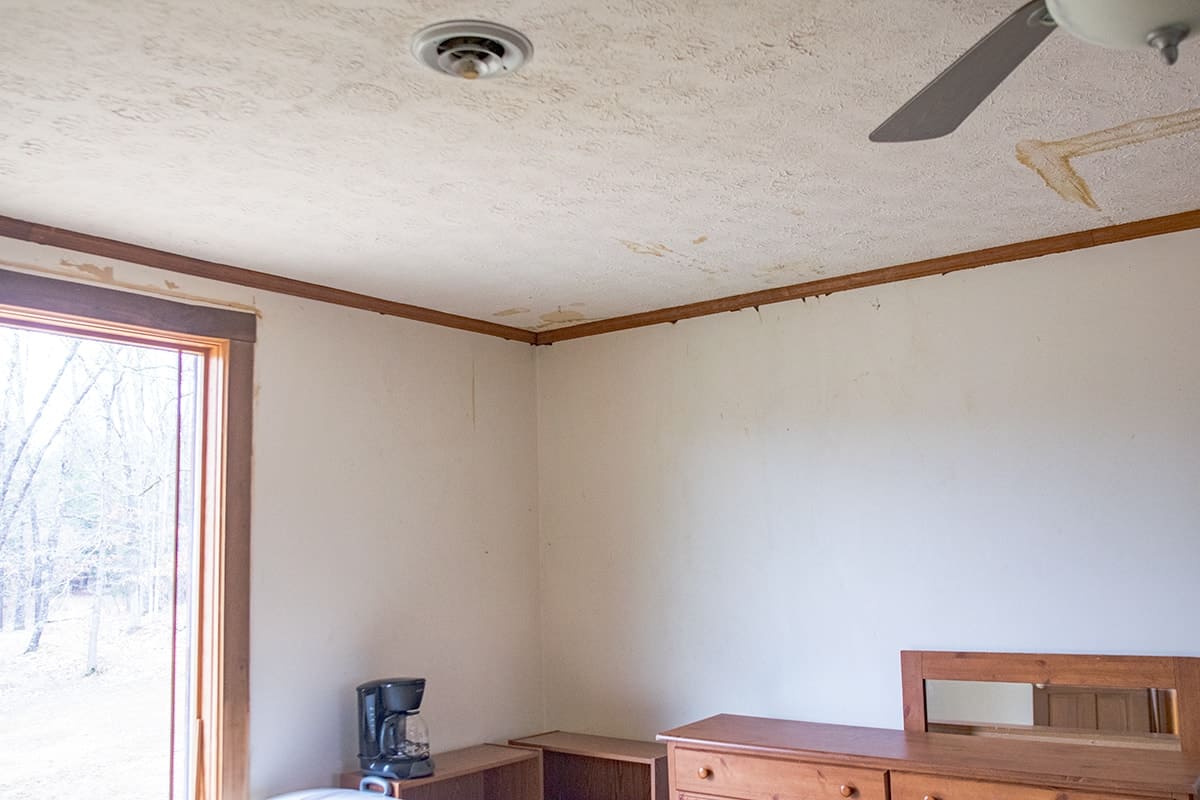 A few years ago, the roof started to leak and left water damage along the ceiling. The roof has since been replaced, so it was time to fix the rest and finish removing the old wallpaper/weird trim.
This photo really doesn't do the space justice. We re-taped most of the walls, removed and patched any water damage spots, and now it looks bright, fresh, and clean!
Back Deck Rebuild
You know those "someday" projects? Those projects that are functioning so you will get to them eventually, but then time keeps passing? The back lower deck is one of those.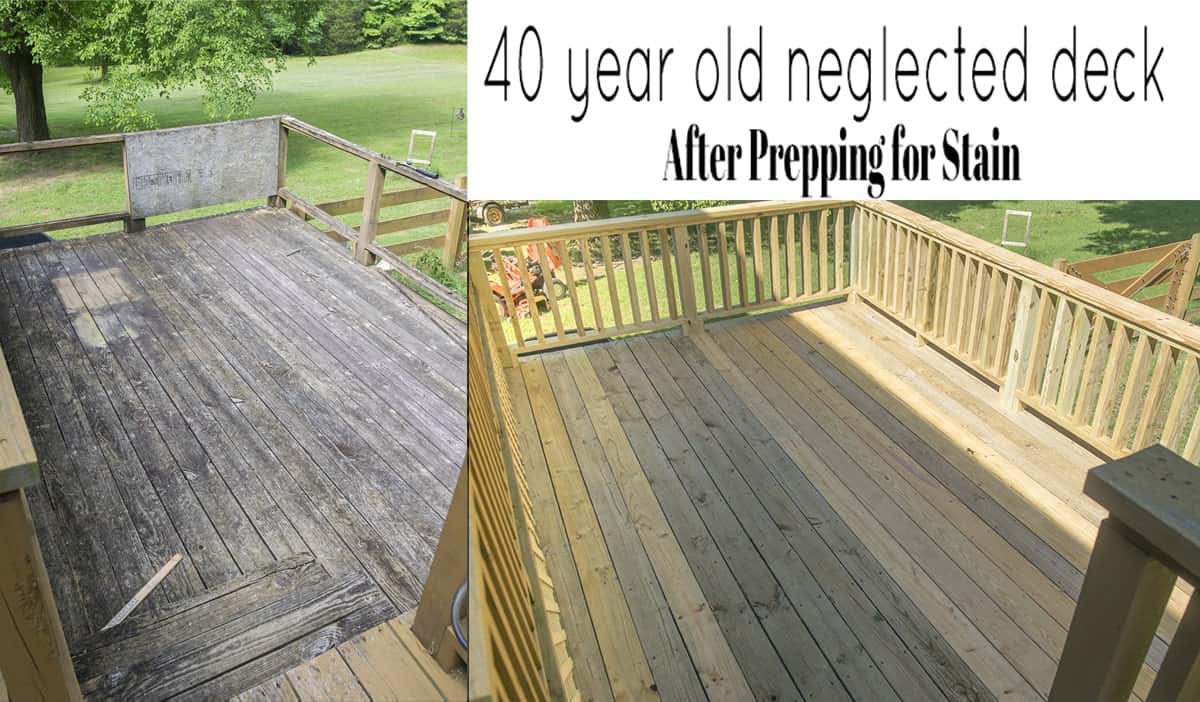 It functioned, the space wasn't really needed, and it was a big job. All good reasons to put it off. But you might not believe it's (mostly) the same deck now!
If there is one project I am so thankful to have a partner to help with, it's the back deck rebuild. The fact that Brent and our son Blake got this done in 3 days just amazes me.
The deck was structurally sound, so we salvaged a lot of it. My husband and son rebuilt the rest and added a brand new railing to mimic the railing from the top deck.
Upstairs Bathroom
Although two other bathrooms in home-originale had been remodeled, the bathroom upstairs was a time warp to 1982. Seashell bathtub and sink, boob knobs, and 1984 Prince-would-be-so-proud purple walls.
I made a prior trip to do the demolition, so we could save time and headaches, and order the large items ahead of time. Here's the list we completed in one week:
install a new tub
replace vanity top
plumb new faucet
install new outlets
Remove and replace the ceiling
Build bathtub walls and tile/grout the walls
Admittedly, we still have a fair amount left and our next trip will involve finishing this room. I can't wait to show it off then!
But that tile makes me all heart eyes!
Bit by bit, it's thrilling to watch and make all of these changes happen. I see this place as a rustic-modern dream, and I can't wait to see how everything turns out. My parents are busy working in between our visits, so a lot of this is thanks to them.
They say one of their big regrets was waiting until selling a house to fix it up. I know there are a lot of people out there with exactly the same feeling. I see everyday with friends and clients that starting is often the biggest hurdle. It's easy to get overwhelmed with the potential disruption, cost, and worry of what's behind that wall.
BUT the payoff is always worth it with the right planning, good research, and calling in the pros if you need. In the letters and comments from you all that I receive each week, I see how your confidence grows and can feel the smiles of accomplishment from completing those home projects. Dream big and go for it, friends!
Pssst...
Grab our free series "Weekend Home Projects that will Transform Your Life"
Sign up below to receive updates including free printables, organization tips, home improvement projects, recipes and more!