Learn tips for how to organize spices in the kitchen, and get a free printable spice jar labels. These spice jar organization racks make your life easier and an organized kitchen.
I admit it. I'm a sucker for labels.
We have made linen closet labels, labels for seasonal storage and even labels on all of the pantry staples. A few weeks ago, I completely organized the pantry and am sharing a few tips for organizing spices and herbs (including some free printable spice jar labels). We also made a Kitchen Cleaning Schedule Checklist to keep in nice and pretty year-round.
Psst…want more genius ways to store spice and other items inside kitchen cabinets? Check out my collection of favorite Ideas for Kitchen Cabinet Organization.
Average Shelf Life of Spices
Check to see if your spices are still fresh. They should smell strong, taste potent, and have a rich color. Here is a basic guide to how long spices and herbs last:
Opened, ground spices last six to nine months
Opened, whole spices like cloves last about two years.
Unopened spices last about 2-3 years
Since spices stay fresh longer when away from heat and light, avoid storing them next to the stove, oven, or windows. Store in airtight containers to keep their potency.
Spice Jar Organization Supply List
Clear Glass Spice Jars *these are perfectly sized for the printable labels, but you can also use small jars like baby food jars or jam jars.
Plastic Funnels (the glass jars above came with one too)
Inkjet Printer
Scissors
The Best Spice Storage Rack Organizers
A shallow drawer insert spice rack – easily see just what you need
A large door rack to store not only spices but also seasonings, sauces, and baking goods (this is the one we used and is pictured)
A fully customizable door rack – we have this one in our linen closet and LOVE it.
Smaller racks that are adjustable and can be used on a wall.
Spice Gripper clips – great for small wall spaces or the back of cabinets
A Lazy Susan in a cabinet – this is great for keeping spices you use regularly in easy reach. A tiered lazy susan is even better!
I generally don't recommend magnetic spice racks (too small), countertop organizers (clutter), or tiered racks (too much space wasted). That's just my personal preference, however.
How To Make Spice Labels
Begin by taking an inventory of what spices you have and actually use and those that are old or used infrequently. You may want to just dispose of the latter and create more space for organizing the ones you reach for the most.
Having uniform spice jars isn't just for looking good, it will help you find what you need faster and items will fit better in their space.
If you bought the exact same jars I used, (these jars from Amazon) then it's super easy for you. You can use my exact template of words that are already sized to fit those jars. I have included most common spices. The labels are sized 1.2in x 1.8in if you want to use them on similar jars.
**Extra Tip: Use a washable paint pen to write the expiration date on the bottom of your new glass bottle.
Wipe off the spice bottles and refill them if needed. Combine multiple jars if necessary. I set up a mini station at the dining room table to clean and transfer the spices to their new jars. A mini funnel is helpful in transferring the spices from jar to jar.
Tip: It may seem over the top, but storing spices alphabetically helps you find them faster.
Frequently asked questions
What is the Average shelf life of spices?
-Opened, ground spices last six to nine months
-Opened, whole spices like cloves last about two years.  
-Unopened spices last about 2-3 years
What can I do with expired spices?
Spices won't necessarily make you sick if consumed a bit after the date. They do tend to lose their potency and flavor after a while, however. If you have a few spices you would like to replace, don't toss them out just yet! They have plenty of uses from cleaning to repelling unwanted critters. You can also use certain spices in making homemade soaps and potpourri.
Should spices be kept in the dark?
Spices should be kept in a cool, dry, dark area of your kitchen, like in the pantry. Although not required, red-colored spices (such as red pepper, paprika and chili powder) should be stored in the refrigerator to best keep their color and flavor.
You can find a copy of these PRINTABLE SPICE LABELS here.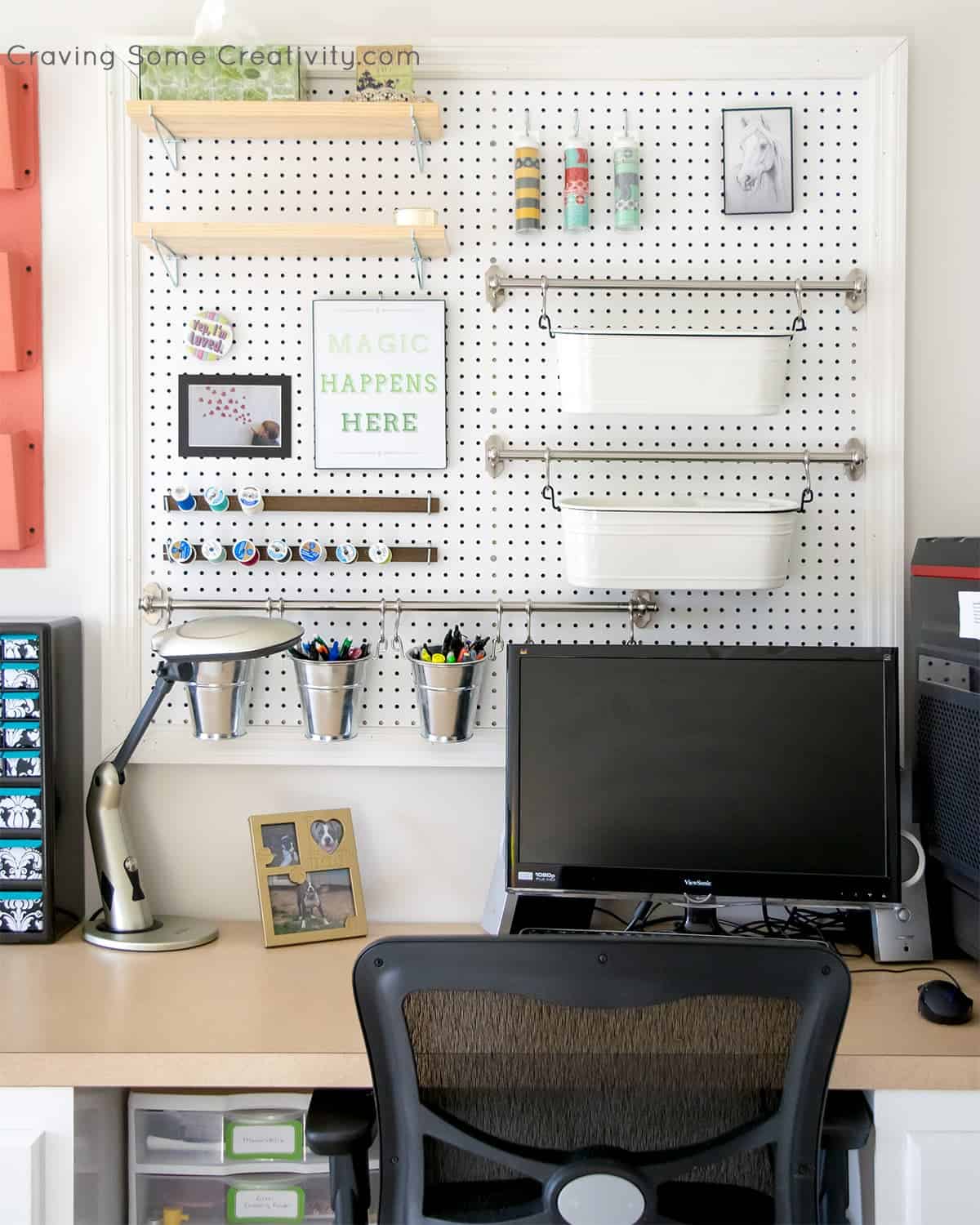 Grab our free series "Weekend Home Projects that will Transform Your Life"
Sign up below to receive updates including free printables, organization tips, home improvement projects, recipes and more!
WANT MORE ORGANIZATION IDEAS?
PS I love seeing your creations! Be sure to take a photo and tag #cravingcreative on Instagram! You can also stay in touch with me through following me on Instagram, Pinterest, and subscribing to the newsletter!