Hi!
Today, I am sharing a huge sneak peek behind the blog, the finished projects, and the beautiful pictures. With all of the projects I share, it can be easy to forget just how much there is still to do and how ridiculously far we have come. It's been a long time coming on this journey and it is crazy to look around at the progress we have made and the money we have saved. Yes, it has been 2 years since we purchased the home that so often gets shown on the blog. Interestingly, I noticed that I have never really posted a home tour. The last one I posted was mostly of the damage and new carpet. With a community that is so accustomed to entire houses being completely gutted and flipped in the span of a TV hour, I sometimes wonder why our house still has a very long way to go. Well, that's probably because I don't have a dedicated crew of free labor, networking resources, or a seemingly unlimited budget (HA!). But it is home and it has come a looooong way.  So won't you come in?!
Our Master Bedroom when we moved in:
I don't think I need to show you just how bad every room was (just the worst one cosmetically!) but this week I happened across a video my husband made of the house 3 weeks into our project. Oh, those were the days!  Driving 2 hours every weekend to the house to rip out carpets, sleep on an air mattress in the living room and praying that no major leaks had sprung (we had a decent sized flood in the kitchen). We were moving slowly from a little 800sq foot townhouse into this ridiculous 5 bedroom fixer upper. We had saved every penny we had for 3 years so the only furniture that made it into this house was our master bedroom set and a bed my husband has had since college. But we were happy and full of dreams!
What to focus on when you want to decorate an entire house and are on a budget:
Get your foundation pieces in order first (furniture, floors, walls, etc).
Focus on the areas that will be most functional for you and maybe the ones that guests will actually view.
Shop craigslist and thrift stores as often as possible. Psst…See tips on finding deals here.
So let's look at the progress, shall we?
Living Room Progress – 50%
As it stands now, this area is the only completed area of the living room. The biggest obstacle to it's completion is time, mostly. The floors on the main floor of the house all have to be ripped out, hopefully this year. Despite the open floor plan, there are literally 5 different kinds of flooring on the main floor. We will be adding some cohesiveness by replacing all of them with hardwoods.
As for the rest of the room, it is still a work in progress. Forgive me, that picture is from Christmas, but our living room is actually currently being used as a project drop off point. Most of the foundation pieces are there but not exactly the way I want them. Like, um, our craigslist entertainment center with the super weird entertainment console in the center. Yeah, that is totally the look I am going for! (sarcasm)
Still to-do:
Replace the floors with hardwoods
Paint and refinish furniture
Mount TV on wall
Build a proper console for the entertainment center
Makeover Fireplace
Wall art, accessories, rug
Build a table for behind the sofa
Kitchen Progress -80%
Like the rest of the main floor, the linoleum has to be replaced. We have also recently (and much to hubby's chagrin) decided to redo the airstone breakfast bar. Although we get many (many!) compliments on that stone bar, I am just not loving it when combined with everything else.
Still to-d0:
Replace floors
Chisel off stone and replace with a more subtle (and probably white) exterior
Bar stools
Office Progress – 95%
Ah, the room closest to being actually "done". I know I showed off hubby's side last week as part of the one room challenge reveal but it is nice to have both sides equally well done now. A true his-and-hers space I am proud of. You can see a lot more of my side of the craft office here. Replacing the floors still applies here though too.
Still to-do:
Install overhead lighting
New floors and rug
Laundry Room Progress – 90%

This budget makeover was exactly what I NEEDED and a huge improvement over the before. The closet turned laundry sorter is the best! The whole room makeover honestly looks even better in person, but I would still like to see something more than just the yellow pops of color. For now though, it does bring me joy to do the laundry. Ok, maybe not quite.
Dining Room Progress – 65%

I completed the stencil on the walls and added the craigslist dining room table that I got a fabulous deal on, but otherwise, the room needs some finishing touches.
Oh, and I did recently find the perfect wine cabinet. The Easter decorations in May are killin it!
To-do:
New hardwoods and a rug
Wall art
Curtains
Centerpiece and seasonal vignette over cabinet
So now here are the rooms that are a lot less done:
Boy's Bedroom Progress -40%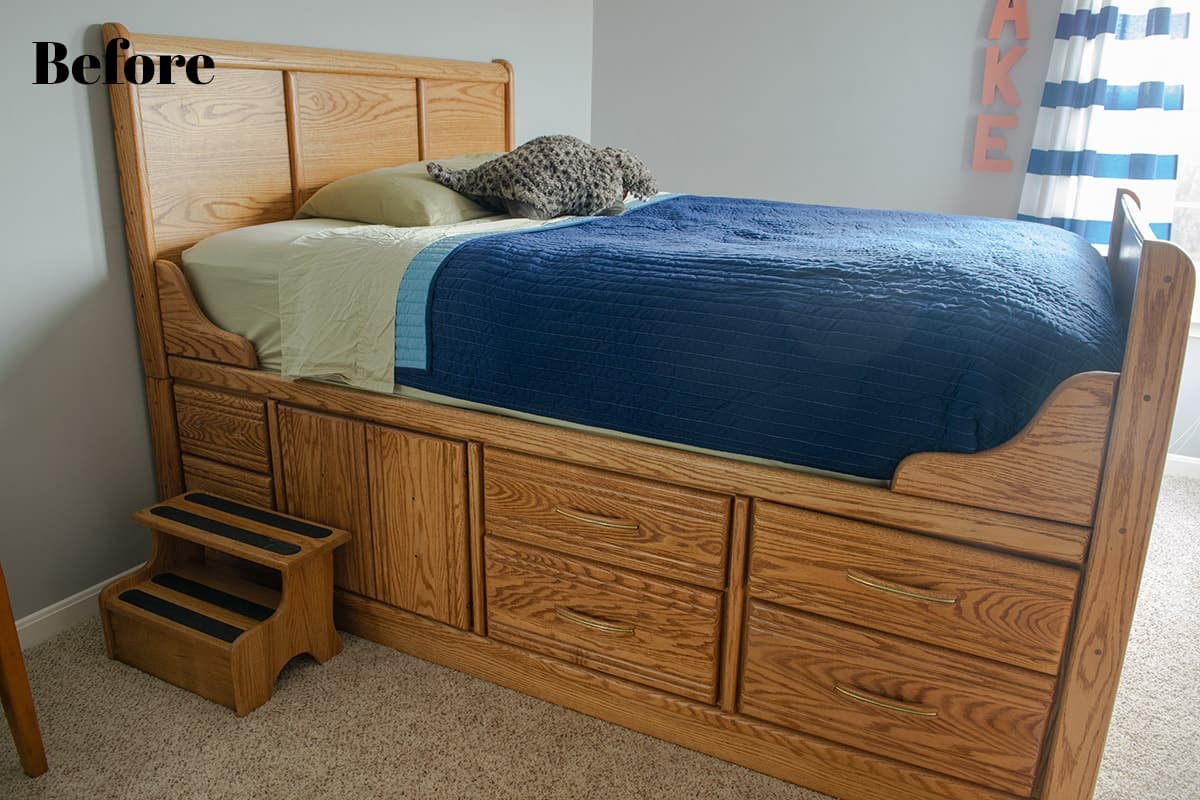 The main reason I don't have up to date pictures is because the furniture is actually in the basement right now the full treatment (filled, painted, etc). Those projects will most likely take me a month to finish but it is going to be a huge improvement!
Master Bedroom Progress – 30%
So remember the room at the top of the post with the black carpet? Yeah, this is the same one. I have a serious thing for spa feeling bedrooms. This bedroom set has been with us a long time and I really haven't done much decorating. But I do have a plan! When I do get around to working on this room, I will be using beautiful Japanese gardens as my inspiration. Ok, not literally, as in water features and all that. I like eclectic, not kitschy. I mean it will be a balance between organic textures and rigid structures with an homage to form and function. Ah, someday…
Still to-do:
New Bedspread
Wall Art
Floating Shelves on the wall near bed
New Curtains
Bench area overlooking cutout windows
Rug and bench at the end of bed
His-and-hers closet makeover
Outdoors/rear deck – 40%
The first year we were here, we built the fence to fulfill a promise to our dog, Diesel, who was diagnosed with cancer. If you are a dog lover like me, this story will warm your heart.
Over time we added the back deck which is now stained and the garden fence. The garden fence is kind of cool because we recycled the neighbor's fence when we took it down to put our privacy fence up. Just this past weekend, we did some serious cleanup on the deck to make storage underneath so watch for that in a few weeks. We still have a patio area to build, enclose under the deck and make storage space, a firepit, and get the last bed into the garden. Now that is some backbreaking work!
Rooms not even touched: The Larger Guest Bedroom, Front Entry Room, A nursery/sitting room upstairs, 2 bathrooms, and an entire unfinished basement. Yep, still a lot of work to do.
Well, that's it for now but I hope it will be even better next year! So much of our budget has been finishing the bones of the house, but I am excited to get more decorating projects done now. Thank you to you all for joining me on this journey. Your comments and inspiring projects have pushed me on more times than I can count.