Affordable, durable, and easy to maintain, vinyl floors look great in any space. They also come in a HUGE variety of styles and the choices can be confusing. Learn the pros, cons, and types of vinyl flooring from a DIY perspective including wear layers, why thickness (sometimes) matters, and even tips for how to maintain them so they look great for years to come!
Today's vinyl flooring is quickly becoming the go-to options for DIYers, remodelers, and busy families on a budget. Affordable, durable, and easy to maintain, vinyl floors look great in any space. They also come in a HUGE variety of styles and finishes that look like hardwood, tile, marble, or stone.
But with so many options, how do you know you are getting the right product? Engineered Vinyl, Rigid Core, Wood Composite, Eco-Resilient – every manufacturer has their own terminology, and the options can be dizzying. But what does it all really mean?
You may be wondering about luxury vinyl flooring pros and cons. This guide is written for a consumer perspective to learn what you need to know about the advantages, disadvantages, and types of vinyl flooring. I explain everything from wear layers, why thickness (sometimes) matters, and even tips for how to maintain the floors so you get the most out of them (hint: it's much easier than every other type of flooring!)
As a home remodeling enthusiast who has both installed these floors in homes and lived with them myself, I can talk about our experience to make the most informed decision.
Check Out Our Step-by-Step Guide to Installing Glue Down Luxury Vinyl Floors here. (Click lock tutorial and tips coming soon). We have also used Groutable Vinyl Tile and Peel and Stick.
What Types of Vinyl Flooring Are There?
Sheet Vinyl: This type is reminiscent of the old linoleum floors, but improved characteristics, designs, and very low maintenance. Sheet vinyl is generally waterproof and has no seams for water exposure. However, the styles tend to have a cheaper appearance.
Luxury Vinyl (LVP or LVT): The original! All luxury vinyl tile is made with PVC for a flexible layer under the printed design. Traditional luxury vinyl doesn't usually have a separate core material. Since it is flexible, this is traditionally a glue down installation. The P just refers to planks, and the T is for a tile look. Examples include this Traffic Master LVP, and Shaw Flooring Olympus.
The following are also sometimes referred to as luxury vinyl planks, but they are differentiated by including a rigid core layer:
Wood Plastic Composite (WPC): This type utilizes a real wood mixed with a composite to form a rigid layer below the vinyl top layer. This gives a WPC vinyl a rigid yet feel soft under foot. WPC vinyl also tends to be thicker, but not as dense. Examples of WPC include OptiMax and NuCore.
Stone Plastic Composite (SPC): The SPC core is made by combining limestone powder and stabilizers to create a dimensionally stable and waterproof core. Examples of an SPC include CoreLux and some Home Decorators Collection. All SPC vinyl is a click lock installation.
Hybrid Vinyl: The newest on the market and where things get confusing. The cool thing about hybrids is that you can get a textured surface like hand scraped or slate. DuraVana is one example.
Other Factors to Consider
Core Thickness: In the past, a thicker vinyl plank typically meant a better floor. However, today's manufacturer's include denser materials like stone composite in their cores, so it isn't always an apples-to-apples comparison between different cores. These denser cores have improved dent resistance and cover up minor imperfections in the subfloor.
Wear Layer Thickness: The wear layer is a durable coating on the top of your floor that protects the flooring surface from scratches, scuffs, and stains.
Wear Layer Ratings (for residential applications):
4 mil (Ok): Only use in low-medium traffic areas.
6 mil (Good): Residential use.
7-8 mil: Good for higher traffic areas or heavy furniture.
10-12 mil (Best): Residential or light commercial.
Waterproof: Not all vinyl flooring, even ones in the same type, is 100% waterproof. And even if the tiles themselves are waterproof, the seams may allow standing water to penetrate to the subfloor. Always make sure to ask about claims made from brands.
Glue Down Vs Floating Vinyl Flooring
There are two types of vinyl flooring: Floating and Glue Down. You can choose a tile or plank design in either type. Both types work well with a variety of subfloor types including concrete, suitable plywood, and over existing floors. We have used and installed both and each has its pros and cons and uses.
Glue-down vinyl flooring is generally quieter and easier to replace if one gets damaged. In large rooms, it has greater joint stability because it won't move. There is usually at least some flex to these boards, although cheaper varieties have a softer top that is very flexible. They come in thicknesses ranging from 2mm-5mm thick.
Floating or click plank style vinyl floors have seams that look more uniform, and they offer a option that is gaining in popularity called rigid core that offers additional durability and joint stability. Some brands offer a built-in sound deadening pad on the back rather than using an underlayment. However, it's usually not as thick or cushiony as premium underlayment. They come in thicknesses from 4mm-10mm thick.
In our kitchen we included Luxury Vinyl Tile and a glue down installation. You can see the entire completed kitchen makeover in this post.
Cost of LVT Vs Traditional Tile
The biggest cost saver in our project was that we could DIY this installation, saving us literally thousands of dollars! However, the materials for luxury vinyl flooring installation are also much more affordable.
For our lvt flooring, the cost broke down to $3 per square foot. For our 300 square foot project, the total including all materials and supplies was $1400. That includes the underlayment that was required as a substrate over the plywood sub-floor. The options for luxury vinyl tile prices ranged from $2-5.50 per square foot.
Let's compare that to our Navy and white bathroom renovation prior year. The floor tile was $3 a square foot over 24 feet- which is an affordable tile. Our total cost for the floor was $230, after mortar, cement backerboard, grout, and other installation supplies. If you multiplied that to 300 square feet, that's $2800!
So, in cost comparison, traditional tile installation supplies are much more than lvt flooring.
Durability
Luxury Vinyl Tile has many pros and cons, but durability is one of their best features. The durability over time does depend on the amount of "wear layer".
LVT flooring will not crack like traditional tile.
LVT is not impervious to water damage under the tile. The glue and tight seams make it resistant, but not waterproof. However, a few brands do make the claim that their seams are waterproof, but I never assume that in a real-world installation.
Easy to clean and you never have to seal grout.
Stain resistant.
For glue down LVT, if a tile is damaged, you can just pull it up with a putty knife and lay a new one.
More durable against dog nail scratching. However, large dogs often have a harder time walking on them.
Great for high traffic areas.
Higher quality LVT and LVP have excellent dent resistant like from dropped dishes or heavy furniture. I put an 8ft slate pool table on a SPC vinyl floor.
Aesthetics
Aesthetics are all about personal choice really. One of the pros about vinyl planks is that you can get a broad range of designs that look beautiful while being affordable. Many of these designs would be almost impossible to duplicate in hardwoods.
However, the vast majority of vinyl flooring looks and feels like plastic. Yes, it will still be beautiful. There are those who just prefer the beauty of natural products like hardwoods and stone. Vinyl flooring cannot, for better or worse, completely fake the look and feel of those natural products.
Because of the rise in popularity of vinyl flooring, many manufacturers have added bevels or a grout border for a much less commercial look. In my opinion, I wish we had that option for this kitchen. Instead, we had to purchased luxury vinyl tile grout strips from Karndean. You can learn about their design strips here.
Turn Around Time
Unlike tile, vinyl flooring of either installation method is much faster. There's no grouting or waiting days for mortar to dry or sealing needed! Most adhesive vinyl can be used regularly within 48 hours and click lock vinyl can be walked on right after you finish completely installing.
How To Clean Vinyl Floors
Vinyl flooring is easy to maintain. No polishing needed! The clear wear layer will also protect against household stains. Higher-end vinyl planks often have thicker wear layers, but you should ask.
Regularly sweep or vacuum your floor to prevent scratches. Vinyl flooring is much more scratch-resistant that other types of flooring, such as hardwood. However, keeping it clean will always make it last years longer.
Use a pH-neutral floor cleaner and avoid ones that contain wax, oil, or polish.
Other than the kitchen, I actually clean all of my floors with only water and the Norwex Mop System.
Keep your pet's nails trimmed.
Promptly clean up any standing water, pet urine or other liquid spills. Make sure to get in the edges.
Do not use a steam cleaner.
Do not use a vacuum with a beater bar. (I love my Shark True Pet).
Use floor protectors (nylon or felt) on all furniture legs.
More Home Renovation Ideas
FAQs
Is glue down vinyl flooring good?
The installation method itself does not determine the quality of the vinyl. There is cheap glue down and high quality. The density and rigidity of the top layer as well as the materials used are more accurate determinations.
How long does vinyl plank flooring last?
Depending on installation process and product quality, vinyl flooring can last 10-20 years.
Is glue down vinyl better than click?
In residential applications, Glue-down vinyl flooring is generally quieter and easier to replace if one gets damaged. In large rooms, it has greater joint stability because it won't move. However, high quality click vinyl is highly stable, and the seams look more uniform because the floor moves together if it expands or contracts.
Is vinyl flooring waterproof?
Most vinyl flooring is waterproof on the top layer. Minor spills and water exposure doesn't do any surface damage if the brand says waterproof. However, large spills, flooding, or continuous exposure can sneak through gaps and the subfloor may not be waterproof.
Does the floor have to be level for vinyl?
The amount of leveling needed will vary from product to product. The standard tolerance required is for the floor to be level to 3/16" over 10 feet. Some brands have improved materials that allow for covering minor imperfections.
Can vinyl flooring be put in basements?
Most luxury vinyl planks, and tile are the best option for below-grades spaces like basements because it is made from inorganic materials.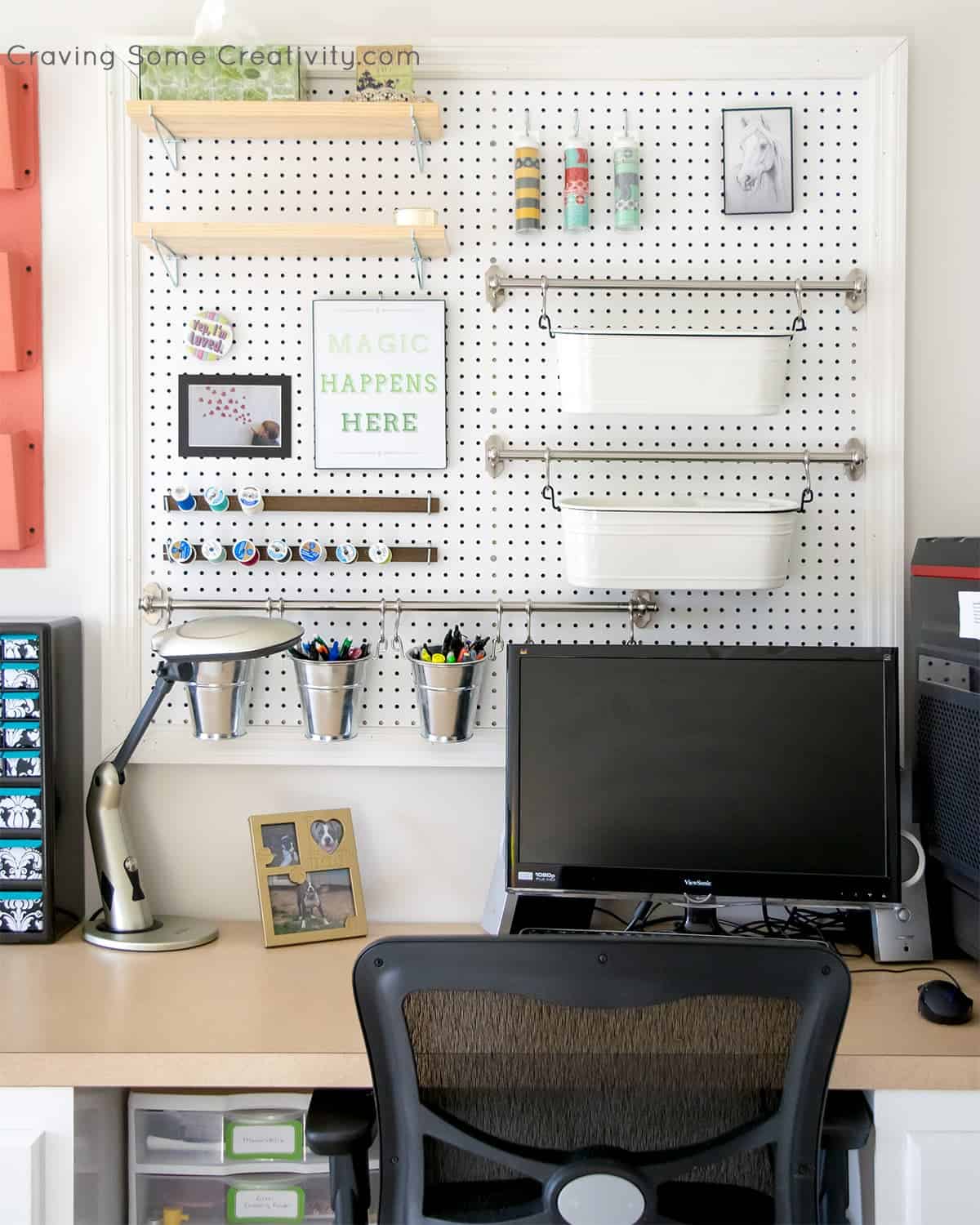 Grab our free series "Weekend Home Projects that will Transform Your Life"
Sign up below to receive updates including free printables, organization tips, home improvement projects, recipes and more!
More Home Improvement Ideas
PS I love seeing your creations! Be sure to take a photo and tag #cravingcreative on Instagram! You can also stay in touch with me through following me on Instagram, Pinterest, and subscribing to the newsletter!