Today is the BIG DAY! Hubby and I have been working since 2015 (4 years!) to get our kitchen makeover finished. We only have 1 project left to go – adding French doors – but I'd say that it's ready for a big 'ol reveal. When we moved into this house I knew that this kitchen would be a major project I wanted to tackle. I can't even believe the difference! The journey has been so worth it.
In case you missed it or would like more information, here are the articles to the rest of the kitchen renovation series (from phase 1):
Kitchen Renovation Plan and Before Pictures
Extending the Island and Adding a Breakfast Bar
Using AirStone Faux Stone on a Kitchen Island
5 tips for Replacing your Counter Tops
Kitchen Design: How We Melded Our Completely Opposite Styles As a Couple
Rewiring Outlets and Adding More Function to Our Kitchen
So are you ready to see the transformation??
First, let's visit the BEFORE KITCHEN of doom. Dark, ugly, and outdated. Yes, this picture is from when we moved in but it is the only one I have that shows the full kitchen. And, yes, that is exactly what it looked like. It has in total taken us 4 years to almost complete this kitchen.
And this is what it looks like today! During Phase II (2018), we have changed out the bar stools, built an updated kitchen island (again), added new lights and changed up the accessories a bit.
The finished breakfast bar with extension. We added on to the original island to make it more functional as this is this the main eating area for our family of 3.  I loved the old bar stools functionally but they were in some desperate need of an update.
Per hubby's request, the cabinets have not changed. That was one of my compromises. However, in return, I got to do the accessorizing. The new, better fitting fridge is awesome! Even with the darker cabinets, the kitchen makeover makes this room much lighter and airy in feeling. Love It! They grey really brought out the richness of the cabinetry that was missing in the yellow/beige outdated scheme.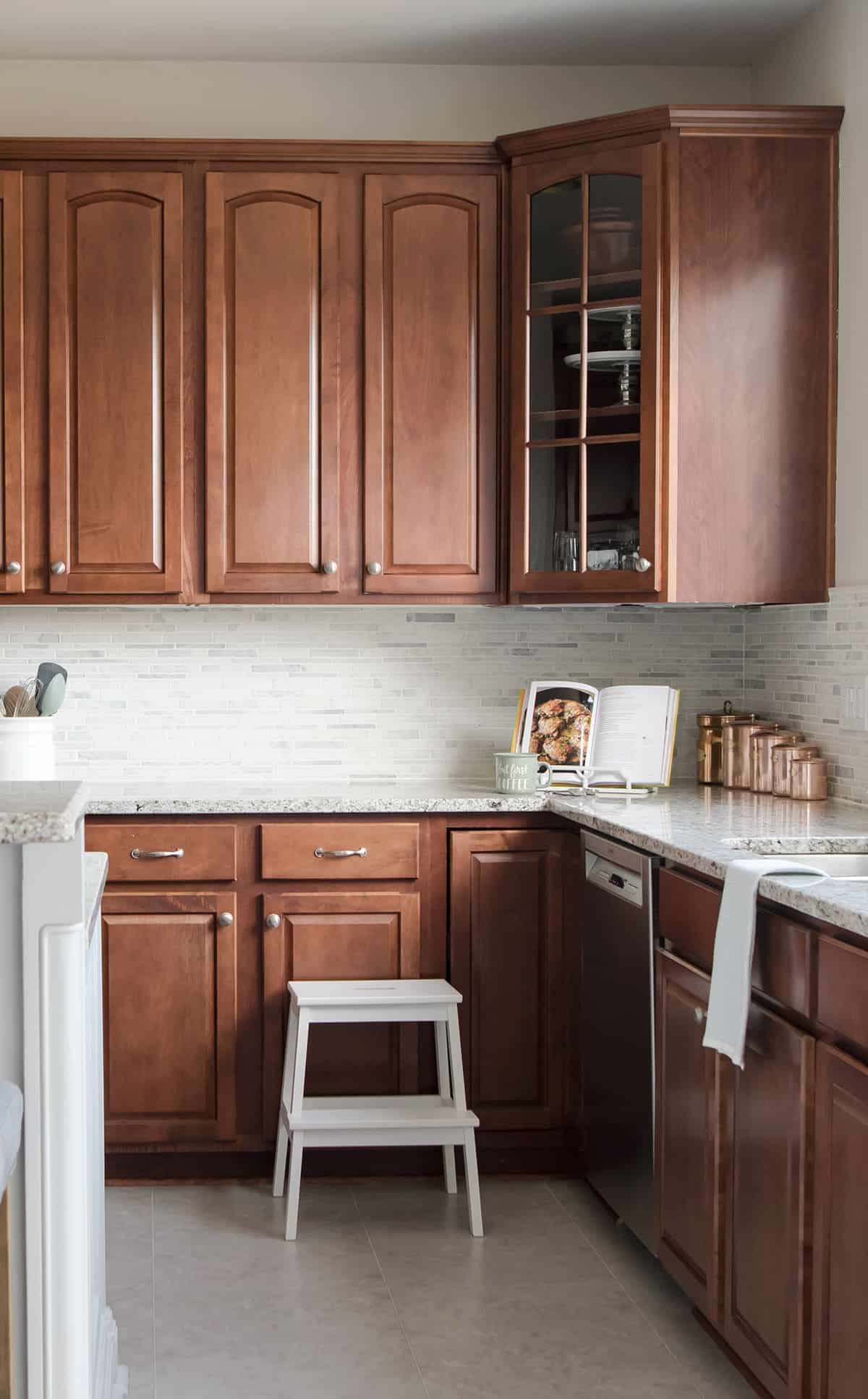 I will totally take credit for that back splash, though! It's a tumbled marble tile ….and it's gorgeous! So many people wanted me to add decorative tiles or color or sparkle to it. But I dug my heels in about keeping it white and plain. And, dang it, I feel vindicated looking at that picture.
Remember how we rewired and hid the outlets under the cabinets? So.Much.Better.
Hubby and I did all the tile ourselves and much of it was hand laid because the sheets did not fit together properly or were in awkward spaces.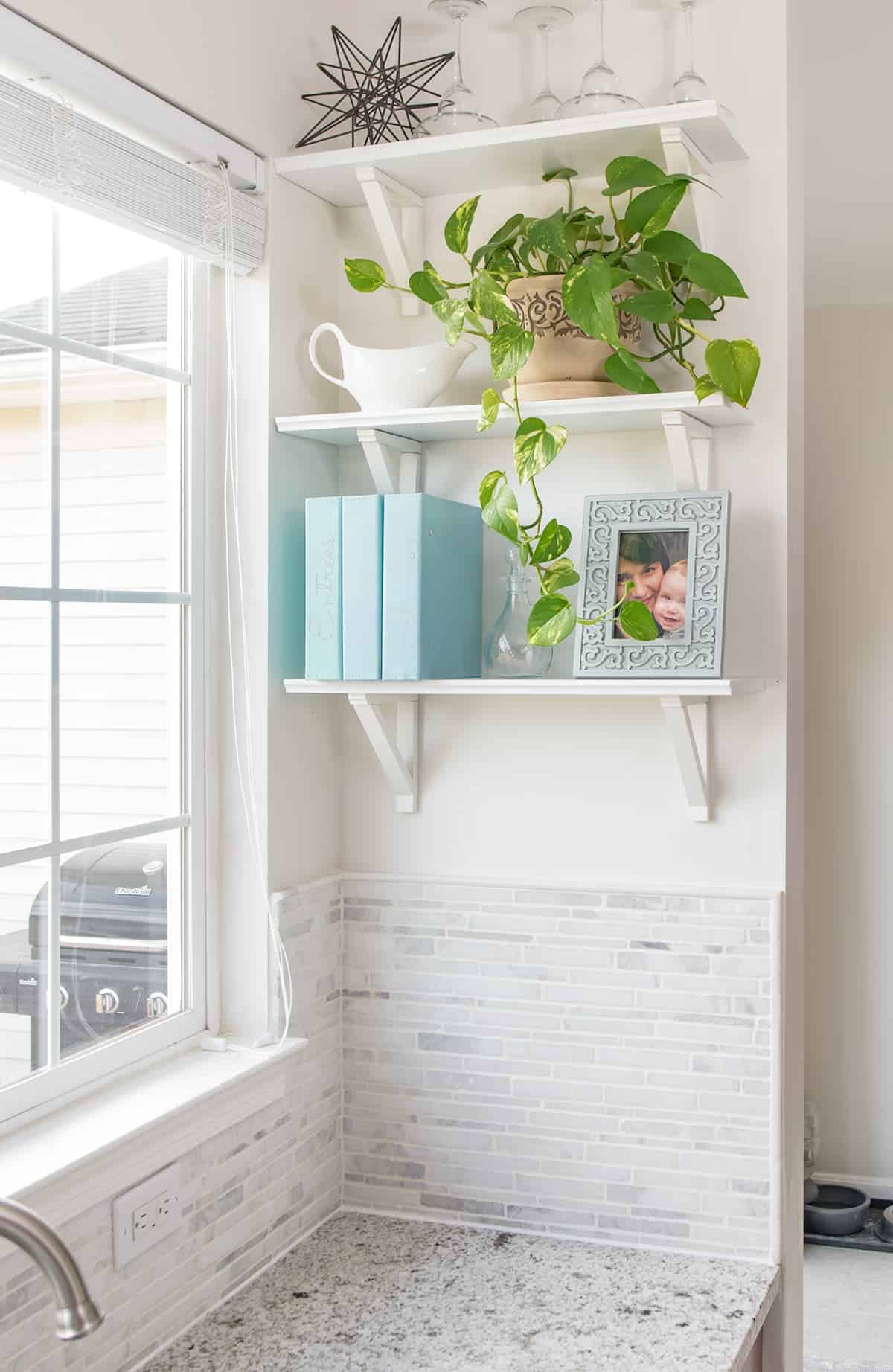 Although it's hard to say which part of the kitchen makeover is my favorite, but the open shelves are definitely up there. I had to add at least a little bit of color and sunshine. I store my cookbooks, the family heirloom plant, and a few cute accessories on them. HomeGoods is my bff, ya'll.
Of course, every kitchen needs a good area for the coffee setup. Above is my menu chalkboard. The Tile Shop has been so generous to us in finding a last bit of tile to cover that back wall. They called every store in the US to find enough for our project, and pulled it together from 4 different stores. I actually intend to put a corkboard there but we want the tile behind it in case we ever change our minds.
So let's check in on the checklist, shall we?
KITCHEN MAKEOVER RENOVATION CHECKLIST-
Paint Walls and Trim
New Counter Tops
Extend Island and Add a Breakfast Bar
Add Faux Stone to the Breakfast Bar
White Tile Backsplash
New Faucet and Under-mount Sink
New Draperies
Open Shelves
Adding Door Hardware
Replace/ Cover Black Appliances
Rewiring Outlets to under Cabinets
Paint and Reorganize Pantry
Corkboard Wall Desk
New Tile Floor
If you have any questions, let me know in the comments below! Be sure to check out the other parts of this series at the top of this post!