Hi, all!
One of my big goals the first year we bought our house was to get the furniture in the house refinished and find some more accents. Over the past 3 years, I have been collecting several furniture finds with the intention of giving them the DIY treatment but most of them are great as is. If you have followed along for a while, you may know that we moved from a tee-tiny 2 bedroom townhouse into a 5 bedroom 4,500 sq foot house. (Not bragging, it was a dump we got for a deal!) Other than the repairs that the house required, we also didn't have the budget for THAT much furniture. So I turned to used and thrift furniture as my only option. My time is precious so I don't do yard sales. However, I am sharing some of the deals I got and, even better, how you can get your very own steal!
The pictures are actual furniture when I purchased them (unless otherwise noted). In most instances, the pieces that I have collected are high quality and in near perfect condition.These aren't fabulous after photos, because they haven't been made over yet! However, the prices are, frankly, jaw-dropping and I average less than 10% of original purchase price.

1. Set Up Alerts
One of the things about Craigslist and other sites is that good deals go fast. Instead of searching daily for something specific, did you know that you can set up alerts? With alerts, any time a new listing with your chosen keyword comes up, an alert email is sent to you. Sometimes, this works better than others. For instance, I have had an alert for "card catalog" set up for a long time and 95% of the alerts I get from that are junk. However, I have "sideboard" also and I get emails daily that always match my criteria.
After you perform a search in the specified area, you can click "Email alert" next to the search box. Log in or create an account to have them emailed to you.
You can update the search terms as you wish to change the area, price, turn on or off notifications, etc.
2. Look for keywords in the listing
Be careful which keywords you choose, though. If you are looking for a particular style such as mid-century modern, use that. However, be aware that certain words are buzzworthy so savvy sellers will use them to get eyes on something (and mark up the price) that may not be what you intend. I often look for cues in a listing that suggest urgency or an immediate timeline such as "moving" or "must go". This sometimes gives you more leverage in negotiation. That fabulous coffee table, by my estimates, was probably over $1000 originally. It is solid mohogany on the framing parts and mahogany veneers on the top and drawer fronts. We got it for $150 because, well, the seller's ex-wife loved it and he wanted it gone.
Our Hooker Entertainment Center Makeover
3. Check the Piece Over Thoroughly
After all, a good deal isn't a good deal for something that is damaged in an unrepairable way. And let me tell ya'll, bedbugs and woodboring beetles exist. I will never purchase a used mattress (ick!) but I know there are others that will. When looking at used furniture, you don't know what conditions it has been exposed to. The entertainment center above, for example, was sitting in a storage locker for at least 2 years. Who knows what creepy crawlies could have hidden in it unless it was checked? Pull out drawers, check the back and undersides if possible, and look thoroughly at the piece. Although some damage can help you negotiate the price lower, you do NOT want to bring bugs into your home. Seriously, walk away. Look for signs such as pin sized holes or larvae exoskeletons. Some furniture is designed with tiny holes in it for a distressed look so double check those. Bed bugs are notoriously hard to detect, and, as such, I NEVER bring an upholstered item directly into my house. Even though our dining room chairs came straight from the seller's dining room, they sat in plastic bags, in the sun, in July, all day just to make sure we didn't have any problems. Not exactly good for the furniture but it was better than the alternative.
Little Whale Blue Dresser Makeover
4. Wait for What You Want
Honestly, the hardest part about deal shopping is waiting for the perfect deal. Try not to get emotionally invested in a piece because something will come eventually. For example, the dresser above normally goes for about $350-400 in my area on Craigslist in that condition. However, my husband actually came upon this one as an estate sale leftover that needed to just get out of the seller's hand. Why sure, we'll take that off of your hands! This was not purchased directly through Craigslist, however, we found the estate sale through Craigslist.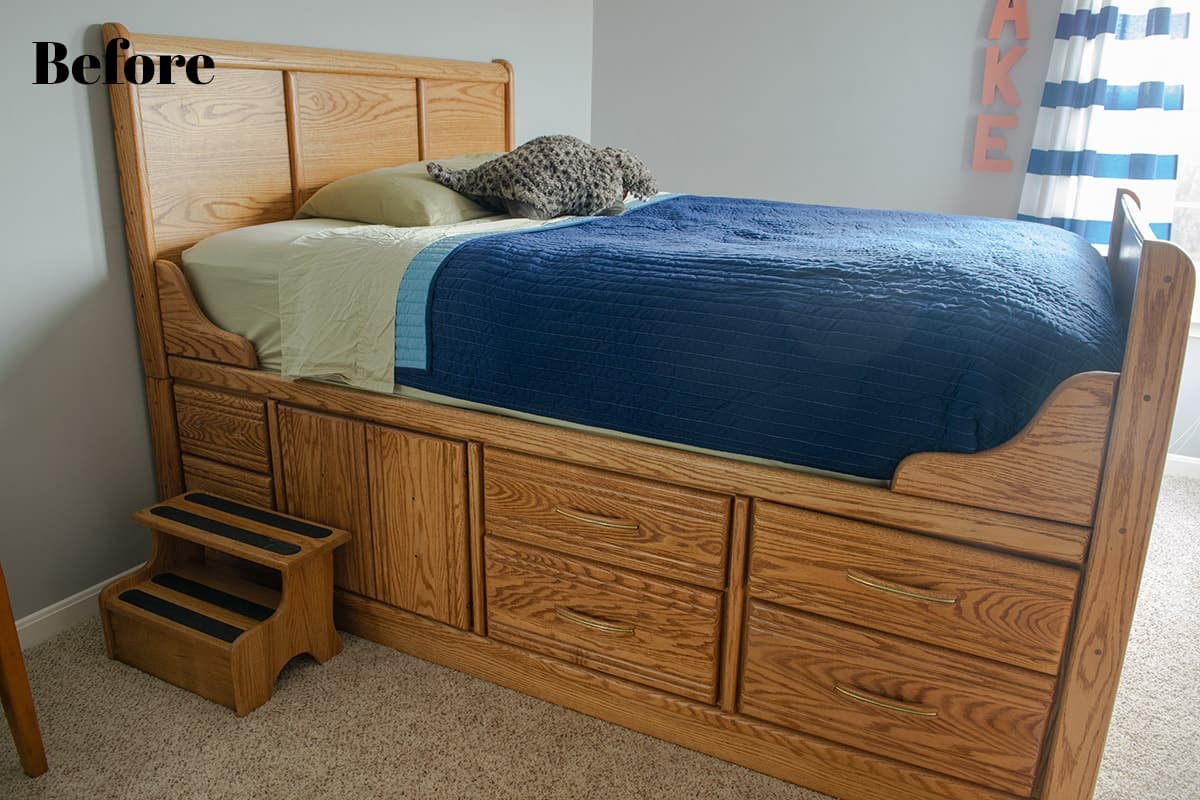 5. Double up for the best deals
Many times with a listing, I will check to see if that seller has other listings. This has helped me a few times. For example, the my son's dresser was part of a set with a really ugly, cheap console and a matching side table. Since we took all three for $75, he cut the price to basically less than what we would have paid for the dresser and side table. Knowing he didn't have to deal with finding more buyers let him lower the price. The Captain's bed above also came with a queen metal frame bed that had never been taken out of the box for a whopping $200 for both. They were a package deal but, honestly, we needed both of them and we paid more buying the mattresses for the beds.
6. Know when to negotiate and when to stop
The dining room table above was originally listed at $1000 on Craigslist (purchase price $4300). To fit my husband's family, we need an 8 person table which is not that common. Negotiations really are done best face to face. When I email a listing, I very rarely mention the price point for two reasons. First, it is easier to say no to an email than a person. They may also simply not respond. However, a seller will almost always give more information to the condition of the piece and how much they want to get rid of it. You can use this information for later. Secondly, my husband negotiates for a living so I always send the big guns. The coffee table at the top was one of our first purchases and we were not as savvy then as we are now. I loved it so much that I would have probably paid more at the time. We knew it was a good deal however, and did not ask for a price cut. While we all want a deal, the seller deserves respect as well. Don't risk offending someone if you have a good deal already, and be timely!
5. Know when to walk away
We almost walked away from that Hooker Entertainment Center. Originally, the seller wanted $800 for it (I think). However, we wanted to look at a different entertainment center that wasn't near the quality but was a better deal. Well, low and behold, the Hooker seller called us a day later and offered $400 which we jumped on. It is a beautiful piece but if you are looking for deals, stick to your budget. Never get emotionally attached to a piece. Sometimes sellers (and buyers) can be finicky, hard to contact, or just shady. Watch out for scams and definitely never pay until you receive. I have, however, given $50 before to hold a piece that I knew had competitive buyers, but I would never give them the full price.
Dresser Makeover with No Brush Marks
6. There is more than just Craigslist
I know this article is about Craigslist, but more than that, it's about getting deals on used furniture. My area is strong for Craigslist, but other sites that you may want to check out include:
Offerupnow.com
furnishly
krrb.com
FB groups for your area (search buy sell groups with your area)
Salvage or Re-stores (Habitat for Humanity, model home liquidation stores)
Do you have any Craigslist or furniture thrift tips?
Check Out Our Tips for Refinishing Furniture
Happy hunting!
Pssst...
Grab our free series "Weekend Home Projects that will Transform Your Life"
Sign up below to receive updates including free printables, organization tips, home improvement projects, recipes and more!