I am absolutely gushing over these adorable felt bunnies! Similar to fabric origami, this craft is super easy and takes less than 15 minutes to make. Great craft project for kids, parties, or Spring and Easter crafts.
We love simple spring crafts! These folded bunny pouches are the cutest solution to what to do with loose Easter candy in baskets or treats for an Easter party. I used these little guys during my Easter table decorations for parties and they are a big hit with the kids.
As a kid, my mom used to divvy up the loose candy (like M&Ms, Robin's Eggs) between the kids and tossed them in the basket intermixed in the grass. It looked cute, like little eggs hidden in the grass. But here's the thing – we always used the same grass every year and no one washes plastic grass. Think about that for a second…. yeah…. a little gross.
Supplies
A square piece of fabric but I imagine a napkin would work well too. I used an 8×8 piece of felt.
Candy or other small filler
Ribbon
Rubber Band
Steps to Making a Bunny Pouch
The step by step is included in the tutorial card at the bottom of this post, so this section is more of a visual guide to show you how it comes together.
The bunny folds up super easy, almost like a fabric origami. I love the ears especially- they are so realistic looking!
The ears are secured with a rubber band. I used a fabric hairband. Depending on what ribbon you choose, you may be able to hide the rubber band under it for a more secure fitting. However, I found that I could gently remove the rubber band after I had secured the pouch with the ribbon.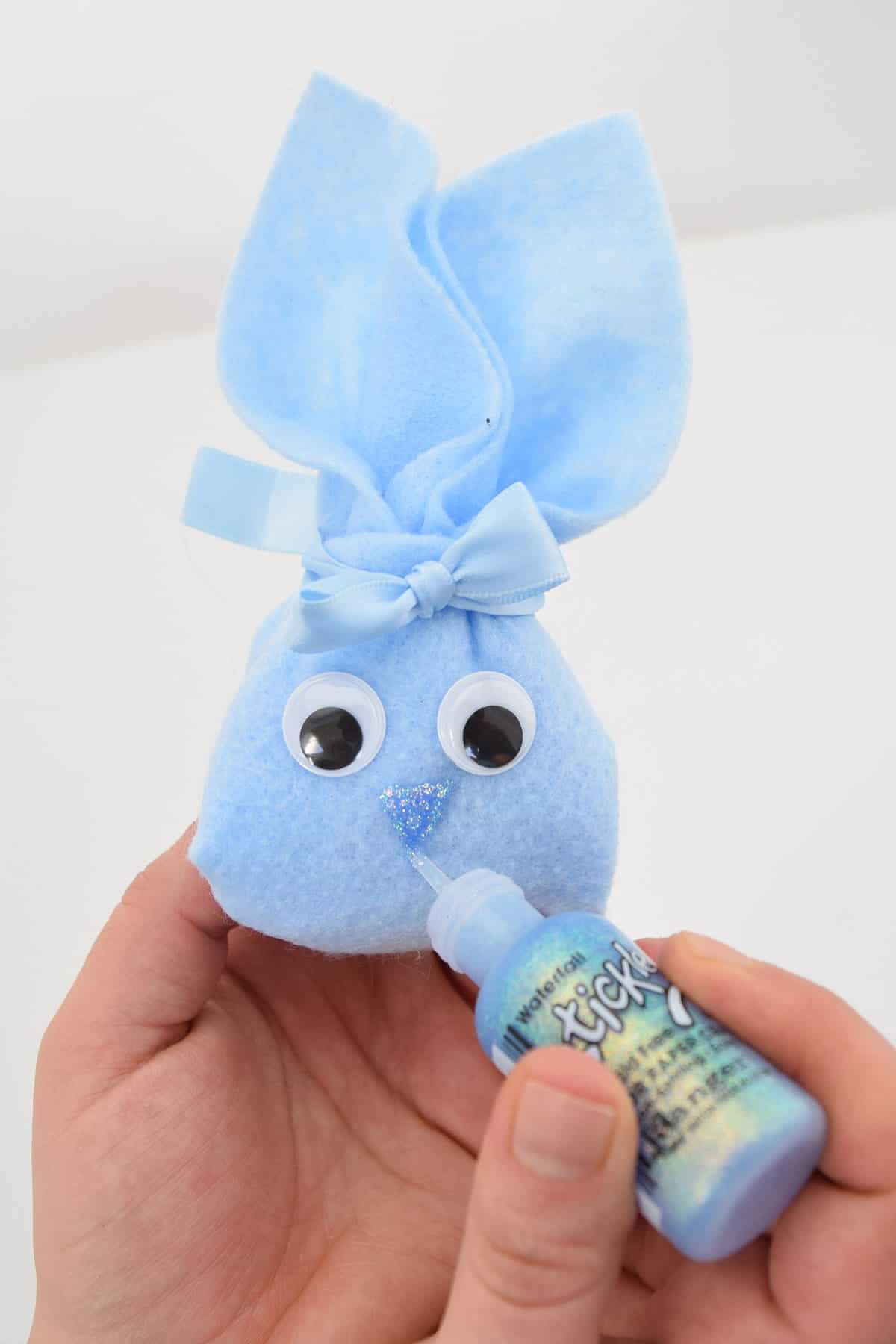 A super cute face made with googly eyes and glitter glue finishes the project! I use a 3-dimensional glitter glue, so it doesn't absorb into the fabric. Start to finish in less than 15 minutes so it makes a great craft for kids.
More Spring Crafts You Might Enjoy
Oh, and one last thing. If this is going to a child, might I suggest wrapping the loose candy in a small baggy or it will most likely end up all over your floor. That wouldn't be fun. And these bunnies are all about the fun!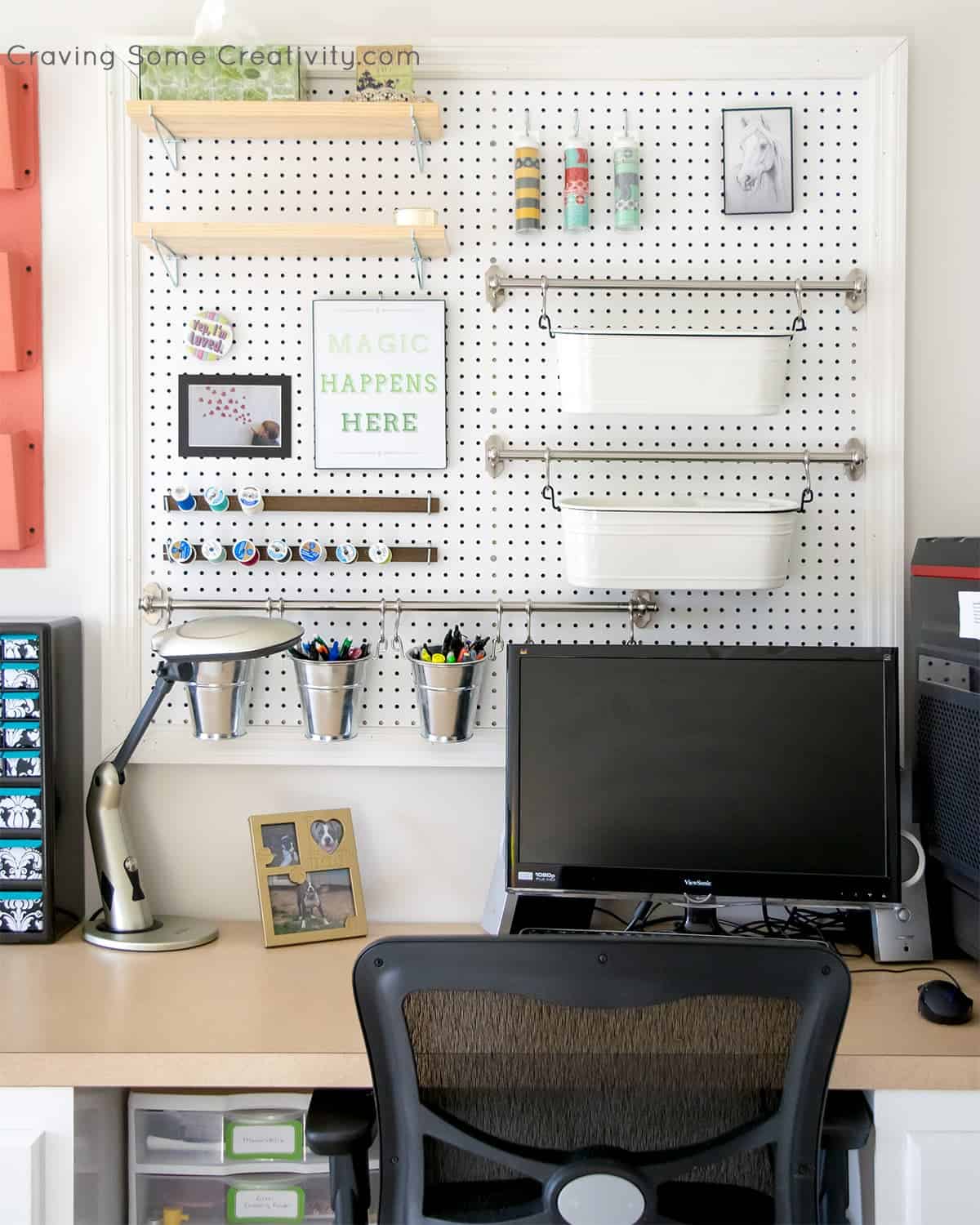 Grab our free series "Weekend Home Projects that will Transform Your Life"
Sign up below to receive updates including free printables, organization tips, home improvement projects, recipes and more!
Spring Crafts Tutorials
PS I love seeing your creations! Be sure to take a photo and tag #cravingcreative on Instagram! You can also stay in touch with me through following me on Instagram, Pinterest, and subscribing to the newsletter!
Easy Easter Bunny Pouch Craft
Similar to fabric origami or napkin folding, this Easter bunny craft is super easy and takes less than 15 minutes to make. Great craft project for kids, parties, or Spring and Easter crafts.
Print
Pin
Rate
Supplies
1

A square piece of fabric such as 8×8 piece of felt.

A square napkin may work too.

Candy or other small filler

1

Ribbon
Instructions
Lay a square piece of felt out flat. Put a small toy or handful of candy in the center if you choose.

Fold the top corner down halfway, to the center.

Fold/Roll the folded end TWO MORE TIMES.

Bring the sides together at the back. This will form the ears.

Pinch the middle where the base of the ears will be. Adjust ears as necessary.

Tuck the corner in and then pinch with the thumb to put in position. The picture may suggest it but I can't do this one-handed. Someone had to hold down the camera button.

Pull the front sides up and back to smooth out the face area. Adjust ears again if necessary.

8. Secure with a rubber band. The front face area will come just above the rubber band. Tie a ribbon underneath the rubber band, making sure it is tight enough to be secure, but it doesn't have to be super tight. You can gently remove the rubber band or hide it under the ribbon.

Add the face. You can hot glue the eyes and glitter glue to make the mouth and nose.