This shop has been compensated by Collective Bias, Inc. and its advertiser. All opinions are mine alone. #MegaPrepped #CollectiveBias
Without fail, every bath night just after the shower has been turned off, my son calls down the stairs "Get my towel, please!".  As if the "please" somehow made up for his continual absent-mindedness with the same thing day after day after day. And with school and the list of daily responsibilities growing longer once again, it can feel like I am always running for something someone forgot. Can you relate? It can't be just me. Rather than continue my unwitting stair climber routine, me and hubby added some new storage to the bathroom to keep it well stocked and much more functional.
In addition to my little forgetful monster, this bathroom also serves our friends and family who come to visit us. You may remember that I create baskets for guests when they visit. Keeping the bathroom essentials such as extra toothbrushes  well stocked was not possible since there was a serious lack of accessible in-bathroom storage. Now everything can be in the bathroom and easily found when needed. I know that I always realize that I forgot something at the worst possible moment. Guests should not have to suffer those moments. Wait, maybe that's where our son gets it from…oh, crap.
Even though we intend to do a full gut job down to the studs next year, hopefully, in this bathroom, I know that this storage will come in handy before and after the renovation. Anyways, first things first- TOWEL RACK
Materials:
1 piece of door casing, painted
1 1×6 hardwood board, stained – we used poplar
1 1×2 hardwood board, painted
wall hooks
Tools- clamps, wood glue, pocketscrew kit (optional), drywall screws and anchors, a saw (circular saw, chop saw, or hand saw is fine)
To make the towel rack, we cut the 1×6 board to length. We cut the two framing pieces 0.5 inches longer than the stained board. The door casing board was cut at a 45 so we could create a nice wrap around edge.

The hooks are spaced equally apart and half the distance from each edge. We lightly drew the marks on the poplar board and I created a template to pre-drill the holes. The large center hole is what we will use to hang the towel bar onto the wall. It will be hidden behind the hooks.

Lastly, everything was glued and clamped for a tight fit. Hubby really loves his pocket screw kit so he drilled and screwed everything together. The framing won't ever bear any weight so the glue would be perfectly sufficient. Overkill engineering at it's finest. Makes me love him even more.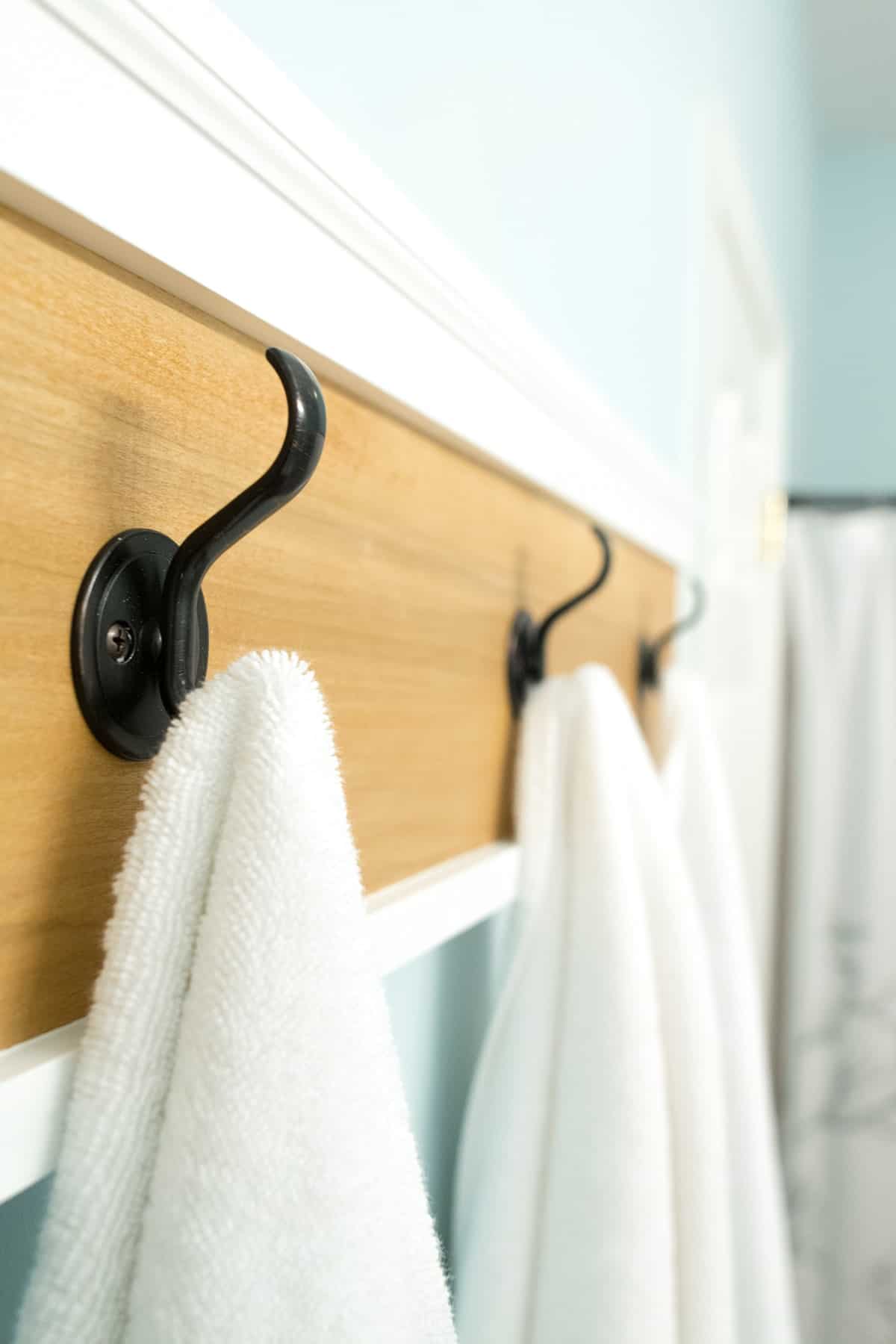 After the glue is dry, we screwed and anchored the towel rack to the wall and added the hooks over top. Easy peasy and pretty to boot!

We also painted and added some crates above the throne area to keep daily items like toilet paper and extra bath supplies in plain sight for easy access (with no yelling!).
Time to stock up! Does you child think the toilet paper aisle at Walmart is really the nap area? Blake sure does but maybe Mommy spent a little too long shopping that day. Oh well, at least I have one less item to worry about.