DIY may be the beating heart of this home, but the cold garage certainly doesn't give me the lovey vibes. Even though we did a great job with organization last year, this space is the epitomy of unfinished with it's un-primed walls and rather neglected floor. Most of these pictures are from last year, but we haven't touched it since really other than attempting to clean between projects.
Today is just a quick post since we are getting down to business. In part, I am worried that I would loose everyone when I say that I am decorating the garage, but also because we have a ridiculous amount of work ahead to get this finished.
Now, don't get me wrong, hubby would never let me turn this into anything other than a manly space with woodworking delights. Queue the smell of fresh sawdust and musical hammer banging. It happens every weekend in our house, just ask the neighbors, haha. Seriously, for all the projects I put him through, he deserves whatever spaces he wants.
Sidebar – Have you ever watched woodworking youtube videos? I think half of those videos are honestly how to build your own tools to build other woodworking projects. Sort of like how my husband built his own workbench. I would really like to get him a new top to upgrade the plywood, but he would just bang on it with a hammer.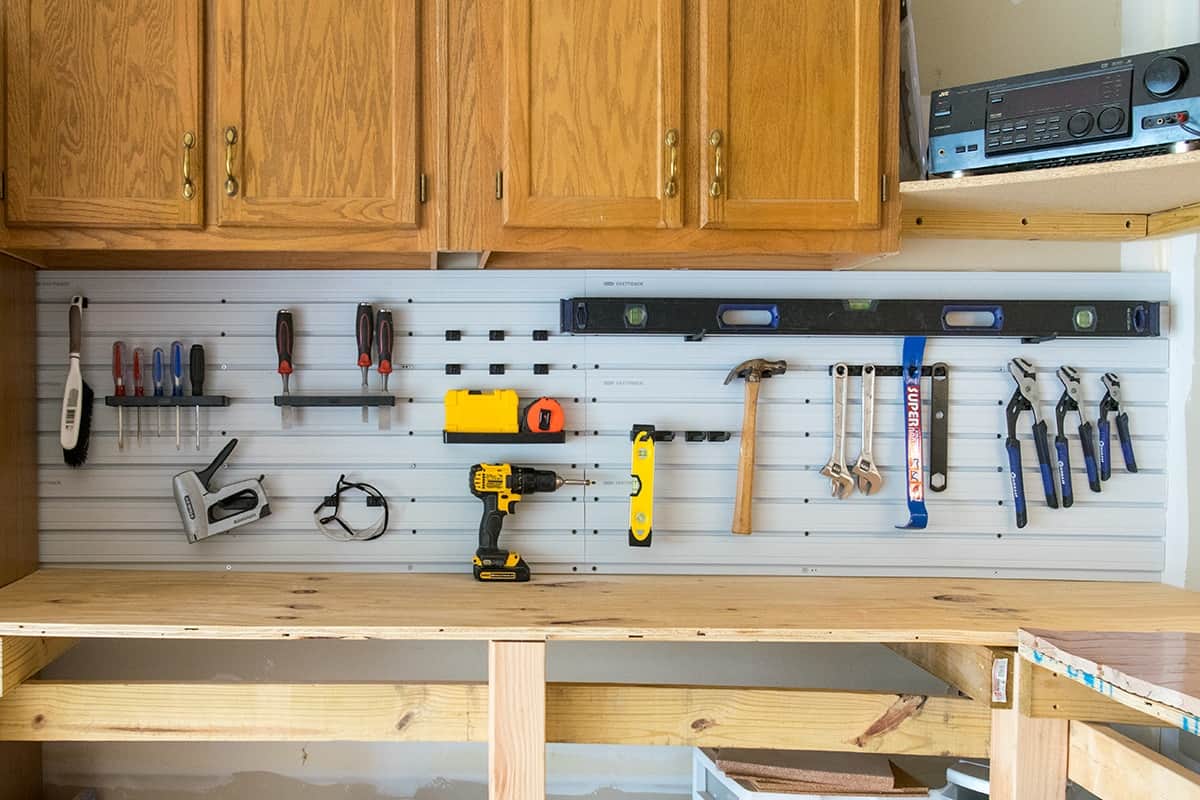 Hubby has been looking forward to re-coating the garage floors and tasked me several months ago to "look into it". Of course, we weren't ready for that step just yet until the walls were finished and maybe we would revisit the garage organization plan again.
When the house was originally built, the workers pretty much put joint compound under the tape and left it that way. It is awful! Of course, 14 years later the tape is falling, buckling, and generally kind of nasty. It was truly a slop-it-on-there kind of job. But, oh, the floors take the cake. We have a 6 inch concrete barrier around the bottom of the wall and I am convinced that the builders took whatever they had laying around to form the mold for that lip. We have odd wood grain molds, rebar sticking out, and even tiny pieces of styrofoam stuck into the sides. I guess one section was so bad they threw up some quickrete patch, which stands out horribly.
So here is the plan:
Clean everything out! We are lucky to have a basement that will hold all of our stuff while this project is being worked on.
Mud, spackle, fix the walls and ceiling.
Paint the walls and the door.
Refinish the garage floors.
Revisit the garage organization system.
New lighting.
Slinky new accessories: Garage Door Opener, a dry erase board, and floor mats.
As I sit here with my little plans for this workspace, I can't help but wonder about how everyone uses their garage so differently. Inspiration in such a utilitarian space is needed here so I turn to you, my genius DIY friends, as I lay our plans. How do you use your garage? What feature do you wish you had most?
*UPDATE!  You Can See Our New Garage Floor Here and Get Some Tips for Spackling Taped Walls if interested.