Thrifted furniture makeovers are all the rage. This captain's bed was the perfect bed for my son, except that it was stuck in the 80s.
After I finished up with the kid's dresser, the very next project was this to seriously update my son's bed. This bed proves that you can really update a piece of furniture that is iconic to another era (and not in a good way!). There isn't a single straight or sharp edge on this baby. Nice for the kids but it also really dates the style. This queen sized captain's bed with storage underneath is composed of solid oak wood over a plywood frame. The drawers have cedar inserts in the bottom which is a plus. With all of the storage, you really could not ask for more. Well, if today was 1990 and Zack Morris was still running the halls at Bayside High. But I digress.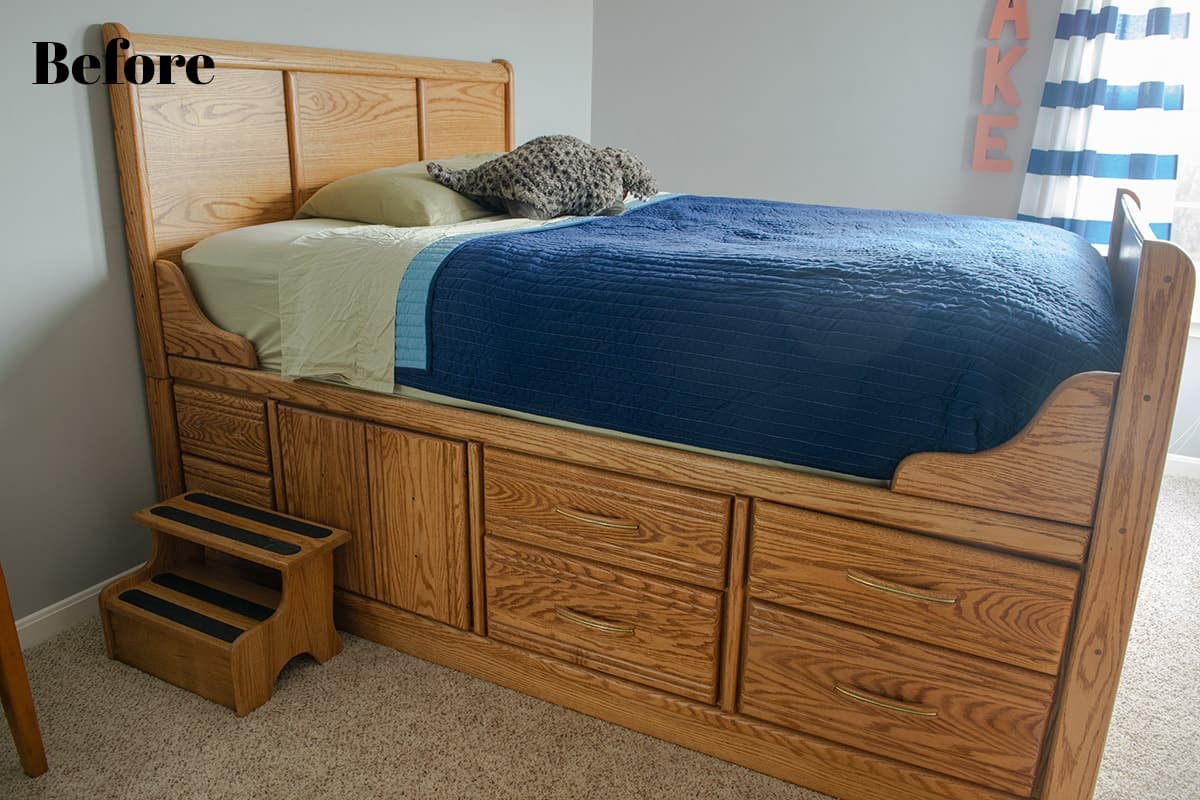 Time for a Makeover!
But wait, this is what it looks like now!
And here is how we did it –
First, we took it apart piece by piece. There are several components we altered. The wierd "wings" on the corners of the mattress area went in the trash. Buh-bye!
Next, the headboard and footboard went to the chopping block. Both the headboard and footboard had curved tops that we cut them off on the table saw. We added a simple straight board to the top of each and rounded the edges to fit the style of the bed but update it a bit. I truly struggled with the drawer fronts and those rounded lines that run through them. After mulling my options over for a very long while, we decided to just paint them as is. A furniture makeover can only go so far, ya know?
The footboard actually was about a 18-20 inches taller before we cut it. We cut everything down to the tops of the door area that holds a secret nook for the kids to play in. I so wish I had that as a kid, don't you?
We tossed the old drawer pulls, and filled in the holes for the new hardware. I did not worry so much about the woodgrain with this piece since that would have been a ridiculous amount of work.
After painting, this is how the wood grain shows up in the painted furniture piece. I think it's fine.
This is such a huge piece of furniture (4 frame pieces, 6 doors, 8 drawers) that it took up most of our entire workshop area. At first, I tried to hand paint it with a brush. That coat took over 2 hours so we switched to spraying it which took about 20 minutes each coat. We used and highly recommend this sprayer. With this piece, I cleaned it with teaspoon, wiped down with deglosser and let it sit overnight. This furniture piece was painted with the same process as his dresser: 3 layers of kilz with sanding every other coat and Valspar Furniture Paint in pure white (probably the last time we will use that paint due to coverage). Although white seems like such a boring choice, we are adding some accent furniture and plenty of color to the room so that it won't be so matchy-matchy. Think of these as the foundation pieces to the room. They can go with any color scheme and layered around in many different styles.
The Valspar Furniture Paint required at least 8-12 hours between coats so we got 2 on, lightly sanded it the next morning for smoothness and added the last coat. We waited 5 days before adding a polyacrylic (you can see our most recommended top coats here if interested). I don't add the polyacrylic to every piece, but with my son's bed I needed the best protection possible. I have used this same poly on a few pieces and it makes for a hard but not super shiny surface.
The bed is really tall. Even my short self has to jump to climb into it so you can imagine it is pretty high for a seven-year old.
This is a bed that will (hopefully) grow with my son and he can have until he moves out. Or I might make it over again, because that is about 15 years away so who knows. (Shhhh! Don't tell hubby. He never wants to move it again!)
Ah, such an improvement! One of the most popular questions I always get from my generous readers is about furniture painting. If you have some questions, feel free to shoot me an email or comment below. I love reading feedback and enjoy helping people decorate on a budget, so keep 'em coming!
If you liked this, check out some of our best furniture makeovers!
Grab our free series "Weekend Home Projects that will Transform Your Life"
Sign up below to receive updates including free printables, organization tips, home improvement projects, recipes and more!
More Furniture Makeovers you might enjoy