On a bright sunny day 5 years ago this month, we closed on the home of our dreams.
Or, rather, the one we had in our heads was our dream. The reality was much more ugly duckling.
The house had no running water, had sat vacant for a year, and due to the dirt and grime and who-knows-what was growing in there, we couldn't even move in for 6 months. In terms of risk, this house was really high.
But the potential was amazing! Space for days, a DIY dream, and a price that couldn't be ignored – in fact, I don't think we could afford this house if we bought it today.
This post may be a bit of a pat on the back, I suppose, because it has been a lot of work. However, with the exception of the hardwood floors and installing the carpet, every single change in the house has been DIYed. All of our furniture is thrifted or craigslist.
It's the power of the can-do attitude and being too cheap to pay anyone else that has pushed us on. We have had our moments where we questioned if we took on too much, the fails, the budget blow-throughs, and the moments you just had to stop and pray it worked. But every moment has been worth it many times over!
For, this is home. Our Home. And even 5 years in, we still have so many, many plans for this place. So take a look back with us, to see just how far we have come.
The Finished Adventures
The Kitchen
Before:
Now:
While we still have french doors to add, I am calling this room done! You can see the full kitchen reveal here.
Office
Today:
One of our first makeovers to completely finish, the his-and-hers office continues to be one of my favorite places to be. You can see more of my craft room side here and his manly office reveal here.
Main Bathroom
This room was a major overhaul. Below is the original listing photo, complete with warning signs. Ya, no joke.
Before:
Today: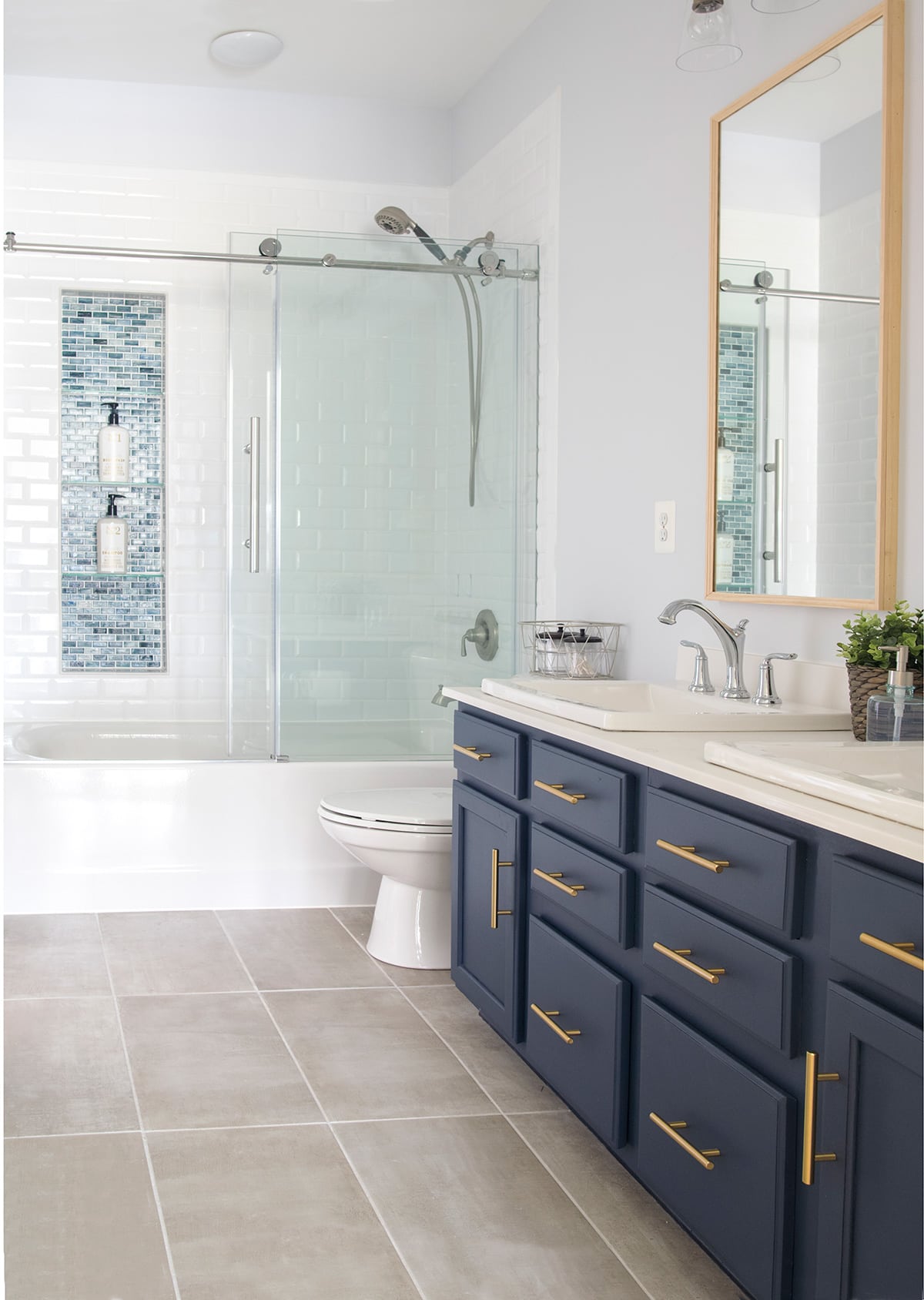 See all of the details of our hallway bathroom remodel here.
Living Room
The most recent room to finally get a makeover, out living room when we moved in was decorated with only dirty walls and metallic orange paint.
Before:
Today:
See the details of our living room makeover here.
Blake's Bedroom
Before:
Today:
This was a pretty big transformation. See many more photos and the jouney to his big boy room here.
Powder Room
Before:
Today:
When we first moved in to the house, I was under duress to pick paint colors, and that yellow was a BIG mistake. You can see the transformation here.
What We Still Have Left To Work On
We haven't started some of these rooms, while others only need a few changes.
Exterior – 30% done
In the 5 years, we have built a fence, a deck, and added a garden. Now that it's warming up, it's time for some landscaping and adding the details that will really make it functional and maybe my favorite place to relax
Front Room/Mudroom – 10% done
This is one of our fun finds that a friend was just going to get rid of! We intend to gut it, change the configuration, and make a proper mudroom bench and storage out of it. Sometime, hopefully soon.
Dining Room – 50% done
The dining room is actually next on our list! So stay tuned for those plans coming soon.
Master Bathroom – 0% done
Gah! That peach greek tile. This is probably now the next BIG remodel on our list. Brent has been dying for it for awhile, but some other non-fun things, like air conditioning, put that a few steps back. So hopefully a fall makeover? We shall see.
Master Bedroom – 10% done
One the blog, I almost never show our master bedroom. It is about the least serene place in our whole house. Although, I recently made the bed a lot prettier to look at, the rest of the room is discarded furniture and one of the paint choices I had to make under duress. See yellow bathroom mistake above.
When we bought the house (above) vs when we were able to move in (below).
Hallway – 10% done
Basement – 0% done
So there she is, folks! As you can see, we aren't even close to done. Rome wasn't built in a day, but with each project we fall even more in love with our home and love to entertain family and friends.
Having this blog and letting others into our lives has never been about attaining perfection. I don't even know what perfect looks like. It's about starting, no matter where you are, to find that dream and go after it. It's about finding your creativity and your own path. I just write the how-to and the recipes because DIYers get hungry.
We are so thankful to all of you for following us along on this journey. Although these humble-brag posts do feel good, my focus is on helping those out there who maybe need a little advice or confidence booster.
Really, seeing reader projects and reading your stories is what truly makes having a blog worth it. My hope is to give you inspiration and accurate know-how to complete the dreams you have. There is enough nonsense on the internet already. I really believe that all you need is a bit of vision and some hard work, and the right tools, of course.
Until our next project!
Pssst...
Grab our free series "Weekend Home Projects that will Transform Your Life"
Sign up below to receive updates including free printables, organization tips, home improvement projects, recipes and more!