I was at Jimmy John's for lunch today and saw a board titled "10 things I didn't learn until I was 50". Number 3 on the list was something like "There is only a slight difference between a hobby and a mental illness." Some days I feel that quote in my bones!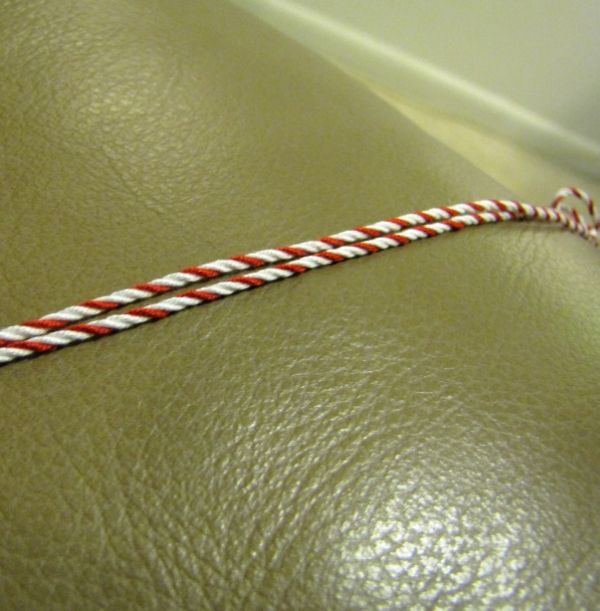 Today I have a special treat! I had designed this year's Christmas card and set out to find red and white baker's twine. I needed about 30 feet in total for this series. And I looked, and looked, and all I got was either 5ft or sticker shock. With the help of pinterest and my own ingenuity, I found a way to make my own. I read through some tutorials, but they either were completely lacking in instruction or I would be spinning the Baker's twine into my retirement. Now I think I have the solution and here is how it goes:
You will need-
embroidery thread (up to three colors)

an allen key (I found the cool one on the bottom which is perfect for this).

Scissors

Regular tape of any kind (to keep the string from unraveling)

A drill (Oh yeah!)

somewhere nearby you can tape the string to (floor, wall, furniture, etc)
1. Cut three equal lengths of embroidery thread. I would make them at least 10-15% longer than you actually need if your measuring. Making sure to keep each strand of embroidery thread separate, tie one end to a doorknob or drawer. I always make sure to keep my knots a bit loose in order to cut them easily later.
2. Make sure the drill is spinning CLOCKWISE. Now take one of the threads (does not matter which) and tie it to the allen key on the drill. Make sure to keep the threads from getting tangled in each other. Then step back from the drawer until the string is straightened in front of you and not touching the floor. There should be some tension but it does not need to be tight. Now spin! and spin and spin some more. The length of string your spinning will determine how long to wind it up.
How do you know when its done? When you step towards the drawer (less tension) and the strings twists up easily.
3. Now here is the important part. Pull the string off the allen key but do not release the tension. With your scotch tape, tape the string down so that it does not untwist. (Or you have to start over).
4. Repeat steps 1-3 with the other two embroidery threads.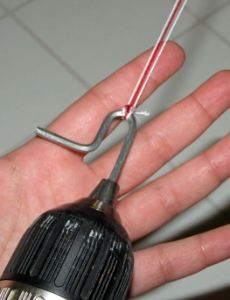 5. You will notice that the threads may not have ended up the same length. This is perfectly fine. Now you will thread all three strands onto the drill. I usually keep them in the same order but this probably isn't necessary. I normally determine which is my shortest strand and put that one on first. Then, without releasing tension, tie the next strand onto the key so that it is equal length with the shortest strand. And do the same for the last/longest strand.
6. Reverse the drill so that it spins COUNTER-CLOCKWISE. Now spin and spin and check you work until you have it as tight as you would like.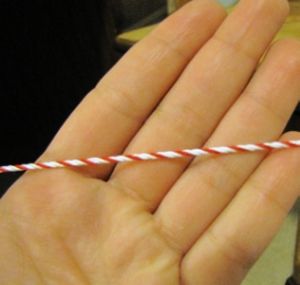 7. Once you have it how you want it. I advise putting some tape around each end before cutting it from the drill and drawer. Think similar to the plastic ends on shoelaces. This will keeps the twine from unraveling. I didn't have any luck with gluing the strands or burning them.
Voila! Pretty little thing, isn't it? The embroidery thread I use has a slight sheen to the decorative twine when finished which I love. And here is the Christmas card that I used it in-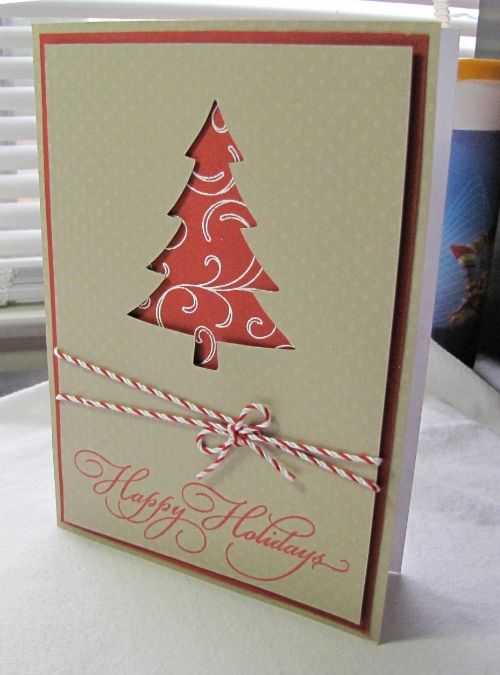 Have a great day!